Do You Know How to Integrate SEO Into Your Business?
A new study by Econsultancy and SEMPO that surveyed over 400  companies, agencies and consultants is uncovering that SEO integration is becoming more common for many businesses:
45% of businesses highly integrate SEO and content marketing, another 43% somewhat integrate SEO with content marketing
55% of businesses are somewhat using SEO PPC integration, another 24% have highly integrated SEO and PPC.
51% of businesses are somewhat using SEO integration with social media, only 23% are finding ways to benefit from high SEO social integration.
54% of businesses are finding ways to integrate SEO with mobile marketing.
50% of businesses are integrating SEO with email marketing.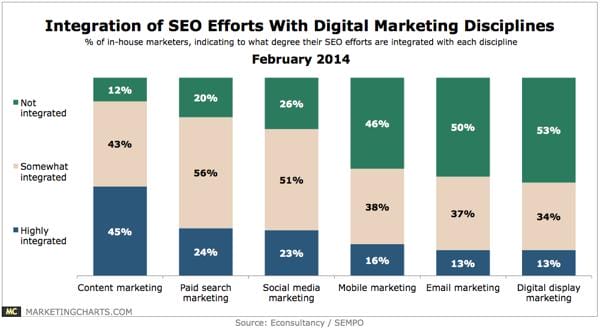 Key Takeaways for Trends in SEO SEM Integration
This study draws attention to many interesting points:
Content marketing seems to be an umbrella discipline that interacts not only with SEO as this study shows, but also drives other marketing activities such as Social (do you have interesting content to share on Facebook or Tweet about?) and Email Marketing (what do you say in each newsletter you send out?).
Less than a quarter of respondents said that they highly integrate SEO and Social Media. The proof that Social impacts SEO is still very weak and often it takes two very different types of brains to successfully run SEO and Social.
Most marketers are flexible to adjust their budgets for paid search, display and social media depending on the ROI. However email marketing and SEO seem to be fundamental to most businesses as the budget for these is less flexable.
Over half of in house marketers (53%) and marketing agencies (59%) report that SEO and paid search budgets are managed completely separate.
The study confirms that most businesses still struggle with properly attributing ROI with various online marketing initiatives. Only 11% are confident about measuring social media ROI, 41% confident about email marketing ROI and 47% confident about paid search ROI.
Does your business split its SEO budget with other Search Engine Marketing or digital marketing initiatives? Are you finding synergies? By integrating SEO with content marketing, PPC, social or other activities are you producing an effect greater than the sum of doing each activity on its own?
We'd love to hear your thoughts! Email us today at [email protected] or give us a call at 1-888-262-6687 to chat.
---