Optimize Your Google Business Profile
Google Business Profile Optimization Tips
If you haven't done it yet, you really need to do Google business profile optimization to help reach your target customers and boost your local SEO.
You know when you search for a local business, and Google shows you a handy little card with buttons, links, and all the important information about it? That's a Google Business Profile, and if you don't have one yet, you absolutely should!
Google Business Profile (GBP), formerly known as Google My Business (GMB), is a free tool provided by Google to help local businesses with their online presence. It's the equivalent of the modern-day phonebook – but better! Unlike a phonebook, your GBP can be updated daily, which means your customers, or potential customers, never again phone the wrong number or visit the wrong location!
So how can you take advantage of this free tool? Luckily, it's easy.
We'll tell you how to claim your GBP and how to do Google Business Profile optimization to keep it updated and attract better leads and more business.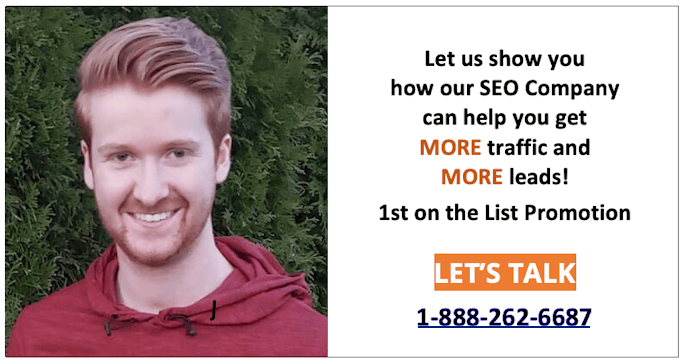 About Google Business Profile
Your Google Business Profile is a completely free way to manage your online presence across Google, including Search and Maps. This service plays a critical role in Local SEO and is essential for small businesses looking to improve their place in local search results.
GBP allows you to verify your business information or change it at the drop of a hat! This means you'll always be able to keep the following up to date:
Your location's address
Phone number
And hours of operation
Google uses this information in search results and Google Maps, which is super helpful for both new potential customers and repeat customers. Make it easy for people to find your local business!
Why You Should Claim/Create A Google Business Profile
You might find, to your surprise, that you already have a Google Business Profile lurking in the search results. This happens when search engines pull information from your website to display to users.
If you find an unclaimed profile for your business, don't think you're off the hook! Google wants you to claim it. Make sure to claim it so that you can manage the information displayed and keep it current.
Here are a few reasons why you should claim or create a Google Business Profile:
Google Business Profile is completely FREE!
Google is the first place people look to find information about your business.
It allows you to manage your business information on Google, such as your address, phone number, hours, and the products or services you offer.
It allows you to interact with customers and expand your online presence.
It is one of the easiest online revenue-generating things you can do.
How Google Business Profile Works With Local SEO
Maintaining your Google Business Profile is an essential part of your local SEO strategy. With GBP, you can:
Upload photos and videos of your business
Respond to customer reviews and questions
Appear in Google Maps
Boost your visibility in local search results
And gain valuable data insights about your customers
Local search visibility is the main objective of local SEO. Google business profile optimization means keeping your GPB up to date, making it easier for customers to find you, and easier for Google to retrieve your information.
The more complete and accurate your business information is on your Google Business Profile, the more likely it is to appear in local search results.
How To Optimize Your Google Business Profile
While SEO can feel complicated and overwhelming, optimizing your Google Business Profile is easy!
Here is how to make the most of your Google Business Profile.
Complete All Your Business Information
This includes:
Full business name
Business category
Phone number
Address or addresses
Website link
Email address
Hours of operation
Once you've crossed all your 't's and dotted every 'i', don't forget to add a description of your business.
Google gives you 750 characters (250 characters before the "Read More" separator) to describe your products, services, value, or whatever you want to communicate to your audience. Use them well. The more people know, the more they'll trust you. Plus, descriptions have the handy bonus of improving your search rankings in Google.
Add Your Service Area
Aside from your physical address, you want to specify your service area – where applicable. For example, if you're a plumber, you may have a brick-and-mortar location where people can find you. But you don't really do any plumbing there, do you?
Make sure to complete this section. Otherwise, you may find yourself fielding service requests for areas far outside your reach.
Add Your Products/Services
Make sure to include a list of the services and/or products you offer. Restaurants can even add their menus which is great for hungry searchers trying to decide where to grab lunch.
For each product or service, you can display the name, a 1,000-character description, the price, and a photo. Use all the space you get!
Add Photos
Include photos of your business, staff, products, or services and keep them up to date. Why? Because Google shows that businesses with photos receive 42% more requests for driving directions to their location and 35% more click-throughs to their website than businesses that don't have photos.
Bonus: Other people can upload images to your Google Business Profile too. Encourage your customers to do that!
Respond To Reviews – ALL Reviews
Reviews are another area that helps with Google business profile optimization. Reviews are an excellent place to showcase your customer service skills.
Respond to all reviews on your Google Business Profile. The good, the bad, and even the ugly. Ignoring a negative review looks much worse than offering a polite reply that tries to make it right. Responding to positive reviews demonstrates your attentiveness and builds customer loyalty. It also shows Google you are actively engaged with your customers.
The thing with responding to reviews is that everyone can see it. So, make sure your response is thoughtful and respectful. A string of reviews with responses can do more for your business than a fancy marketing campaign ever could.
Don't believe us? Check out some of these local consumer review statistics from a Brightlocal survey:
85% of consumers trust online reviews as much as personal recommendations.
Positive reviews make 73% of consumers trust a local business more.
68% of consumers left a review for a local business when asked.
30% of consumers say they've judged a business based on its responses to reviews.
Post Regularly
While it's hardly a social platform, a well-maintained Google Business Profile can become the go-to place for customers to learn what's going on with your business. Use the 'Updates' section regularly to inform customers about events, promotions, and exciting news.
Posting regular updates to your GBP helps Google gain more information about your business. More information for Google means you're more likely to appear in the relevant search results.
Use the 'Updates' feature to provide value to your customers with well-written copy and high-quality images when relevant.
Build Citations That Confirm Your NAP Information
Hold on. Stay with us here. While the title may scare you, it's not as technical as it sounds.
Citations refer to mentions of your business across the web that confirm your business Name, Address, and Phone number – hence the acronym NAP.
To build quality citations, you need to ensure that your business is listed the same way across all other websites and directories like Facebook, Apple Maps, your city's small business bureau website, etc.
This is important because Google pays attention to how you appear across the web. A slight difference in how your business name is spelled (ex., Local Plumbers Ltd versus Local Plumbers Limited) can make Google think you're untrustworthy.
You want your NAP citations to include the following:
Your name as it appears on all documents and business registration forms.
The best email address for all business queries. List the same one everywhere.
Your company name – don't deviate.
Your exact address as it appears on your mail, including suite or floor number where relevant, city, province, and postal code.
Your phone number as it appears locally. No need to include international codes etc.
Your landing page specific to your business's location – match this to each location you're building the citation for.
Google likes consistency. So do people. Ensure your NAP citations are the same everywhere, and you'll have nothing to worry about.
Looking For Google Business Profile Help?
Our 1st on the List team of SEO experts is here and ready if you need help with Google Business Profile optimization.
Contact us or call our office at 1-888-262-6687 to set up a consultation.
We can work with you to complete your Google Business Profile and develop a local SEO strategy to build leads and put you in front of customers in your area.
---