5 Questions You Must Ask Before You Hire a SEO Company

Do you know what questions to ask an SEO company before you hire them?
First, let's talk about what's at stake so you know the importance of vetting your next potential SEO company.
What do you stand to lose by hiring the wrong SEO Company?
Wasted SEO Campaign budget
Lost time in achieving better visibility
Missed website traffic and sales
Tarnished website reputation/blacklisted by Google that can take months and years to regain
Fading confidence in power of SEO from upper level management
In the late 90s and early 2000's, it was a lot easier to hire a good SEO company there was a limited pool of Internet marketing firms to choose from. Of course, like any industry, there were some amateurs and bad apples in the mix.
The term 'black hat SEO' stemmed from early days where some individuals and SEO firms were looking to cheat the system for quick rankings, rather than figure out SEO best practices for long term success. Many websites found out the hard way that recovering from a bad SEO strategy can be very time consuming and costly.
Over the years many companies have struggled with justifying if the SEO work was worth the cost, knowing if they had found a good reputable company, or if they should train their Marketing Team and do it in house. SEO is complicated and doing it well is not in the average wheelhouse of most businesses, so it can be more difficult to understand the complexity of the results. After all, if a business knew how to do search engine optimization and had the resources to do it in-house, they wouldn't be hiring out.
Keep reading to access:

Top 5 questions plus supporting questions to ask an SEO Company.
The type of questions you should expect an SEO Company to ask you in return.
A basic understanding of SEO to make hiring an SEO company less confusing.
General services that should be offered by an SEO Company.
How to go with your gut and sense the "it" factor of an SEO Company.
Top 5 Questions To Ask an SEO Company
There are many SEO firms out there, both good and bad, which can be overwhelming. When it comes time to look for help and having a basic understanding of what's involved, you need to know what questions to ask an SEO company during the interview process.
1. How Many Years' Experience Do You Have?
The general philosophies and techniques of SEO can be book-learned however, actual industry experience is priceless. Through working in the industry, SEO experts can delve beyond best practices and recommendations because they have developed an innate ability to naturally assess a situation and implement a strategy that will work.
By asking this question, you're looking for an SEO firm that has been around for many years. They should be able to provide you with examples and case studies of actual search visibility, lead generation and ROI results in a variety of industries.
Additional questions to ask:
Who will be working on my SEO Campaign and what experience do they have?
What experience does your firm have in my industry?
Do you have experience in solving XYZ problem for another client (with XYZ being your major problem)?
Based on your experience, what will be some of the biggest hurdles in my SEO Campaign success?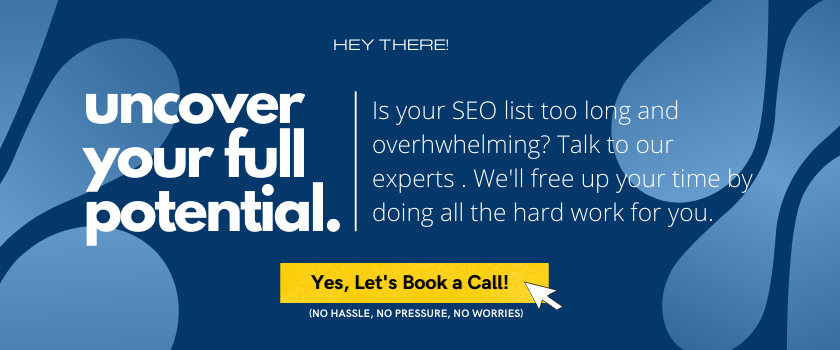 2. Do You Follow Industry Best Standards and Google's Webmaster Guidelines?
This is one of the most basic questions to ask an SEO company and one they should find easy to answer. If they tell you they can rank you at the top within a few days or a week, or if they offer a ranking guarantee, be careful. This is a too good to be true promise.
You will want to hire an SEO company that continues to stay up-to-date on recommended best practices and uses only white-hat techniques.
Additional questions to ask:
What are some ways you ensure adherence to Google's quality guidelines?
What are your most important SEO techniques?
How will you protect the integrity and quality of my website?
What recent conferences, courses, and training have you completed to ensure you are always up to date?
3. How Do You Measure SEO Success?
Reputable SEO companies will work with you to outline attainable goals, targets, and timelines.
They should send you regular reports and updates that measure things such as keyword visibility, website traffic, visitor demographics, time on site, bounce rate, and lead conversions. It is important that you know the goals of the SEO firm and that they align with your goals. What kind of traffic increase are you expecting? How many visitors per month are the targeted keywords expected to get?
Additional questions to ask:
What are some of your most common KPI's for SEO Campaigns like mine?
How often can I expect to hear from my SEO Manager?
How often will I receive an SEO report?
Can we adjust KPI's as my campaign evolves?
What kind of results can I expect to see and in what timeframe?
4. What Keywords Can You Guarantee?
Though we include this as one of the questions to ask an SEO company, the answer can be tricky! You want to hire an SEO company that can look you in the eye and explain that keyword positions simply cannot be guaranteed. There are many companies out there touting first page positions, guaranteed!
But, for what keywords? And, for how long?
Organic search engine results are not something that anybody can guarantee so it's best you work with a company that is upfront about the goals and the strategies they intend to implement.
Generally speaking, the more popular a keyword, the more competitive the keyword, which means the more work and time it will take to rank. We've worked tirelessly for multiple years to rank a website for very popular keywords while other keyword terms may rank within a week or a few months. There's no way anyone can guarantee anything when it comes to top rankings.
Additional questions to ask:
How do you perform keyword research?
How will we decide the "right" keywords for my SEO Campaign?
If we don't track keyword rankings how can I understand my website's keyword visibility?
5. Am I Under Contract and What Happens if We Part Ways?
This is one of the most important questions to ask an SEO company. Reputable SEO firms are confident in their ability to establish long-term client relationships and are happy to not force clients to work within a locked-in contract. Some may require contract terms. Regardless of whether you are locked-into a relationship or not, more importantly, you need to understand what happens if you do choose to part ways.
There are a variety of reasons a business may cancel or pause their SEO services. Best practices dictate that the business retains their content, access to their website (if with the same company) and all logins/passwords for accounts.
Additional questions to ask:
Will anything change on my website?
What can I expect to happen to my visibility/rankings when we part ways?
What is your average client turnover rate?
Let Them Ask You Questions Too
One of the biggest missteps that we see is SEO Companies not asking their prospects enough questions about their website, industry, competitors, and goals.
On the flip side, we also encounter plenty of inquiries from companies interested in our services but unwilling to share the important details that we will need to properly strategize, plan, and price an effective SEO Campaign.
Any SEO Company you are considering hiring should be genuinely interested in learning about you and your business. The more they inquire and understand about your business, customers, key value drivers, how you make money, additional marketing and advertising channels, competitors, and other important information, the better informed they will be and the stronger your SEO Campaign stands to be.
Before You Ask, Understand the Benefits of Search Engine Optimization
In order to buy something you need to know why you are buying. What is so great about SEO anyways? 
The purpose of SEO is to get traffic from organic search engine results – this type of traffic is highly qualified. This means that when a user queries a search engine they are looking for something specific (be it an answer, information, a product or service). The goal of the search engines is to deliver the best results for the query.
So, the idea is that if a visitor lands on your site from a search engine, it is highly likely they are looking for your product, service or information.
The art and science of having your website appear for related search queries is called Search Engine Optimization, or SEO for short. As the buyer, the questions to ask an SEO company before you hire them can mean all the difference. A good SEO strategy places your business in a position to receive targeted visitor traffic to your website. A targeted visitor is further down the path to conversion/purchase, which makes them a great target market.
SEO is a long-term marketing strategy. It can take some time to implement; however, the results are usually long-term. Generally, an SEO firm will recommend a long-term monthly program. A well-run and successful program is ongoing and includes a variety of items including on-page continuous optimization, content strategies, technical elements, link building and more. Analyze. Rinse. Repeat.
You Need a General Idea of 'How is SEO Achieved'?
As the buyer you need a basic understanding of how it works too.
There are a variety of tactics involved in a good SEO strategy. Often, you will see that a web designer offers 'SEO' under their list of services. Usually, this means they are outfitting the site with a tool designed to allow for the integration of Meta tags (strings of code read by the search engines). This is only one factor of SEO and is not a strategy or a tactic, but rather a tool.
For the average business owner, if told they're getting 'SEO' they tend to believe it. The questions to ask an SEO company before you hire them will help ensure you are hiring the right company for the job.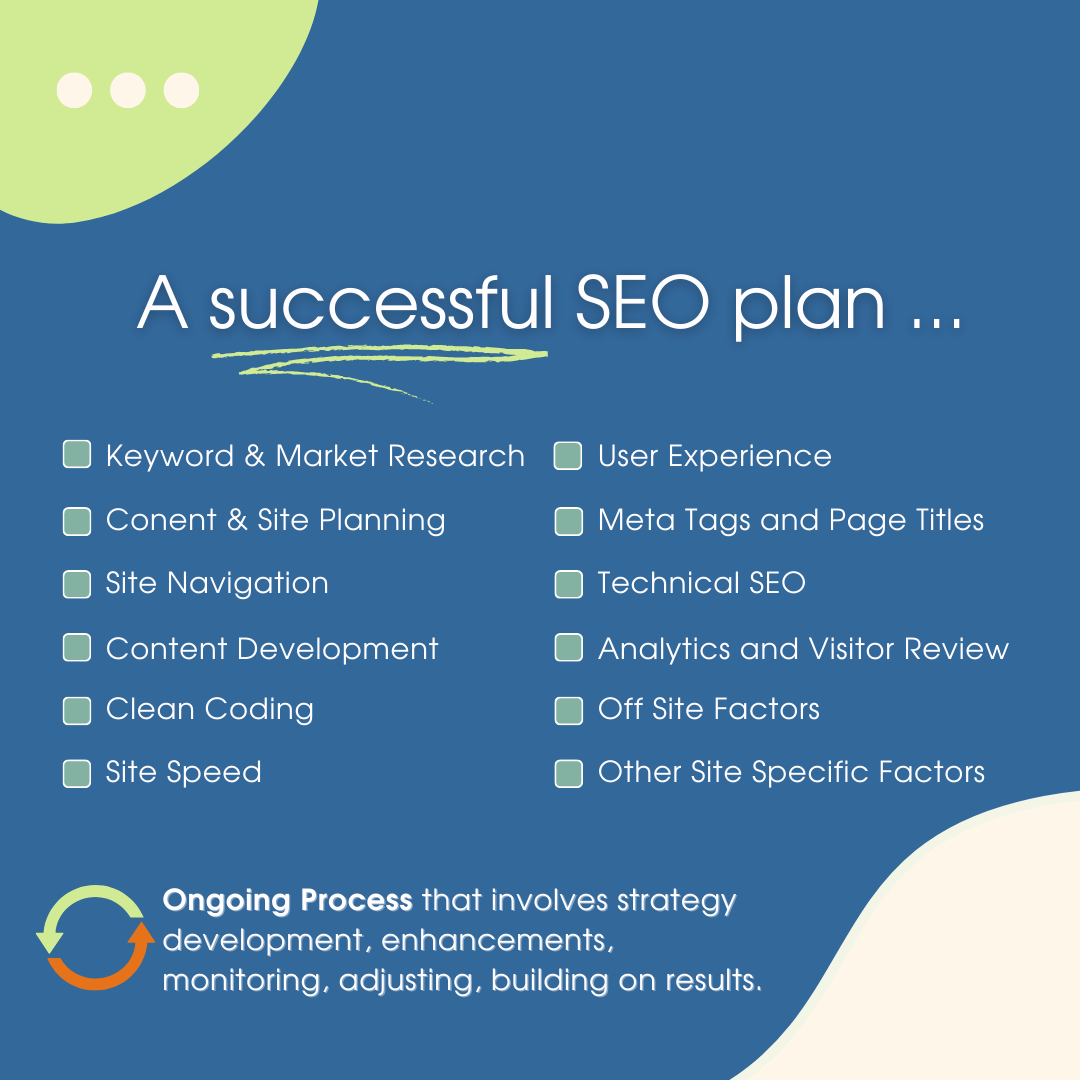 As an addendum to the Top 5 questions to ask an SEO company, here are a number of other things you may want to discuss prior to hiring an SEO firm:
A Successful SEO Plan Generally Includes:
Keyword & Market Research – What is the targeted web visitor searching for to find your website? What are other websites providing? Where is there room for improvement and market infiltration?
Content /Site Planning – User experience is everything because SEO is designed to get a visitor to a website, but what happens once they are there is equally as important. Determining the required content, order of pages, importance of items, and site flow is paramount to create a great user experience.
Site Navigation – A clean navigation makes life easier for the visitor and the search engines.
Content Development – Content is king (and queen, and prince/princess/commoner, too). Again, SEO is designed to get a visitor to click on a search result. Content is what keeps and converts the visitor once they arrive on a website.
Clean Coding – A well-built, clean-coded website does wonders in helping a website rank.
Speed – Search engines factor in site speed and website load when looking at a website. Speed on mobile devices and desktop computers should be looked at.
U/X – User-Centered Design/Content – Some businesses design the website they want to see, or the website they like; however, well-performing websites are designed 100% for the visitor.
Meta Tags and Page Titles – Title and description tags are integrated on every page to help aid the search engines in what that page is about.
Page Titles– A page title is important for the search engines and the web visitor.
Technical SEO Items – There are a variety of technical elements that can help or hinder SEO.
Analytics Review – It's important to continue to monitor campaign results, traffic, and user-flow on a website to adjust strategies and get new ideas.
Repeat – SEO is not a one-time affair. For long-term success, an ongoing strategy is essential.
Off Site Factors – SEO can also be influenced by quality backlinks, citations, customer reviews, and other branding signals that exist "off your website".
Plus various other factors – There are a variety of factors that go into how well a website ranks on the search engines. From link acquisition to alt-tags and everything in between, a professional SEO services firm prioritizes tactics for your success.
As you can see, there is a good deal of planning and strategy that goes into an SEO-optimized website before the build even begins. This is because it is important to build a website that is designed for the targeted web visitor. A site plan, content strategy, and website that is built with SEO in mind from the ground up has the right foundation for success.
The Secret Sauce – That Intangible Element and Gut Feeling
Trust, integrity and general likeability is of paramount importance!
One of the reasons a business might have difficulty finding the right questions to ask an SEO company before hiring them is that they may not understand how the SEO process works. Business owners regularly have to contract out services that are outside their own scope of work. When a business can build a long-term relationship with an outside vendor, there is a greater opportunity for success.

Selecting the least expensive company or the company with the slick sales pitch doesn't necessarily bode well for long-term success. A successful relationship with an SEO firm can be highly beneficial to your business. It is important you select a firm you can trust and is based on integrity. This firm and their professionals will be working hard on your account so it's helpful if there is a good working relationship.
Ideally, a company that has been around, achieving successful results, for years is best suited to help your business achieve long-term success. They've not only seen, but experienced, search engine algorithm updates. They've had experience with competitive keywords, dropped rankings, and cleaning up technical code on a website. They've developed an innate understanding of what it takes to achieve results. They stay up-to-date on best practices and up-and-coming trends, but also have a solid grasp of the foundation.
They can speak to the client and programmer and act as a bridge for your company between these two very different languages. They can delve deep into analytics to continue to strategize for best results and then provide you with key indicators in a way you can understand. They can stay up-to-date on the trends but also are not bound by the trends.
Ideally, the question to ask an SEO company before you hire them will help you determine if they have a proven track record for achieving excellent long-term success that goes beyond positioning and into ROI and lead generation.
As a business owner, you don't need to know how to do SEO to hire an SEO company. You just need to know the right questions to ask so you can ensure you're hiring a reputable firm that has your best interests in mind.
Frequently Asked Questions
Should I hire an SEO agency?
We think yes! The benefits of SEO are far stretching and it is important to have a qualified SEO agency working for you. Typically, SEO agencies are most up to date in current SEO trends, strategies and best practices. SEO agencies also have talented pools of SEOs who know how to get the best results for your website.
How do I choose a company for SEO?
There are several factors including years of experience, client results and testimonials, adherence to best standards and Google's webmaster guidelines, focus on results, and integrity. Ultimately it comes to your comfort and confidence in the company – do you trust what they say? Is the SEO company easy to get along with and respond to your messages?
What is the best SEO company?
We may be biased but we think we are among the top! There are several third-party bodies that help rate and rank SEO companies in Canada and the US. 1st on the List consistently ranks among the best and we have the client testimonials and tenure to prove it too!
How can I do SEO on my own?
We typically tell our clients to let us worry about their SEO so that they can free up their time to focus on what matters most to running their business. Usually, this isn't spending time learning how to SEO their website on their own.
About 1st on the List
Located just outside Vancouver, BC, Canada, 1st on the List is a boutique SEO Company in Abbotsford that has been offering search engine optimization, pay per click, and SEO web design services since 1997. To learn more about our SEO services, please call us Toll Free at 1-888-262-6687.
---