How Mobile Local SEO Can Help Your Business
A Mobile-Friendly Website Is Vital for Your Mobile Local SEO Strategy
If you don't have a mobile local SEO strategy in place it can hurt your business if your customer base is local.
Do you like losing customers to your competition? Of course not! But if your website isn't optimized for mobile users, that's basically what you're doing.
It's easy to think of Search Engine Optimization as a fancy digital marketing tactic only used by big e-commerce businesses – but that couldn't be farther from the truth!
What Is Local SEO
Local SEO and mobile optimization are all about optimizing your website to show up in location-based searches. That means:
Putting your website in front of potential customers
In your area
Who may be looking for businesses like yours
Here's the kicker: if you want to show up in local searches (and we know you do), you need a local SEO mobile-friendly website.
Get ready because below you'll find out more about mobile local SEO and why it's essential for growing your local-based business.
Why Is a Local SEO & Having a Mobile Friendly Website Important?
Before connecting the dots on mobile local SEO, we should probably define a mobile-friendly website. Don't worry. It's easy.
A mobile-friendly website is any site optimized for fast and accessible use on any mobile device. It's important because most users today browse and search from mobile devices – especially if they're looking for local businesses in their area.
Mobile local SEO is vital for getting discovered by potential customers in your area. Even if your business relies on foot traffic, you'll be surprised how enmeshed mobile search has become with their shopping experience.
Here are a few reasons to prioritize for mobile local SEO:
Google uses mobile-first indexing, so if your website isn't mobile-friendly, it may not appear in search results.
Google penalizes websites that are not mobile-friendly.
And here are some mobile SEO statistics to keep in mind according to Statista:
Worldwide, nearly 59% of all website traffic comes from mobile phone users.
Over 60% of worldwide mobile phone users use their mobile phones to search the Internet.
Worldwide, 29.3% of consumers used their mobile phones to make online purchases (and that number is rising).
61% of mobile users are more likely to contact a local business if the business has a local SEO mobile-friendly site.
How To Make Your Website Mobile-Friendly
So how can you capitalize on mobile local SEO and make your website pop?
Keep It Speedy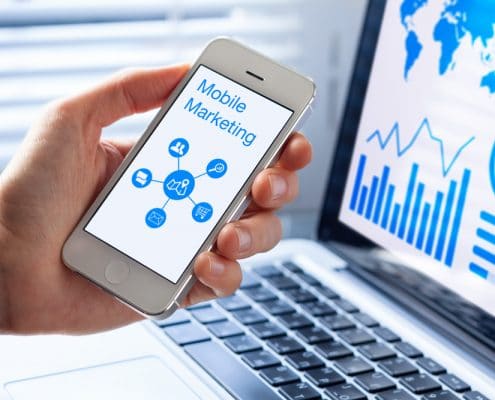 An important aspect of having a mobile-friendly website is that it can help to improve the load time of the website.
Your website needs to load quickly on mobile devices, which means it needs to be optimized for a small screen so that it will load faster on any mobile device.
This is important because slow load times can lead to a high bounce rate, which can negatively impact the visibility of the website in search results.
To improve the loading speed of a website on mobile devices, you can optimize images and other media, reduce the number of redirects, and minify code.
No one likes waiting around, and they won't if your website doesn't load in 2 seconds or less. A fast website means:
A lower bounce rate
A better browsing experience for your visitors
And a higher conversion rate
Hot tip: Use a free tool like Google's Page Speed Insights to check your speed!
Make Your Mobile Site Responsive
One of the most important things you can do to make your website more mobile-friendly is to use a responsive design. This means that the website is designed to automatically adjust its layout and content to fit the size of the device that it is being viewed on.
A responsive design ensures that the website is easy to navigate and read on both desktop and mobile devices, which will keep users and Google happy.
Improve Your Navigation Menu
You can also make your website more mobile-friendly by including a mobile-friendly navigation menu. This means that the website's menu should be easy to use on a small screen.
You could include drop-down menus and collapsible menus to reduce the amount of scrolling required. You'll want to simplify the layout of your website to make it easy to read and navigate on a small screen.
Optimize for Local Search
Make sure your website content uses a local SEO keyword strategy. Include long-tail keywords that are conversational and capture search intent with phrases like "near me" and "open now."
Don't Ignore User Experience
Mobile screens are smaller than desktop screens. Duh. Keep your website design uncluttered for a comfortable mobile browsing experience.
That means limiting annoying pop-ups and having a clean design, plus having big touch-friendly buttons and links and small paragraphs that are easy to read. It should also be easy for users to scroll and zoom on their mobile devices.
Think About Thumbs
Our thumbs are clumsier than a mouse cursor. Include touch-friendly buttons and elements and avoid crowding information together.
Keep It Accessible for All
Another important aspect of a mobile-friendly design is to ensure that the website is accessible to users with disabilities including individuals who may rely on voice controls and website scanning.
Provide alternative text for images and other media to ensure that your website is easy to navigate when using a screen reader.
If your business is rural, you can also make your website more mobile-friendly by providing a text-only version of the website for users with slow Internet connections or for users who prefer a text-only version.
Social Media Links
Mobile makes sharing easy! Make sure your content is easy to send to others by keeping social sharing buttons handy and visible.
Test Your Mobile Website Design
Finally, test your website on different mobile devices and browsers to ensure you're providing a sleek and comfortable browsing experience for all.
Mobile-Friendly Design – Why It's Important for Local SEO
Here are the top reasons why having a mobile local SEO strategy and a mobile-friendly website design are essential for your local SEO success.
Google Said So
It's important for visibility.
As mentioned, Google now has mobile-first indexing where the algorithm prioritizes mobile-friendly websites – especially for users searching from mobile. It's a better user experience, plain and simple, and if you're not on board, you will get left behind.
Improves Online Visibility
Even if you don't like change, chances are your competition is embracing it. That means when mobile users start searching, guess who will show up instead of you? By providing a local SEO mobile-friendly website, your business can attract more customers and stand out above the competition.
Google has stated that mobile-friendly websites are more likely to appear in the top search results for mobile searches.
Better User Experience
One of the key benefits of having a mobile-friendly website is that it improves the user experience. A mobile-friendly website is easy to navigate and read on a small screen, making it more convenient for users to find the information they are looking for.
This is particularly important for small businesses, as it can help to increase the likelihood of a user becoming a customer.
Increases Conversions
A mobile-friendly website can improve your conversion rate. Why? Because a mobile-friendly website is optimized for a small screen, which means that it is more likely to convert a user into a customer.
When your website is easy to navigate with clear call-to-action buttons, users are more likely to go through with that final step from their phone.
You need to make it easy for users to call your business with just one click, which can be especially useful if your business relies on phone orders or appointments.
You might also want to include a click-to-map button to allow mobile users to easily find your business's location using a map application.
So, if nothing else convinces you, think of the boost in purchases or inquiries that mobile local SEO can achieve.
The Mobile Advantage
We know that getting your website mobile-friendly may sound like a lot of work, but we promise there are tons of payoffs!
Here are a few reasons why mobile local SEO is the gift that just keeps on giving.
Everyone Is on Their Phone – A Lot
Think about how often you check your phone in a day. You've probably lost count, right? Now think about how accessible that makes customers in your area to your local business.
If your website is mobile-friendly and optimized for local SEO, that means your business is always within arm's reach of your potential customer!
Tailor Your Message with Ease
Your marketing message can be tailored to your potential customers' device, advertising platform, location, and past browsing history, in real time. Ad creation is way more affordable for mobile marketing than traditional advertising formats – and you can make changes whenever you like!
Want to put out an ad for your restaurant during lunchtime? Having a flash sale right when your customers get off work? Modify your message and send it out instantly!
You're Harder to Ignore
Impulse control is a real struggle. It's true. So, if you can reach a person at the right place, at the right time, you're more likely to see a conversion. Information consumption is also HUGE on mobile, so your message stands a better chance of being seen.
It's Easy to Share
Mobile is the easiest and quickest way for consumers to share content, meaning you have the potential to magnify your exposure exponentially. Whether with a tag, share, message, or screenshot, users love to share things they think their friends will enjoy.
Get User Data Immediately
Knowledge is power, and the ability to analyze ad performance and audience composition is a huge advantage in mobile advertising. Use this information to make quick adjustments, so you spend less money on content that no one cares about.
Summary
You need a mobile local SEO strategy in place if your customer base is local. Without it, your business may be hurting.
Be sure to optimize your website so that your business shows up for location-based searches when potential customers in your area are searching online for local businesses like yours!
Make sure that your website is mobile-friendly, loads fast, provides an excellent user experience and is accessible on any type of mobile device.
Need Help Supercharging Your Mobile Local SEO Strategy?
Our team here at 1st on the List are SEO experts.
We first conduct a website audit to identify and target the weaknesses in your local SEO and assess whether your website is mobile-ready or not.
We'll then work with you to develop a winning mobile local SEO strategy. The goal of mobile optimization is to not only improve your website's performance on mobile devices but also attract your ideal customers in your local area.
We are here to help!
Contact us online or call our office at 1-888-262-6687 to set up a consultation.
---