5 Critical SEO New Year's Resolutions You Need to Make and Keep in 2022

It's a new year full of fresh starts and new beginnings, which also means it's time to set your SEO goals for your business.
As humans, we make resolutions in almost all areas of our lives – so why not set some goals for your website's SEO and performance for this coming year?
Here at 1st on the List we've put our heads together and created this list of top SEO goals or resolutions that should be on your radar for 2022.
1. Focus On Your Site Speed
Do we sound like a broken record yet? At 1st on the List we started talking about website speed back in 2013. One of our first articles on the topic was Does Website Speed Affect SEO?
So does website speed affect SEO and does it still matter in 2022?
The answer is a resounding YES, which makes it #1 on our list of SEO goals. Now more so than ever you need to focus a lot of attention on this. Don't just take our word for it – here's what Google says:
When real users have a slow experience on mobile, they're much less likely to find what they are looking for or purchase from you in the future. For many sites this equates to a huge missed opportunity, especially when more than half of visits are abandoned if a mobile page takes over 3 seconds to load.
When you put it that way, it makes sense right?
Reasons Site Speed Matters
Better Search Visibility and Rankings
In 2018 Google announced that page speed is a landing page factor for Google Search and Ads. The Core Web Vitals update in 2021 made website speed and performance, along with user experience, even more important for search engine rankings than ever before.
Better Usability
Visitors will actually want to stay on a fast website longer, look at more pages, and likely come back to the website again. These are all signals of a "good user experience" to Google (which in turn, further support your rankings).
Better Conversions and Sales
As visitors stay on your website longer they are able to collect more information, answer more of their questions, gain a higher satisfaction level, and in the end, either make a purchase on the website or make contact with your business with the intention of pursuing the relationship.
In other words, a slow website is less likely to be found in Search Results and visitors who do find the site will look at fewer pages, have a lower customer satisfaction rate, and convert at a lower level.
If you take our advice to make site speed top of the list for SEO goals and decide to focus on making your website as fast as possible in 2022, contact our web developers. We can provide effective and quick site speed optimization. We will look at several factors that affect website load time, including:
Web hosting
Images, videos and files
Plugins
Browsers and caching
Site Speed should be your #1 New Year's Resolution because it is often an initiative that requires less work and can be completed in a much shorter time frame than other long-term SEO initiatives. Site speed almost always provides a big return for the small investment.
Additional Site Speed Resources:
What is Page Speed Optimization?
Top 7 Ways to improve Your Website Speed
GTmetrix Website Performance Testing and Monitoring
2. Enhance Website User Experience (UX)
User experience (UX) is another topic we've been talking about for almost ten years so it is #2 on our SEO goals list. This past year was a huge year for UX.
Google announced user experience as an important ranking factor at the end of May 2021 in the form of theCore Web Vitals update. Ultimately, Google has deemed five critical factors to a good user experience:
Is it mobile friendly?
Does it load quickly?
Does it run on HTTPS?
Are intrusive ads present?
Does content jump around as the page is loading?
These website factors are often best left to professional website developers to correct or improve.
The good news it that apart from the Core Web Vitals update, User Experience has always existed, and there are many ways you can take it into your own hands.
Here's how usability.gov describes User Experience:
"User experience (UX) focuses on having a deep understanding of users, what they need, what they value, their abilities, and also their limitations.  It also takes into account the business goals and objectives of the group managing the project. UX best practices promote improving the quality of the user's interaction with and perceptions of your product and any related services."
Usability.gov goes on to identify six factors that contribute to a positive user experience. Do you know how to accurately answer each question? Is your website useful, usable, credible, desirable, accessible, and findable?
Be sure to make site speed one of your top SEO Goals this year. If you are unsure or need new ideas on how to further improve user experience, contact our SEO and Web Design experts. We'll take an unbiased look at your website and provide a site audit to point you in the right direction to fulfill this important New Years resolution.
More User Experience Resources to Explore:
The Key to Mastering User Experience SEO
16 Tips to Improve User Experience and Conversion Optimization
How Important is Website Design for User Experience?
3. Review Content for E-A-T Principle
Eat? Now we're getting more into traditional New Year's resolutions right?
The E-A-T Principle isn't about the food at all. Instead, this important SEO goal is one of the keys as to how Google evaluates your website page quality.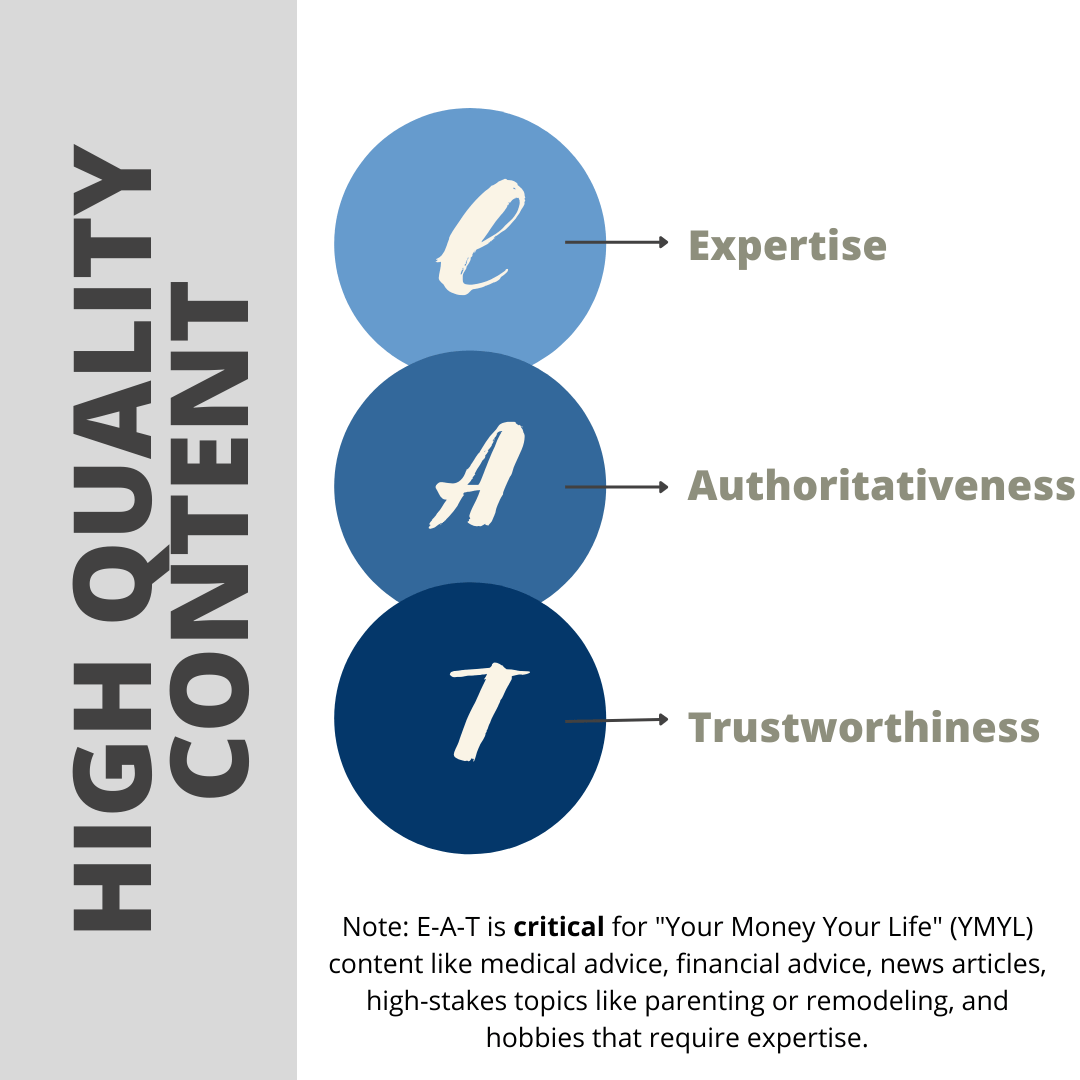 E-A-T stands for Expertise, Authoritativeness, Trustworthiness:
Expertise – Is the creator of the main content on the page an expert on the topic? Are they qualified with the right credentials to cover the topic? Google says that the standard for expertise depends on the topic. A higher standard of expertise and credentials are required for topics about money and health (what Google refers to as "Your-Money-Your-Life" (YMYL).
Authoritativeness – Is the creator of the main content generally recognized as an authority figure? Are they are leader in the industry and accepted as a good source of information?
Trustworthiness – Can the creator, content, and website be trusted to provide honest and true information that is accurate?
The big takeaway for 2022 is that all the content on your website needs to be high-quality and user-focused. When reviewing every page of your website and considering EAT, ask yourself:
Does this page have a specific purpose?
Does this page have a specific benefit to the reader?
Does this page have the right level of expertise required to support its topic?
At 1st on the List, we offer full Website Content Audits to help you understand the actual Search Engine value of your content. If you decide to take content seriously, this is a great starting point. Contact our SEO Content Experts to get started today or call us at 1-888-262-6687.
4. Revisit Mobile Friendliness & Make More Improvements
Number 4 on our SEO Goals list is mobile friendliness. There is no shortage of statistics to show that mobile matters to your SEO and Website strategy: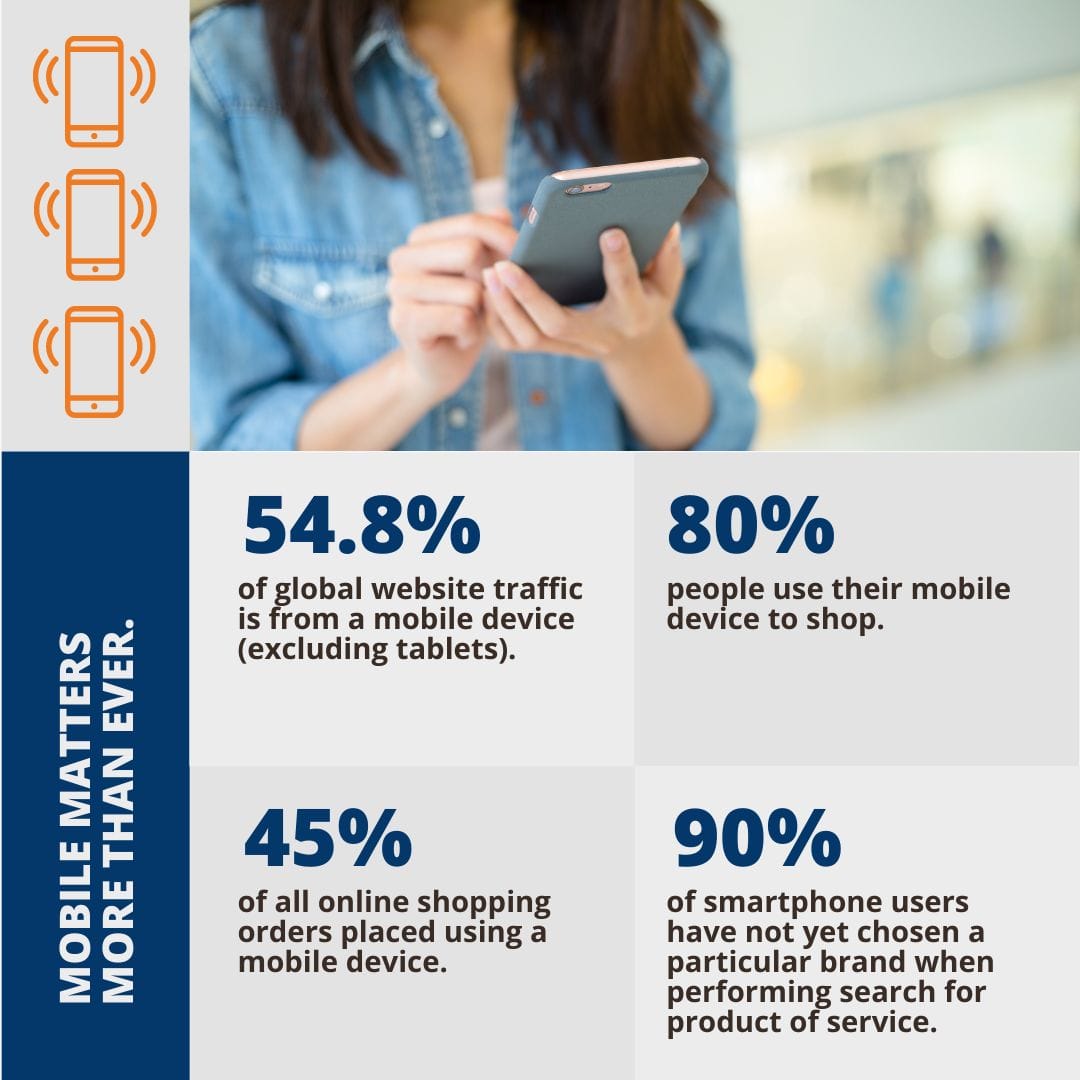 Chances are, if you've had your website redesigned or updated in the last five years it likely has some level of mobile friendliness. In fact, many web designers and businesses now choose mobile-first design and focus on an incredible mobile experience as the most important factor for a website.
How to Make Your Website Mobile Friendly
Instead of assuming your website is mobile friendly let's use 2022 to revisit the topic and make your website even more mobile friendly.
Here are some areas you can look at:
Check out your Google Analytics website data to see how your mobile website visitors are behaving on your website. Do certain pages have high bounce rates? What would be the cause of your mobile visitors leaving right away?
Ask your website designer if you need to upgrade to a more mobile-responsive theme or template.
Get comfortable with your phone and browse your own website to see how you would enjoy the experience. What was difficult to do? Where did you get stuck?
Carefully consider if you need to strip back some of your content. We beg you to proceed with caution here as content is usually what supports your website rankings. If anything, read each page and determine if you can break up BIG BLOCK text with sub-headings to make it easier to skim and understand on a mobile device. You may even need to reorganize your page content to make sure the most important text content appears at the top.
Evaluate each form on your website and decide if it has more fields than necessary. Forms can be cumbersome to fill out, especially on a mobile device. Remove any fields that are not needed and watch your completion rates increase.
Try clicking website buttons and decide if they need to be made larger or have a different place on the page. As you do this consider where your fingers are positioned when holding the phone. Do you need to adjust the phone in your hand to tap a button?
Decide if you need to adjust the size or type of font to make it easier to read on a mobile device.
Make sure that each text link is spaced out (not too close) and that links go to pages that also display well on a mobile device.
Executing your SEO goals is an ongoing process so throughout the year you will need to revisit your mobile website and make tweaks and changes as necessary.
Additional Mobile Friendly Website Resources:
Mobile-Friendly Test by Google
How to Improve your Mobile Site by Yoast
 5. Add Video to Your Website
Video should also be part of your SEO goals. Take a look at the popularity of TikTok, Instagram Stories and Reels, and YouTube. It's obvious we are captivated and engaged with video content. Is 2022 the year you start incorporating video into your website, SEO, and online marketing strategy?
Named as one of the top trends in 2021 and again in 2022, there are many benefits of using video on your website. The medium of video:
Conveys a large amount of information in a short period of time.
Is easy to view on mobile devices (refer to resolution #4 above).
Is a powerful way to tell a story that evokes emotion and a response.
Gives a personality and a face to your brand for visitors to connect with.
Is rumored to give a boost in rankings, which means more people will see your website. The video preview can also be displayed as a rich snippet in search results, which draws more attention to your website listing.
Videos provide additional optimization opportunities, such as title tag information, tags, and subscriber engagement.
Videos hosted by YouTube are favored by Google, plus the YouTube search platform is huge.
Here are three easy ways to implement video as part of your SEO goals for 2022:
Hire a Google Street View Photographer to capture 360 Virtual Tour footage of your location. You can upload this to you Google My Business to boost visibility and engagement there, as well as upload the footage to your website's About or Location(s) pages.
Consider your pages, products, or services that are complicated to explain through text and decide if a video format would be a better medium to convey information.
Ask your clients or customers to submit video testimonials that you can share on your website and/or through social media.
When it comes to making an SEO Video New Year's resolution you need to be dedicated and consistent. Creating one video and placing it on your website probably won't be enough. You need to think strategically of how video can provide value. Create quality videos full of content viewers will want to watch through to the end, and successfully integrate the video into your website and social marketing for visitors to enjoy.
Final Thoughts Going Into 2022
Whether you are inspired to use one of our five top SEO goals to pursue growth and success this year or you have decided on your own resolution it's important to have an action plan in place.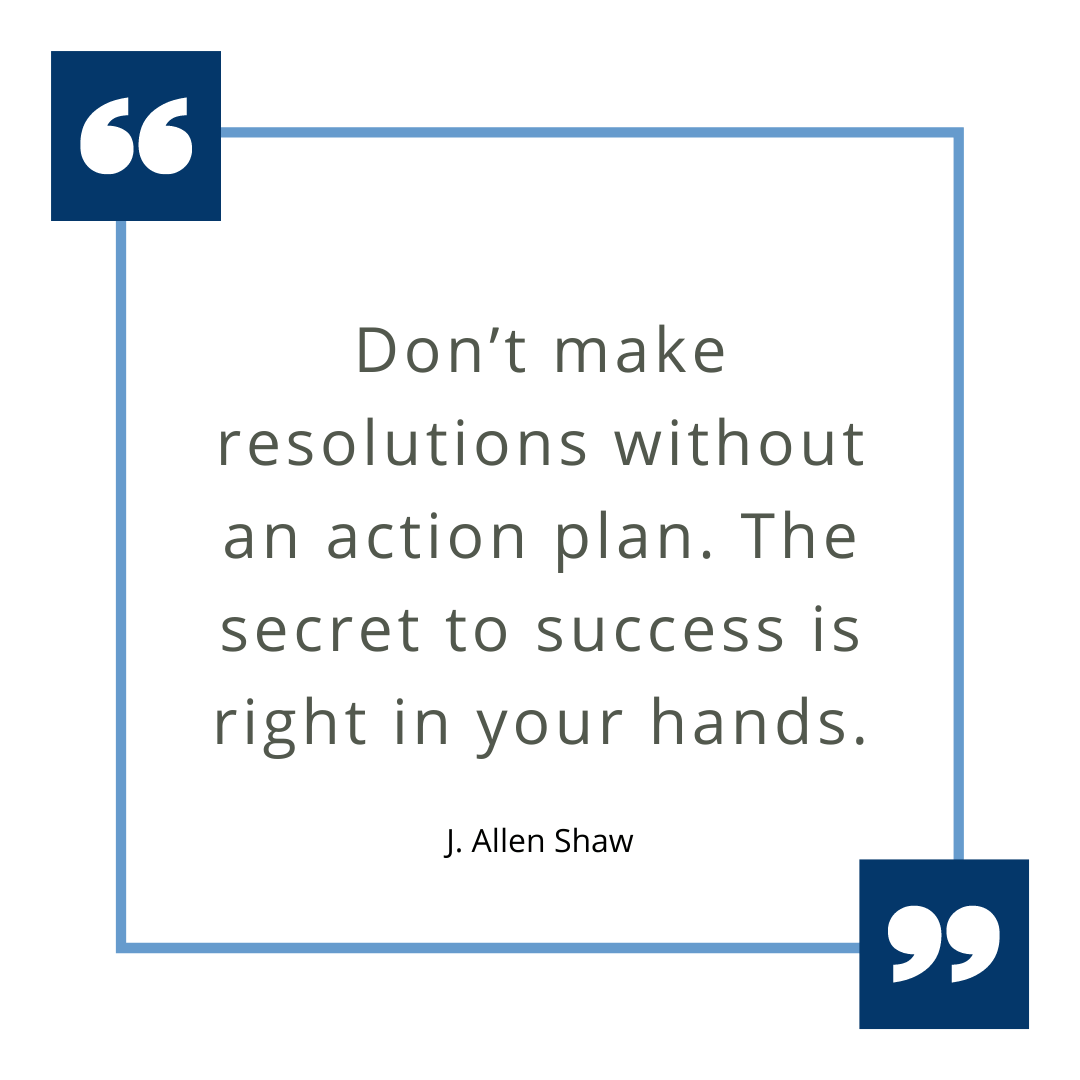 If you know what you want to do and where you want to end up, but not sure how to fill in the gaps to make it happen, contact our Digital Marketing Agency online or call us at 1-888-262-6687 to chat about your SEO goals. We'd be happy to plan and execute your winning 2022 SEO Plan!
---