What is Predictive Search and Why Is It Crucial in Your 2022 SEO Strategy?

Are you familiar with predictive SEO? Did you know that Google's predictive search is estimated to save over 3.5 billion seconds each day (Wordstream.com)?
Not only does it save users time but predictive search is highly beneficial for marketers too. In fact, it is an emerging SEO trend that is helping many get the upper edge when it comes to understanding what consumers are looking for and giving it to them – many times before the consumer (let alone competitor) realizes it is a need or trend.
How would your Marketing and SEO strategy change if you could get a glimpse into the future?
"If you could predict what would rank in the future, you would likely jump at the opportunity. With predictive search engine optimization (SEO), you can help your business predict topics that will trend in the future and create content now so that you can earn top rankings later."
WebFX.com
In this article we will help answer all your questions about predictive SEO, like:
What is predictive search?
How does it work?
Why is predictive search important?
How will it change SEO?
How to implement predictive SEO into your online strategies?
Let's get started!
What is predictive search?
Predictive search is a process that provides search suggestions or recommendations for a user based on the words and queries they type into search engines. It is also referred to as "autocomplete" and aims to anticipate the searcher's needs and help them save time.
Users can simply click on the suggested words or phrases to complete their queries. Thus, there is no need to type in whole sentences or questions anymore.
While only around 25% of site visitors click on its suggestions, most Internet users acknowledge its importance and expect every search engine to provide this function.
How does predictive search work?
There are different algorithms behind predictive search.
Google, for example, uses RankBrain and its vast collection of data to provide suggestions and relevant recommendations. Some of the factors that affect what appears in Google autocomplete include:
Search volume
Context of search
Searcher's location
Language
Search history
Timeliness
Another algorithm that works to provide these types of results is semantics.
Semantics is the study of meanings and can be applied to understand what users are really looking for behind the words they start typing in search bars. Semantic search often uses synonyms for keywords and offers suggestions using such keywords.
Semantic search is a very helpful process for identifying the right terms, which will help you find the most relevant answers to your search query.
Google isn't the only one to use predictive search – Amazon, Facebook, YouTube, and many other big players do too. In fact, you've likely been on smaller websites with search bars employing the function as well.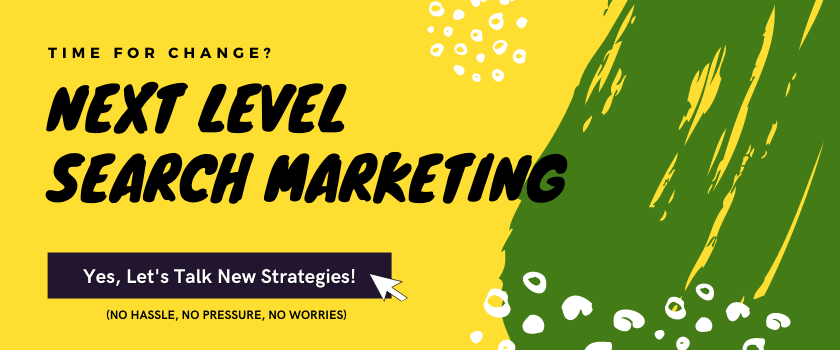 Benefits – why is predictive search important?
Now that you understand what predictive SEO is and how it works, the next thing you need to learn is why you need it in your SEO strategy.
Here you will recognize the importance of autocomplete and understand why it has become a top SEO trend this year.
Predictive search improves retention and increases conversion rates.
Predictive analytics uses data mining and other elements, including statistics and customer data, to determine accurate trends. Through this process, search engines come up with relevant suggestions that users find helpful.
And because search engines offer recommendations that are quite useful, users will believe that there is more relevant content where they come from. Thus, they are bound to stay and click on more content. As a result, retention and conversion increase.
Predictive search improves SEO.
Since retention significantly increases, visitors stay on your site longer and visit other pages within your site. This action reduces your bounce rate, which, in turn, improves overall search engine optimization.
Additionally, predictive search's attempt to identify a user's query is important for critical SEO strategies like keyword research.
Predictive search provides the element of personalization.
As mentioned, predictive search relies on a user's search history and internet behavior. With the provided user data, search engines come up with words and topics to recommend. Thus, users can easily see relevant suggestions that contain the answers to their queries.
This process not only gives users what they need, but also makes the experience more personal, allowing them to enjoy their time on your site.
Predictive search improves the user experience.
Customized search results make for a personal experience. Add to that the considerably less time used for searching and the added relevant suggestions, and your visitor becomes satisfied.
This experience then contributes to positive user interaction with your brand, which helps push your website up the ranks.
Predictive search strengthens customer loyalty.
Improved SEO, personalization, and a positive user experience are just some of the amazing things that predictive search provides for businesses. And these are also the reasons why many of your visitors come back to your site.
Because they find it helpful and are satisfied with their experience, they will keep coming back and become part of your journey towards success.
Predictive search allows content to be easily discovered.
You might wonder why some of your web content never makes it onto Google. And no matter how you optimize it and improve its elements, it's still undiscoverable.
Unfortunately, this problem happens when your content has complex subpage structures. As a result, such content may remain hidden, and many web users will be unable to find it.
However, when you use predictive search, content that many cannot see will find its way up and become more accessible to searchers.
Predictive search helps businesses with brand promotion.
Sales are one critical aspect, if not the most, of business. Thus, you need to prioritize it. And to do so, you should leverage predictive search, among other processes.
Through predictive search, you can suggest keywords even before a user starts typing the first letter.
So, you can easily recommend your products or services as soon as someone visits your site. And when visitors see your suggestions, your products are instantly brought into the spotlight, which may increase the user's curiosity. This technique helps increase brand awareness and assists with promotion.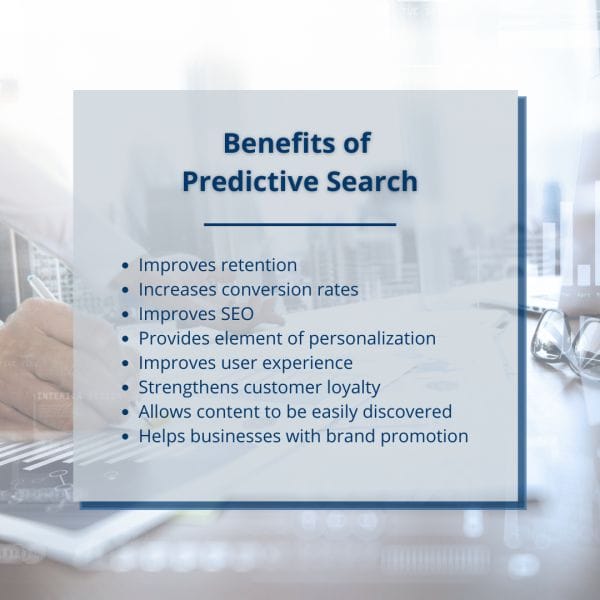 Are search predictions accurate?
We've all had a good laugh over actual predictive search results we see as we go about doing our own research. Do these actually reflect what people have typed into Google in the past?
Furthermore, when reviewing popular search topics around "predictive search" by far the most common sentiment is how to turn it off.
In order to be successful and accurate utilizing predictive SEO consider these three factors:
Reliable data. If data is incomplete and inaccurate, don't expect your search engine to provide the best results. In fact, with this kind of data, you might not get anywhere with predictive search. For this process to succeed, you need enough relevant data that is up-to-date and reliable.
The best predictive modelling method. The algorithms behind predictive search vary. And to be able to find the right one, you need to understand your business, customers, and the pattern between their actions and those of others. However, it is imperative that predictive search uses artificial intelligence, machine learning, and natural language understanding to be fully effective.
Actionable predictions. What's the use of search results when consumers can't do anything with them? To be successful at predictive SEO, your suggestions need to be actionable insights, meaning searchers can use them and, more importantly, your business benefits from them.
How to implement predictive search into your SEO strategy
If you're looking to take your SEO strategy to the next level, predictive SEO is a great way to do it. By using predictive search, you can help your customers find the information they're looking for more quickly and easily.
Here are four popular ways predictive search is used in SEO.
1. Keyword Research
There are countless SEO keyword research tools that you can use but predictive search can be a bonus hidden gem to find (especially) the long-tail keyword terms that are used by highly qualified, ready to convert searchers. Integrate these predictive search results into your keyword targeting and tailor content around these keywords to boost your SEO.
2. Content Creation
Predictive search results can be used to help you understand all the related topics surrounding a central theme. You can then assess your own existing content and identify major SEO content gaps where you need additional supporting content that addresses your visitors' key needs.
By having a website that provides a complete, one-stop resource on a theme you show the Search Engines you are one of the most credible, relevant sources on the Internet. Visitors don't have to spend time searching elsewhere to get all of their questions answered. From a branding perspective, you've established yourself as the expert on the topic.
3. User Intent
There's nothing more revealing than seeing what Google thinks is the intention behind searches. Predictive search can help you understand the context behind many searches and decide if certain themes/topics or specific keywords are even relevant to use within your SEO strategy. There's no point in optimizing for a keyword if your website and brand isn't a suitable result for the keyword search.
4. Branding and PR
This is an interesting one! Start typing in your company name and see what autocomplete options come up.
Is there a positive or negative sentiment?
Are there any popular products or services most related to your brand?
Do people search for reviews for your brand?
With all predictive search results connected to your brand, are you addressing these offline and online?
How will predictive search change SEO?
Predictive search could potentially change SEO in a number of ways.
For example, it could make keyword research more important than ever, as keywords would need to be chosen very carefully in order to trigger the right results.
Additionally, it could make it more difficult to rank for certain keywords, as the algorithm would be constantly changing and adapting to user behavior.
Ultimately, predictive search creates many new opportunities for sustainable ranking power. It also makes SEO a more complex marketing initiative that requires more than just a basic understanding. Having the right set of SEO tools and the ability to mine through data is critically important to hit the target and do it right.
Overall, predictive SEO is likely to have a significant impact on search results. Companies will need to be aware of this technology and how it works in order to ensure that their website is optimized for it.
Closing Remarks on Predictive Search
Results for predictive SEO are rarely perfect and often complex. With the help of the above factors and the right Digital Marketing team, you can make the best of it and use it to make your business successful.
If you're ready to take on 2022 and leverage the top SEO trends, contact us by calling our SEO Experts at 1-888-262-6687.
Our experts here at 1st on the List will help you develop strategies that are perfect for your business, relevant in today's highly digital world, and ultimately designed to grow your business.
---