What Can SEO Do For Your Business?

Whether you've been in business for decades – or just getting started – it is important to understand what SEO can do for your business. Organic-search traffic is the highest quality traffic your website can receive and they're completely free!
Over the last 23 years, our team has managed and audited thousands of client websites and we can unequivocally say that SEO outperforms any other form of online traffic at least 9 times out of 10.
Below is an infographic that clearly showcases the benefits of SEO for your business.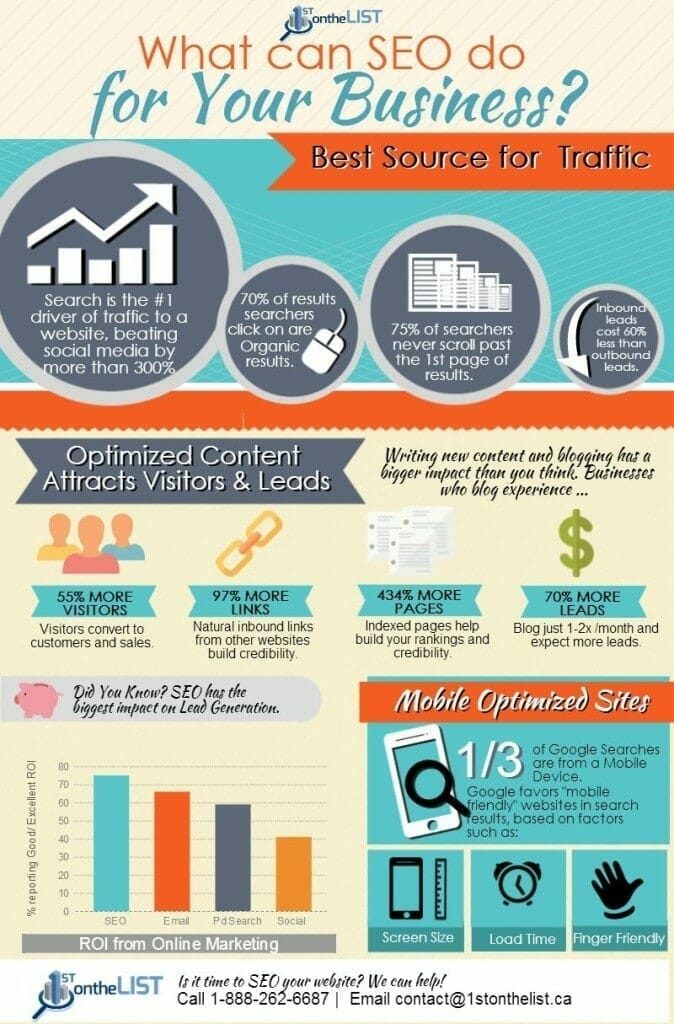 Organic Traffic is the Best Source of Traffic
Search is the #1 driver of traffic to a website, beating social media by more than 300%
70% of results searchers click on are organic results.
75% of searchers never scroll past the 1st page of search results.
Inbound leads cost 60% less than outbound leads.
Optimized Content Attracts Visitors & Leads
Writing new content and blogging has a big impact on SEO.
55% more organic visitors convert to customers and sales.
Natural inbound links from other websites help build your online credibility.
Indexed pages help build your rankings and credibility.
Businesses that blog just 1-2 times per month can experience 70% more leads.
SEO Has The Biggest Impact On Lead Generation
Over 70% of businesses report good/excellent return on investment (ROI) from SEO efforts.
Less than 70% of respondents experienced a good ROI from Email and Paid Search efforts.
60% of businesses experienced less than a "good" ROI from social media campaigns.
Mobile Sites Outperform Desktop
33% of Google searches are from a mobile device.
Google favors "mobile-friendly" websites in search results.
Your website's screen resolution and load speed all impact your search engine visibility.
About 1st on the List
1st on the List is a results-driven boutique Search Marketing Firm with clients all across Canada and the United States. We can help you search engine visibility using our advanced SEO strategies. Let us show you how to focus your efforts on the actions that will provide the biggest bang for your buck.
To learn more about 1st on the List or about any of the services we offer, please call us toll-free at 1-888-262-6687
---