Google Search Console SEO: 5 Genius Ways to Grow with GSC Performance Search Results Data
Use Google Search Console SEO to improve your website performance, optimize your content, and measure your website traffic.
These are more than just buzzwords used to describe how Google Search Console can help your website. That said, how do you actually know what to do with the endless Google Search Console website data? If you're like most people, the resulting overwhelm and information fatigue is real.
The purpose of this article is to give you five actionable ways to use Google Search Console SEO and capitalize on the Data found inside the Performance section of Google Search Console. The best part is that you don't need to be an SEO expert to understand or start implementing these SEO hacks either!
What is Google Search Console SEO?
First things first, let's do a quick refresher about this highly valuable – arguably the most valuable – SEO tool.
If this is your first time hearing about Google Search Console, save this article to return to and first read our How to Use Google Search Console for SEO Like a Pro. You'll learn how to add your website to Google Search Console and tips to use Google Search Console well.
For the sake of brevity, here's a quick explanation of Google Search Console:
"Google Search Console is a free service offered by Google that helps you monitor, maintain, and troubleshoot your site's presence in Google Search results."
Source: https://support.google.com/webmasters/answer/9128668?hl=en
It essentially gives you access into Google's brain about how they view your website and how your website actually performs in Google Search. Who wouldn't want this added intel when it comes to creating, maintaining, and marketing a website, right?
Who Should Use Google Search Console?
Every website owner should be using the Search Console regardless of their depth of knowledge or intentions of how often they will use the SEO tool/service. You can simply set up your Google Search Console account and rely on its automated email alerts and performance summaries. You can log into your dashboard every day, browse all the data, and regularly use the info to inform, shape, and evaluate your ongoing SEO efforts. Or you can find yourself somewhere in the middle in terms of usage.
If you hire an SEO Company or any other Digital Marketing Agency to help with your website, they will most likely want access to this account (or set it up for you).
Why You Should Use Google Search Console SEO
You do not need to be an SEO veteran to log into your Google Search Console account and check out your website's performance. Here are four reasons why you need your Google Search Console:
View your website through Google's eyes and truly understand how Google Search sees your pages.
Get time sensitive important alerts of critical website issues that affect your rankings and visibility. You can also let Google know when you've fixed the issue(s).
Detect high-priority problems on your website you may not know exist but are actually affecting your SEO.
Find quick SEO wins you can add into your regular website maintenance work to get even better results.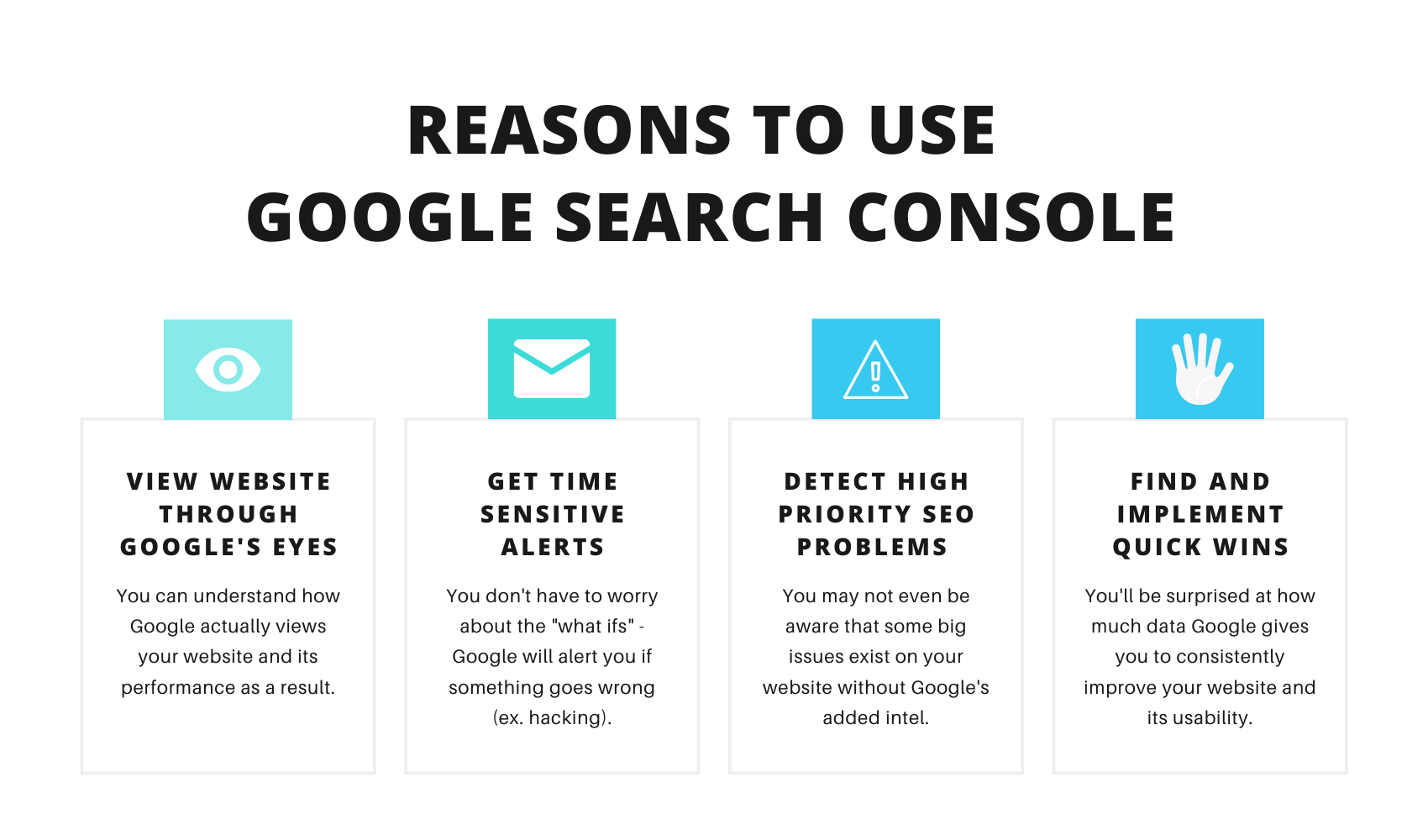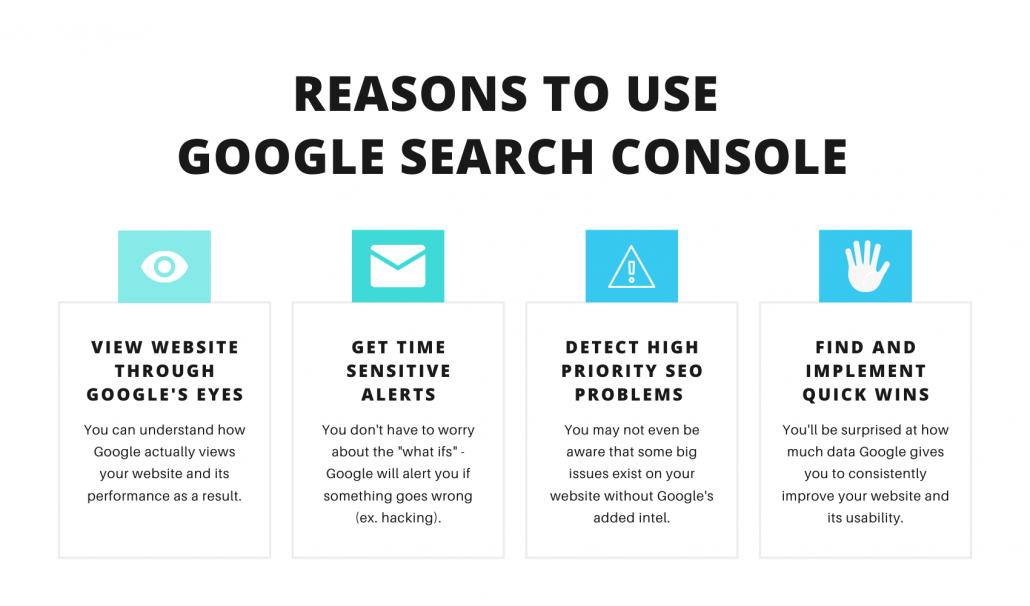 Additional reasons Google says you should use Search Console include:
To confirm that Google can even crawl your website
To fix indexing problems
To view Google Search traffic data
To receive alerts when Google encounters spam issues on your website
To see which websites link to you
And to troubleshoot Search feature issues
Now that we understand the What, Who, and Why let's dive into ways you can use Google Search Console's Performance Search results data to not only help SEO but gain a better understanding of how visitors find and use your website.
Here are 5 places to focus your attention.
1. Focus on Bottom of Page 1 Ranking Queries
These are the golden nuggets you need to find! What do we mean by bottom of page 1 ranking queries?
These are queries ranking in position 5 – 10 or so that Google recognizes your website for they are not in the highly visible top ranking positions (1 to 5) that will get you actual clicks and visitors. You can also expand your search to page 2 and 3 results (ie. ranking position 11 – 30-ish).
Google is recognizing your site for these queries (yay!) but they aren't quite where they need to be in the top ranking spot(s).
Studies show that as many as 55% of clicks go to the first three organic search results in Google. Given the added competition of Ads, Local Results and other rich results, you need to be found as close to the top as possible.
In theory, since you've already built up credit for these queries it can be faster and more efficient to try to push them up higher than starting from scratch with a brand new query.
Here are a few questions to ask yourself as you look for the best mid ranking queries to focus your efforts on:
Have I already exhausted my resources trying to get a top rank for this query?
What other content could I add to my website to support this query?
Can I refresh the page or pages ranking for this query?
Who is outranking my website for this query (is it possible to beat them out)?
If you get a top ranking and more traffic from this query, will it translate into more sales or leads?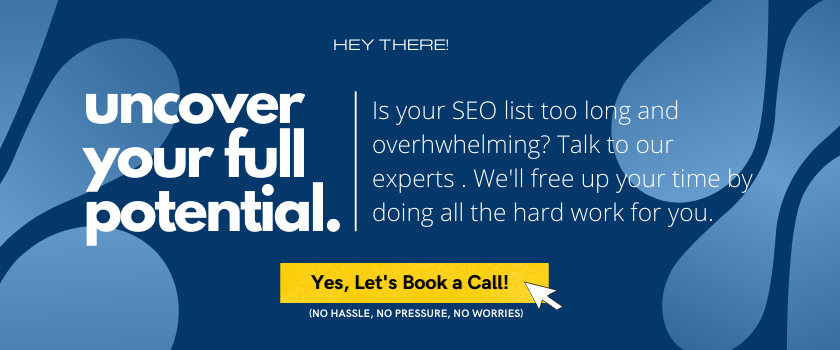 2. Explore new trending keyword opportunities.
Google Search Console is one of the best places to explore the keywords (what Google refers to as queries) that people are actually using to search and find your website. The data is extensive and you could spend a lot of time sifting, sorting, and looking for trends and opportunities.
As you do this you'll be enlightened by scrolling through the basic Query report to see how a website is being found in Google Search, especially if your website is well-established. As you scroll keep your eyes out for:
Queries that are relevant to your website that you have yet to optimize for (or account for) in your optimization strategy.
Queries that you haven't developed solid content to support yet.
Queries that represent questions that you can provide answers for.
New queries that represent upcoming trends in your industry.
Keep in mind that there will always be irrelevant queries showing up in your Query Report as Google figures out your website's relevance and if it's a good result match.
3. Pinpoint Under-Clicked, High Impression Pages
Next, let's try to find website pages that are underperforming in the SERPs (search engine result pages). These are pages that are getting a lot of impressions (seen in search results) but are not being clicked on by the searcher.
Stay in the Performance/Search Results section and click over to Pages. Make sure that you've selected both Impressions and Average CTR to show. Now sort them by impressions and go through the list to identify pages that just aren't being clicked.
For each page you've identified, ask yourself:
Can I improve the clickability of this result to lure more searchers to my website?
How does the title and description of this page in SERPs compare to other websites?
Why might searchers be clicking on my website?
Does my listing speak to the need of the searcher – am I proving that I can solve their problem?
Can I add an enticing benefit, promotion, or other attention grabber to the page listing?
Be sure to check out Yoast's instructions on How to create the right meta description for more specific ideas!
4. Strengthen Performance of High Visibility Pages
You may notice several Top Pages with high impressions and high CTR that you may not have expected to be on the list. Often these are blog articles you've written as supporting content that are getting a surprising level of traffic that you have yet to capitalize on.
Once you've identified these pages, visit each page and ask yourself:
Is all the information on this page accurate and up to date since so many people are clicking to view it?
Is there an opportunity to add a strong Call To Action like "Request a Quote" or "Buy Now" or even a promo code/discount?
Can you link to any products or move the visitor into your main website to buy?
Is there enough on this page to keep the visitor engaged with your brand?
BONUS TIP: You can also log into Google Analytics to check out the specific page performance data on each URL to find out the page's bounce rate and time on page.
5. Compare Value of Various Sections of Website
Now let's take a bigger picture look at your Search results and use some categorization. Depending on what you are comfortable with you can either add new Filters inside Google Search Console or you can export all the data into Excel and use filtering there.
Type of Pages – What types of pages are getting the most action in Search Results and where should you be focusing your efforts as a result? For example, an e-commerce website Category, Product, and Article pages. A professional service lead generation website might have Service and Industry pages.
Ask yourself:
Are you focusing your attention on building the type of pages that get the most impressions?
Do the types of pages getting the most impressions deliver actual ROI and if no, then how can you change that?
Services – For example, an Insurance Agency likely has a section of their website built for Home Insurance, Business Insurance, Life Insurance, and so on.
Do your high impression and high click pages reflect your most important and most profitable services?
What services are underrepresented in GSC data?
Products – For example, the gourmet coffee and tea retail website showcased in this article has various product types, like Decaf Coffee, Flavored Coffee, Espresso, Herbal Teas, Green Teas, and so on.
What products generate the most Search Traffic vs. what products generate the most sales?
What products are underrepresented in GSC data?
BONUS: Track SEO Impact and Visibility Growth
Over time the value of data inside Google Search Console SEO accumulates and you'll be able to mine more and more information.
One of the simplest ways you can use GSC to track your website growth is by tracking the Total Clicks and Total Impressions month-over- month. As you accumulate data you'll be able to see trends. For example:
Are there certain months of the year where your website generates more impressions (highly likely if you are in a seasonal business)?
Is your website being seen more and more often in Google search (ie. Total Impressions are increasing)?
If you have identified high value queries or query groups, are they generating more clicks and impressions each month?
Did a specific SEO or Digital Marketing initiative make an impact on Total Clicks and Impressions?
What we are looking for here is an overall upward growth in how often your website is shown in Google Search, how often it's clicked, and the average ranking position that it is shown.
Google Search Console Experts
Our search engine optimization experts use Google Search Console SEO virtually every day to analyze, review, and improve our clients' websites.  If you don't know where to start with Google Search Console or just don't have the time, contact our team online or call us at 1-888-262-6687. We'd be happy to set up Google Search Console and start interpreting its endless data to improve your SEO performance.
---