Best SEO Link Building Strategy Roundup
Link Building Must Add Value
Does the task of developing natural SEO link building strategies keep you up at night?
The truth is, that good 100% natural link building requires time, effort and creativity, but the end result is much better and much more long-term than any other type of link you could acquire through an automated or low-cost SEO link building service.
Your natural backlinks must add value across the web:
Add value to the website that is providing the link
Add value to the visitor who clicks on the link
Add value to your website in the form of highly qualified traffic
In light of the benefits of link building in SEO, the question remains "How do I perform lasting link building for SEO that will actually work?"
In this post, we have gathered some of the very best articles about white hat SEO link building strategies from around the web. These useful articles are full of strategies, tips, and ideas that follow Google's quality guidelines on link schemes and establish powerful natural backlinks.
In this article, Heather Campbell over at Search Engine Journal will help you learn how to identify and correct link building mistakes that businesses large and small make over and over again. These SEO link building mistakes include:
Not looking at on-page SEO and search intent first
Not creating linkable content
Performing bad outreach
Setting poor expectations
Check out Maria Bohdanovska's SEO link building strategies that focus more on the right mindset to adopt rather than the how to of link building.
"With link building, the ultimate aim is to generate more traffic and compel new users to stay longer on your page."
Which one of these five strategic SEO link building practices do you need to implement this month?
Double down on quality – good quality content is a must if you hope to get new backlinks. This includes creating new content that addresses specific user queries and keeping old content updated and current.
Be selective – off-site SEO link building isn't a numbers game. It's all about being selective in gaining quality backlinks to your website. Don't pursue every single link opportunity at the risk of hurting your website's quality score or falling into a link scheme
Encourage long-term collaboration – SEO link building isn't a quick fix. It takes time and effort. As Bohdanovska points out, one-off posts are less effective than long-term partnerships with a trusted source.
Create visuals – create videos, reports, images, how-to guides, and infographics that combine education and entertainment and are more likely to go viral and gain momentum to boost your backlinks.
Build your brand – it may feel like the ultimate goal of any SEO link building strategy is to boost your rankings, but let's try to put this on the back-burner. In everything you do consider how it grows and supports your brand. Think about how you are interacting with your audience.
This article by Christoph C. Cemper (a key thought leader in backlinks and developer of Link Research Tools) helps clarify Google's link schemes and explains the right and wrong way to use popular link building strategies.
Reciprocal Linking – "As long as you don't do reciprocal linking excessively and these reciprocal links are on topic and "make sense from a user standpoint", link exchange is not something bad."
Guest Posting – "It's great that people write about you and link back to your website, but just as long as they create links naturally … Using brand keywords or navigational phrases is a good option in this case."
Web Directory Links – "Building links in niche directories and directories attached to informative websites relevant to your industry are beneficial for you."
Blogpost Comments – "If you participate in an active discussion on a forum or blog that is relevant to your business and if your comment provides contextual value to the discussion, then you don't have to worry about sharing a relevant link."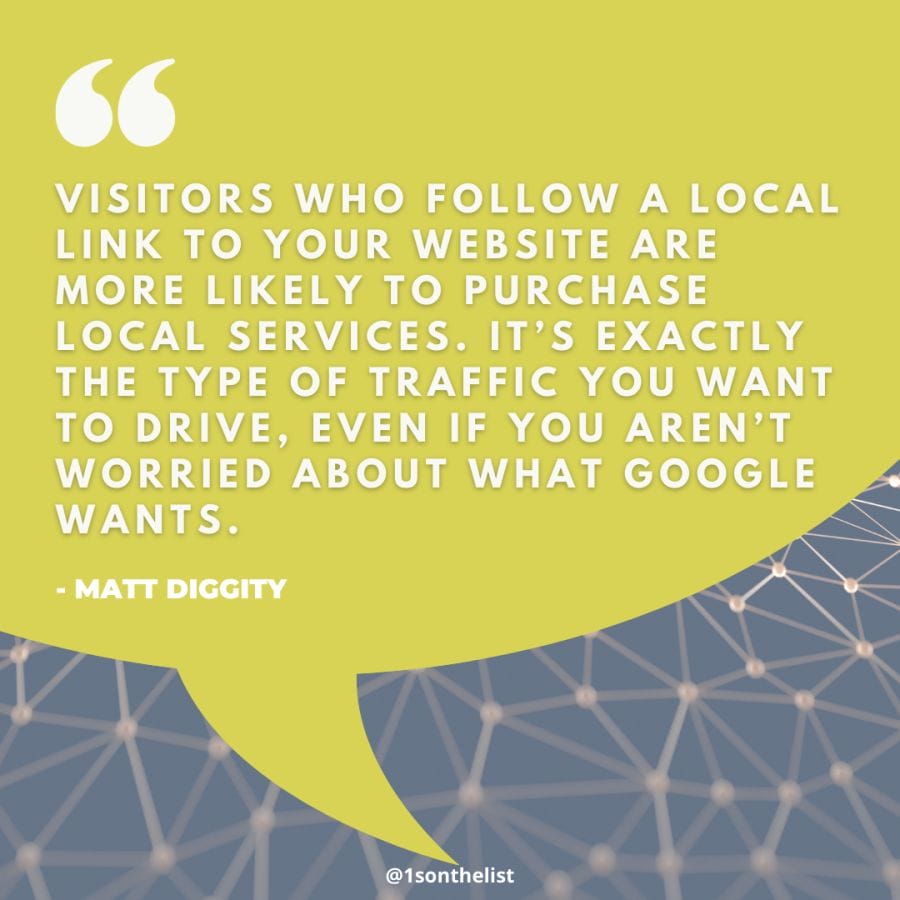 "Visitors who follow a local link to your website are more likely to purchase local services. It's exactly the type of traffic you want to drive, even if you aren't worried about what Google wants."
– Matt Diggity
Attention all small local business owners! Here's a link building strategy resource that is geared specifically towards you. Learn some new ideas to gain mentions and conduct localized outreach.
Targeting Directories or Citations is a fairly low effort SEO link building tactic for local businesses. You can join local business listings where you can include your Name, Address, Place (NAP). You can discover the important citation sites for your local area and industry by Googling either your competitors' names or your "service+area" (ex. Plumber in Abbotsford BC) and see what results Google shows. Get listed in as many of these results as possible.
UK based SEO Matthew Woodward shares 15 link building strategies and suggests you pick your favorite three, and start with the one that is easiest and quickest to do first.
Here's the three that caught our attention.
Leverage Testimonials – offer to share a testimonial for a service or product you are using and ask to have the published testimonial link back to your website. Woodward outlines the easy four step process to testimonial link building.
Replicate Your Competitors' Best Links – why reinvent the wheel? Woodward points out that your competitors are spending thousands of dollars and hundreds of hours developing their own SEO backlink strategies. Work smarter, use SEO backlink tools, investigate their backlinks, and decide if you can obtain a similar link. This is one of the top strategies used in many of our SEO Link Building services.
Get Listed in Link Roundups – if you are creating excellent content you need to make sure it's getting acknowledge! Use Woodward's process to identify blogs in your niche who publish link roundups and pitch your content to be included on relevant roundup lists.
"A picture is worth a thousand words. If we talk about digital marketing, a strategically used picture could be worth a thousand links. Links play a pivotal role in the success of your digital marketing and eventually, your brand's growth strategy and that's why image-based link building is a key factor for your search engine ranking."
– Birbahadur Singh Kathayat
Though a couple of years old, this article highlights the critical value of images. For example, 32% of marketers insist images are the most important type of content in their digital marketing strategy and images can increase your website traffic by 12%. If readers pay close attention to information-carrying images – so will potential link opportunities. Check out the full article for how to use your images to generate backlinks and ultimately generate traffic.
If you are "fresh out of ideas or even in a 'boring' niche that makes it difficult to think up interesting topics" then this article is for you. Jason Hennessey at Search Engine Journal writes a jam packed article on how to:
Keep up with trending topics and what tools to use to track trending topics for potential back link opportunities.
Look out for opportunities for creating content that is most linkable in your niche, has worked in the past, is being recognized by your competitors, and interests your audience.
Develop shareable, engaging content using the best format that caters to a wider audience and is optimized for search.
Repurpose trending content across all platforms that make sense within your content marketing strategy.
Closing Remarks
Developing SEO link building strategies is a long term effort that is integral to any solid search engine optimization strategy, particularly in competitive markets.
At 1st on the List, our link building services are conducted by in-house SEO experts who are experienced in using link building tactics to generate more traffic. We spend the time and energy researching, testing and implementing many of the above mentioned Link Building SEO strategies so that you can focus on other aspects of growing your business.
Call our Abbotsford Digital Marketing office at 1-888-262-6687 if you need assistance in link building or would like a complimentary SEO Link Audit. We look forward to hearing from you!
---