Time Management and Productivity Tips from Our Office to Yours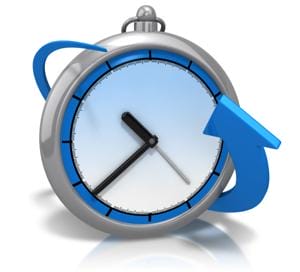 If you ask anyone working in an office what they wish they could do better a common answer is likely "be more productive" or "manage my time better." No matter who you are there are only so many hours in your work day and we all must learn tricks and tips to help maximize the time we do have.
This month we've gathered some of our favorite ways to be more productive and get the most out of our time.
Define your goals and stay focused.
Wouldn't you rather be a highly productive person all the time than one who works in fits of low and high productive cycles? You can save yourself from stressful deadlines by defining and prioritizing your goals:
D

ecide

what

you want to achieve

Decide when

you want to achieve it by

Determine

what you'll need to do

in order to achieve it.  
We find it works best to break down your big goals into small, attainable ones. Define your goals for the month or quarter, and then break them down into weekly and then daily goals. Keep these goals posted nearby and let nothing impede your focus from attaining the goals.
If something does break your focus – like a last minute project or unexpected time crunch – don't let yourself get disappointed. Reassess the goals and schedule them into next month's list or delegate some of the work to a co-worker in the office.
Stick to a schedule.
Create a schedule from your prioritized goals and then ruthlessly force yourself to follow the schedule despite what may unexpectedly come up. Robin, our web designer, likes to keep a tight schedule by completing a job request and then moving on to the next. We can all learn from Robin by scheduling out our projects and getting one thing done at a time.
Create a game plan for your day.
If you work in a flexible job where you manage multiple projects at any given time it takes discipline to decide what you should work on each day. Try writing a daily list of tasks to complete. We find that this helps minimize time in between tasks as you know what to move on to right away. If you don't complete everything on the list each day you can easily add to the top of tomorrow's list.
In Chris Genge's (CEO of 1st on the List) experience, can forget up to 60% of the things they need to get done. Do you ever have that looming feeling where it feels like you forgot something? A list can help reassure that you did complete everything you needed to.
Take detailed notes.
In most industries having detailed notes is crucial. Always keep a notepad and pen nearby, so that you always have your ideas, appointments, conversations and consultations on paper with dated notes to refer back to in case you need. We find that we are much more productive on projects we keep detailed notes for. You would think you could remember everything, but in fact you likely won't!
Don't let email take over your work day.
We've all been stuck cleaning out hundreds or even thousands of emails from our inbox. The best way to avoid this is to not let it get to this point. Here are some tips that work for most of our staff:
Set up filters to move automated newsletters and other unimportant messages into folders; this way you can look at them when you have time but they are not cluttering your inbox.
Decide on how often you want to check your email and stick to it. Maybe it's best to spend five minutes each hour quickly responding to messages or perhaps checking it first thing in the morning, right before lunch and at the end of the day is frequent enough.
Keep your personal and work email separate and don't worry about one when you are dealing with the other.
If you are checking multiple work accounts such as the general contact email or sales emails, consider delegating this address to someone else in the office who can help you screen incoming emails and only forward the important ones to your inbox.
If you  need to get work done consider closing your email program completely for an hour or two at a time. This gives you an uninterrupted chunk of time to get work done and keeps you from getting distracted or trying to work on two things at once.
Don't underestimate the power of a pen and paper.
With our phones, tablets and computers it can be easy to be plugged in and keep all of our lists online. Keeping a simple notepad near your desk can be handy as it's always in front of you. Many of us take notes on everything and refer back to them several times a day.
If you're under a time crunch, let others know.
In our office we work closely together on most projects which is great but can often mean interruptions. We have an open policy where it's okay to let others know you are a busy on a specific project or unavailable for phone calls. We all understand it happens. It also means that when the busy person does have a chance to talk they will be able to give their full attention rather than being distracted.
Don't be afraid to delegate.
Working as a team is a common characteristic of successful companies. Is a project you have too large or could you distribute some of your heavy workload to others in your office? Can you find someone in your workplace who is more proficient at a task you do? Perhaps you can trade them for a task they don't like doing but you are really good at.
Set deadlines to motivate and prioritize.
Did you know that deadline driven work tends to speed up the process? If you set deadlines for multiple projects it will become easier to prioritize your work. It will become quite apparent what projects need your attention right away and what projects can wait.
Ask for advice.
If you find that it is taking you longer than you like or a process seems more complicated than it should be, don't be afraid to ask a colleague for their advice. Perhaps they have some tips for how to do the job better or faster. Chances are they were once in your situation too.
Treat yourself with a break every couple hours.
Taking a quick five minute break to stretch your legs and give your eyes a very important break from your computer screen can not only clear your head but be healthy for you. Whatever you need to do – pour a fresh cup of coffee, go for a quick walk around the block or even visit with a co-worker – you'll likely be more productive once you return to your desk. The trick is to recognize when you are losing productivity and take a break, or to set small goals such as finishing a report before taking a quick break for yourself.
Don't make things harder than they should be –
Use Free Technology and Apps
At 1st on the List there are several tools we like to use to make ourselves more productive:
Save files to an online host like Dropbox so that your entire team has instant access to update project files.
Use a shared calendar tool so that your team can see at a glance who's available, when projects are due and when the next meeting is.
Use a schedule tool like www.doodle.com to efficiently find a time that works for you and your coworkers to schedule a meeting. Some of us have even used the tool in our personal lives to plan extended family dinners or a weekend away with friends.
Make communication easy with a tool like https://getfireshot.com/. This makes it easy to capture what you are seeing in your browser and send to someone else for input. This tool is a lifesaver for our developers to point out issues they see or to share new design concepts.
Use an aggregator tool such as https://feedly.com/ to read all your favorite blog posts, news websites and magazines in one place.
What's the one task that takes you too long? There has bound to be a free or inexpensive tool to help make it easier for you. Google Apps are a great place to find the latest and greatest paid or free apps to save you time.
Use creative routines to boost your productivity.
Tony, one of our Lead Project Strategists and Content Writers, likes to use Pixar's model for creativity. He knows that all projects originate from a good story and Pixar's basic sentence starters usually gets his creative juices flowing:
Once upon a time…
Every day he/she would
Then one day
Because of that
Because of this
Until finally he/she
Determine what you do repeatedly and create a process or template.
Many of our staff complete similar tasks within different client projects, although the details of each may be a little different. Creating templates and work processes can be a huge timesaver. There's no need to reinvent the wheel each time you start a new project. What do you find yourself doing often and how can you speed up the process?
Of course there are any number of strategies and systems out there. What works for you and your office? What do you do to save time and increase your productivity?
---