SEO for Beginners: 9 SEO Tips for 2021
SEO for beginners may seem somewhat scary but even the PROs had to start somewhere at some time.
SEO doesn't have to be a virtual vortex, swirling with head-spinning jargon and tech-savvy know-how always seemingly just out of your scope of knowledge. (Full disclosure: even seasoned SEOs sometimes feel this way, what with the never-ending mystery that is Google and its algorithms.)
There's no point turning away from it though. You must face into the winds of search: SEO and Google are inseparable and if you want your website and business to feature at all, you must allow yourself to get sucked into the Swirl, embrace the Eddy, open yourself up to the Opportunities.
Besides, thanks to our SEO for beginners guide, you will see that actually, SEO needn't be something to fear. First, we'll tell you exactly what it is, because we know that it's in the 'not-knowing' that the bulk of fear lies. Once you have that knowledge at hand, and at risk of going all geek on you, we'll go so far as to say that you will find SEO, especially the basics outlined in our beginners top 9 SEO tips for 2021, fulfilling. Fun even. Se(o)riously.
What is SEO?
SEO (search engine optimization) is the process of altering a website in order to improve its ranking in search engine results. It's also referred to as searchengine optimization. Some of the things that are focused on include: titles, headings, alt tags, keyword density, backlinks, and all the other items that search engines look at when determining which websites to rank at the top of the results.
SEO is:
the art/skill/magic of optimizing your online content, as well as website structure and technical background,
in a way that search engines (like Google) can find it easily,
then choose to show it as a top result for searches of a certain keyword,
in the unpaid, or organic, section of their search results page.
The higher your website features, the more likely people are to see it,
which is why SEO matters.
On-page vs. off-page SEO
We won't get too technical in this SEO for beginners guide. The processes you perform can be easily be divided into two primary categories:
On-page (on-site) SEO
Off-page (off-site) SEO
On-page SEO means everything you can do on your website itself, from content optimization through technical aspects like:
Creating quality content
Proper metadata (page titles, descriptions, etc)
Including on-page headings
URL structure
Image optimization (size and alt text)
Website speed etc.
Off-page SEO covers all the processes and activities you can do to improve your website's authority, relevance, and reliability off your own website. This can include things like:
Getting natural backlinks to your site from other websites
Email newsletters
Guest blogging
Social media
And other promotion efforts.
Why is SEO Important?
To become successful in any business, you must have a plan for marketing. A lot of businesses fail because they don't do any marketing for their business.  SEO is the process of getting your website to the top of the search engines for a particular keyword. Having your keywords highly ranked on the search engines results in more traffic, which is how you will acquire more customers.
Here are three reasons why should you care, even if you are just learning SEO for beginners:
93% of all website traffic comes from a search engine (Search Engine Journal).
You need SEO to feature on those search engines and get your share of the traffic.
Nearly 80% of users ignore paid ads in search results (Search Engine People).
In other words, organic search results, the kind engineered by savvy SEO, win.
75% of people never scroll past the first page of search engines (Hubspot).
In other words, organic search results that feature on page one of Google et al., the kind engineered by really savvy SEO, win.
2021: Top 9 Tips In SEO for Beginners
If you're just getting started with search engine optimization it's easy to feel overwhelmed by information overload. So many technical terms, so many tactics, so much, too much. (Mommy help me.) In truth, though, there are quite a few simple things you can do to start you on a highly effective SEO journey that won't have you fleeing for the hills, screaming for your mama.
Here, we outline 9 of the best, and easiest, SEO tips which are as valid and valuable as ever for 2021, whether you're a beginner or just revisiting the basics.
1. Learn the most important ranking factors for 2021
Knowledge is power. Knowing overpowers fear. Start there.
Start by doing some reading on the key factors assigned by Google as being important to how your site performs in search and where you rank on search results pages (also known as SERPs).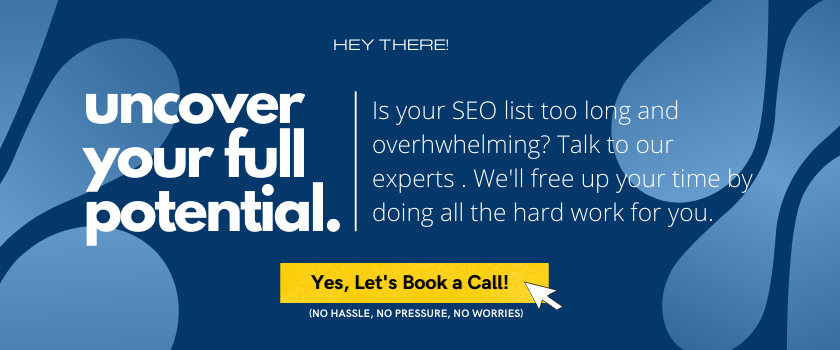 No SEO beginners guide would be complete without Brian Dean at Backlinko's complete overview of Google's entire list of more than 200 ranking signals or factors in its algorithm, which can be sorted into the following categories:
Domain – factors such as its age, registration length, history, and more.
Page-level – factors like keywords placement in title tag, description, and headings, content length and depth, page load speed and more.
Site-level – factors like content value, contact information, domain trust, site architecture, uptime, security SSL certificate, mobile optimized and more
Backlinks – it's just not just a numbers game. In 2021 Google looks at a number of qualities including age of linking domains, number of linking pages, .edu or .gov links, authority of linking pages, links from a competitor, links from expected websites, and diversity of link types.
User Interaction – Google wants to know that your website is a useful search result so factors like click-through-rate, bounce rate, direct traffic, repeat traffic, pogosticking, and dwell time suggests your visitors are benefiting from your website.
Special Google Algorithm Rules – it's 2021 and we can expect Google to make personalized exceptions in Search Results, like showing pages you've visited before, using geo targeting, displaying the freshest/newest pages, and enhancing some results with Rich Snippets.
Brand Signals – factors that prove your website represents a trusted brand are important in 2021. Signals like brand mentions, social media profiles, authorship, brick and mortar locations, and branded anchor text.
On-site Webspam – factors like low-quality content, links to bad neighborhoods, sneaky redirects, popup ads, over-optimization, doorway pages, and other website qualities meant to deceive Search Engines and users are still a big no-no.
Off-site Webspam – factors regarding spammy or unnatural backlinks still negatively impact your SEO performance. Don't do it!
As of April 2021, this list has over 1,000 comments – check them out to see how people are responding.
If the Backlinko's list feels like too screaming-for-Mommy territory, Search Engine Watch has distilled that to 14 of the most important ranking signals (in their opinion).
If you're a visual person, check out the current On-Page SEO Ranking Factors in 2021 by Moz.com:
Although you may be just starting your journey learning SEO for beginners, be sure to update your knowledge every couple of months or so by Googling (what else) the topic for the latest research.
2. Optimize for Mobile
At 1st on the List we've been consulting with our clients on mobile optimization and mobile friendly websites since 2013 and it's more important than ever to be on board with mobile!
60% of searches in Google are done from a mobile device (with some industries like Food and Beverage reaching as high as 72%) (TheSearchReview.com).
27.8 billion more search queries performed on mobile than desktop.
87% of smartphone users use search engines at least once a day.
61% are more likely to contact a local business if they have a mobile-friendly site.
69% of people prefer to look for reviews on their phones than approach an in-store employee (eMarketer).
It's no secret that we live in a world where everybody has their eyes glued to a mobile phone. Every. Body. What's more, Google wants your site, and every site, to be mobile-friendly.
At first, Google's initial plan was to enable mobile-first indexing for all websites in September 2020. However, due to COVID-19 and what Google deemed "uncertain times" they extended the timeframe to March 2021.
What this means is that Google will crawl the mobile version of your site first, before your desktop version, and there will come a day when Google won't index your site at all if it isn't mobile friendly.
As part of your SEO beginners guide, we must emphasize how important it is to optimize for mobile.
Make your site lightning fast.
Make it easy to read and navigate, in spite of the smaller screen size.
Make it responsive to the smaller screen size – no pinching or zooming required.
Make it user friendly, keeping in mind that these users are on the go, wanting information right now, right here.
Test if your site is mobile friendly here:
If you still need to get your website mobile friendly please contact us for help!
3. Create great content – then optimize it!
This is one of the most important things to learn. Write the kind of content you'd like to read – interesting, funny, useful, engaging; then optimize that content for search engines.
Make sure every post has a clear topic. Every blog post should contain keywords or phrases related to that primary topic.
Don't start by picking your keywords and massaging content to match; start by writing about what you know and care about – and what your customer needs to know or will find fascinating, useful, and relevant to their search query. Once you're done, you'll more than likely find that your keywords are already a natural, organic part of your content.
That said, there's no point ignoring keywords and the optimization of your content altogether. After all, what good is great content if nobody is reading it? The goal is to pick keywords that your users might be using in their quest to find engaging, useful, relevant content. But the key still remains compelling, helpful content.
And remember, content covers everything from each page of written content on your site:
Product descriptions
Blog posts
Videos
Infographics
Images
Information snippets
FAQs
Audio
Top tip: If you can't create that content yourself, get somebody else to do it for you.
Finally, once your content is in place, don't forget to optimize it using things like:
Page titles
Meta descriptions
Header tags – H1, H2, H3 etc.
Images that are named and have image alt text assigned.
Want to learn more about what makes great SEO content in 2021? Check out these trusted sources:
4. Understand your users/audience
Think about how your users might be searching to find your website. What is their search intent? What are they really looking for?
Understanding search intent, the reasoning behind every search, can help inform your site content and your approach beyond SEO for beginners.
To do this, you can use a tool like Google Search Console to analyze your current search traffic – where are users first landing on your site and how are they getting there; find your best performing pages; and discover the keywords your site visitors are using to get to you. Use that knowledge to inform future content and SEO decisions.
5. Focus on a great user experience (UX) – and speedy page load times!
If your site is ugly, slow to load, difficult to navigate, buries important information, or makes it tricky to find things, you can say goodbye to your visitors faster than you can say 'user experience'.
Key to this is page speed. We'll say that again because it bears repeating: KEY TO THIS IS PAGE SPEED.
By improving your user experience you will notice a significant improvement in conversion rates.
It won't matter how fascinating or useful your content is, if it loads too slowly the user will get bored of waiting and hit the back button. Guaranteed. And by too slowly, we mean anything slower than 2 seconds.
Studies across the board show it's important to take page load time seriously:
A 100-millisecond delay in load time can cause conversion rates to drop by 7% (Akamai).
"The probability of bounce increases 32% as page load time goes from 1 second to 3 seconds" (Think with Google). This means that 2 seconds is costing you nearly 1/3 of your website traffic.
Pages that load within two seconds have an average bounce rate of 9%, while pages that take five seconds to load have a bounce rate of 38%.
Are you losing visitors, customers and revenue because of a slow website? Check out our Page Speed Optimization services or contact us.
6. Listen to the voices
Understanding voice search – and getting your site ready for it – is going to be key for 2021 and beyond.
Half of all online searches will be voice searches by 2020 (ComScore) and 61% of 25-64 year olds say they'll use their voice devices more in the future (PwC).
Things to keep in mind for voice search:
People tend to use longer phrases in voice search.
Voice search queries are often more conversational in style.
Focus on question-based keywords. (Explore the tool Answer the Public for a fun activity. Prepare to be sucked in though!)
Voice queries are often related to local searches.
Voice searches are often performed with the desire for on the spot, immediate results.
Wanting to learn more about voice search in 2021? Check out Backlinko.com's 45 Fascinating Voice Search Statistics (2021).
7. Don't be shy – get social
Social media is another aspect of SEO for beginners. It continues to be a big part of daily life, and even if it isn't an official ranking signal for SEO purposes, Google has definitely started recognizing social search results as being of value. Moreover, social networks are increasingly being used as search engines themselves, with more and more users turning to these channels to find answers to their questions.
Social media channels also offer a key area to get real-life reviews and interaction and engagement with your customers and audience – all of which inform other potential customers, and Google, of your legitimacy and trust-worthiness. Think of social as the 21st century version of word of mouth, a tool which has always had power.
Remember this – social media is very important to brand engagement and interacting with customers yet SEO still drives 1000% more traffic than organic social media (BrightEdge). Social Media shouldn't replace SEO, or vice versa. Each serve their own purpose and will gain great synergies when used together.
8. Embrace video
Video is great for SEO as long as you have video content that is original, relevant, and engaging. If you can put together a video that makes people want to share it, then your video is more likely to go viral and bring you more traffic.
Even if you have a face for radio, find a way to include video – personalized, engaging, helpful, relevant video in your online content and in your SEO efforts.
Studies have shown that 6 out of 10 people would rather watch online videos than television (Google).
And by 2022, online videos will make up more than 82% of all consumer internet traffic (Cisco).
Whether your video is pure entertainment or wonderfully informational, today's internet users increasingly prefer their content in this format. Lazy? Maybe. But there it is.
Based on the results of Bitable's survey of 694 marketers and small businesses we can see consumers' preference for video:
74% of marketers say video has a better return on investment than static imagery.
49% of marketers say that video helps them engage their audience.
52% of marketers say that video helps them build trust with potential customers.
Remember to optimize your video for search by using relevant keywords in the description and headline of your video that match user intent. Ask us about how we can help with video optimization!
9. Go secure with SSL
SSL is an acronym for Secure Sockets Layer. It is a protocol that provides security for communications over networks such as the Internet. An SSL certificate is a digital certificate which is the foundation of trust used on the internet to validate that we are dealing with the right website. SSL Certificates are used to encrypt sensitive information such as purchase history, credit card data, and personal information during your online transactions.
You don't leave your doors unlocked. You don't leave your keys in your car's ignition. Why would you do the equivalent thereof to your website?
More than your own safety, this is important for your customers' safety. Plus, 84% of users say they will abandon a purchase if data was sent over an insecure connection (GlobalSign).
Meanwhile, 82% of people won't even browse an unsecured (HTTP) website (Blue Corona).
Going secure is good for your customer, it's good for you, plus, in terms of your SEO, Google insists on it. Google has officially acknowledged HTTPS as a ranking factor. More than this, Google Chrome has been flagging all HTTP sites as "not secure" since July 2018. Which means your customers can see it right there in glaring red and will abandon your site at alarming rates.
How do you go secure? To lock your online content up, store the keys somewhere safe, and boost your trustworthiness and SEO, you need to make sure your site has been converted from HTTP to HTTPS. Yes, it's technical. But it's important. And there are plenty of people very well-qualified to walk you through it or just do it for you.
Top 5 SEO Hacks for Beginners
Once you understand the main beginner strategies it's time for you to move on to some actionable SEO hacks that you can use for growing your online visibility.
Optimize Your Google My Business(GMB)
Start on some basic Keyword Research
Hire a writer to help with high-quality Content Creation
Make sure you have lightning-fast Hosting
Download some Free SEO Tools (such as ones offered byMoz.com)
How Can We Help You?
Need some help dipping your toes into the swirling, whirling world of SEO for the first time? We can help! Contact 1st on the List today by calling 1-888-262-6687 or email us at [email protected].
---