Is Paying For SEO Worth It?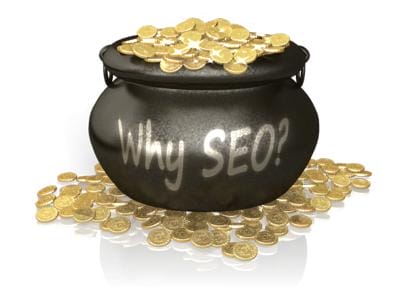 Today we will tackle a few big questions that have probably crossed your mind many times:
"Is it really worth paying for SEO services?"
"Why hire an SEO?"
To help you answer the question for yourself and your company estimate what your time is worth. As a plumber, real estate agent or jewelry designer how much could you earn per hour? As a business owner you should spend your time doing what makes you the most money. This is where you excel. Is it really worth giving up your time selling homes or repairing leaky sinks to figure out the "SEO Thing" and get it to work for your website?
Unfortunately many people underestimate the complexity behind SEO and think that it doesn't take a lot of effort or expertise to make a website excel. In today's article we'll discuss many reasons to hire an SEO and pay for SEO work on your website.
Paying for SEO Optimization Because
Your Personal Time Is Better Spent Elsewhere
Search Engines are constantly changing to meet the demands of what and how people are searching. In the last few years Google, the major search engine on the internet, has made several changes that have had a significant effect on the rankings of many websites. Think about this:
Is it worth your time each week to read all the top SEO blogs and follow SEO thought leaders?
Is it worth your time to figure out how to develop and implement a sound SEO strategy?
Is it worth your time to monitor and track your results, and adjust your strategy as needed?
This is where the knowledge and expertise of a reputable SEO firm becomes vital. SEO Experts are constantly studying the changes in the search engine formulas; how internet applications interact with the search protocol and what is needed to get a site ranking well.
Why Hire an SEO? It's More Complicated than Just Keywords and Links
Many people come to us thinking that SEO is all about keywords and backlinks and that as long as they get the right phrases in the right places and find a few websites to link to their own website they are set.
This is only the tip of the proverbial iceberg. The majority of SEO work is below the surface. For example, do you know:
Which server and host is best for your website?

How to properly brand your business in the Search Engines?

How to protect your content against duplication?
How to ensure proper HTTP checks and HTML validation?
How to deal with mandatory cookie checks and session ID's?
How to ensure proper "link juice" flow between all your website pages?
These are just a very small sampling of all the items we address in a full SEO Campaign that you may not even realize affect your SEO. In fact, there are 200 – 300 different factors that Google looks at when determining how your website will rank. Do you have the time and knowledge to optimize each of these factors?
Hiring an SEO Expert Makes YOU the Customer
Recently I read an interesting opinion why hiring an SEO firm is beneficial for you. By hiring an SEO you become the customer, putting SEO in the position to always be working for you, meeting your needs and exceeding your expectations. Rather than doing SEO yourself or having someone in house help out with SEO wouldn't you rather have an SEO company working to impress you?
Does Paying for SEO Work?
As with all things in life, you get what you pay for. Are you buying SEO based on lowest price? Are you searching for an SEO company with a lot of experience? Paying for SEO work on your website will work when you choose an experienced SEO company you trust. In order for their SEO to work well it must be based on their ability to customize SEO solutions to your specific campaign within the Best Practices that exist in Search Engine algorithms.
Does paying for links SEO work? (Don't fall into this trap!)
There are hundreds of SEO companies that sell backlinks as SEO. Did you know that Google has banned many websites because of the spammy and unnatural links they have bought? Today, more than ever, relevant linking is vital to keeping your websites in good standings with the Search Engines. This means that NO, paying for SEO backlinks does not work and risks negatively impacting your website in a big way.
So Is Paying for SEO Worth It? You Be the Judge
As we've discussed above, Search Engine Optimization is an evolving science. You must decide if it is worth it to divert time spent on your business making money to time spent learning SEO Best Practices and implementing SEO strategies on your website. SEO is a complicated combination of computer science, marketing, website development and consumer behavior. It is the study of what gets rankings, what motivates buyers and how to optimize what you are posting to attract the types of visitors who have the most potential to become customers.
SEO is the study and implementation of the latest coding and content that works to index your site work on the search engines. SEO is the study of what is working for your website and how to always get a better ROI on your marketing spending.
If you want to learn more about how our SEO services could free up your time  to focus on your core business give us a call at 1-888-262-6687 or email our experts at [email protected]. We'd be glad to share our story of how we launched our business a year before Google came to be and how our trained SEO experts can help your website.
---