Get your business online for the first time or update the look and functionality of your existing website with our affordable search engine friendly website design and re-design services. Our feature rich, SEO web designs include elements for search engine optimization that will help the search engines find you so they can properly visit, spider and index your website more often.
From basic designs to custom website designs, 1st on the List develops search engine friendly websites that can drive leads and sales for your business.
Common Website Design and Re-Designs Features
At 1st on the List we offer several affordable web design package options depending on the size, customization and functionality that you require. Our website designs and re-designs follow the general structure and typically include the following list of features:
Initial consultation to develop a clear understanding of what your website goals and objectives are.

Selection of a professional design and layout that reflects your brand and required functionality.

Assistance with Domain Name registration and Website Hosting setup, if needed.

Design modification and styling tweaks during initial stages.

Transfer of existing website content or creation of new pages for client provided content.

Setup of website contact forms and email addresses.

Integration of custom elements outlined in your package, which may include Image Galleries, Stock Photography Images, Blog, Google Maps, Location Search, Embedded YouTube Videos, Social Sharing Features, E-Commerce Functionality and More!

SEO features including Robots.txt file, Sitemap.xml file, submission to top Search Engines and SEO Friendly URLs.

Installation of Google Analytics for you to monitor traffic and visitor activity.

Proper 301 URL Redirect setup to maintain current website credit with the Search Engines, if an old website exists.

Launch website and ensure proper indexing with the Search Engines.

Training sessions for you to learn how to add your own pages in the future.

Site capabilities to expand to include additional forms, databases and Search Engine marketing in the future.
Please Note: Services in your actual web design package will reflect your specific proposal and may not include all of the above.
All of Our Packages are Search Engine Friendly!
Our website development process incorporates search engine friendly web design and does much more than just get your website up and running or translate your ideas and marketing materials online. CMS custom web design incorporates solid search engine optimization principles to improve your web pages in the eyes of the search engines. SEO web design also greatly improves your visitor experience, which is an absolute must for prospective visitors, clients and future customers. Our high performance custom website design packages feature custom SEO services including:
Custom Content Management System (CMS) *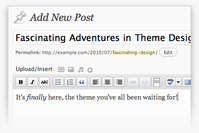 All of our website designs and re-designs are built on the WordPress CMS Platform (unless otherwise stated) which gives you full control over keeping your website current and up to date. You can add new content, upload images, and create new pages on your site at your convenience. This saves you money as you don't to always call your web developer to make minor changes.
Web Design Pricing Details
Pricing will vary depending on the level of functionality required and complexity of the project. Most of our website designs for small businesses fall within the price range of $1,200 – $6,000.