Let Us Manage Your Pay Per Click Campaigns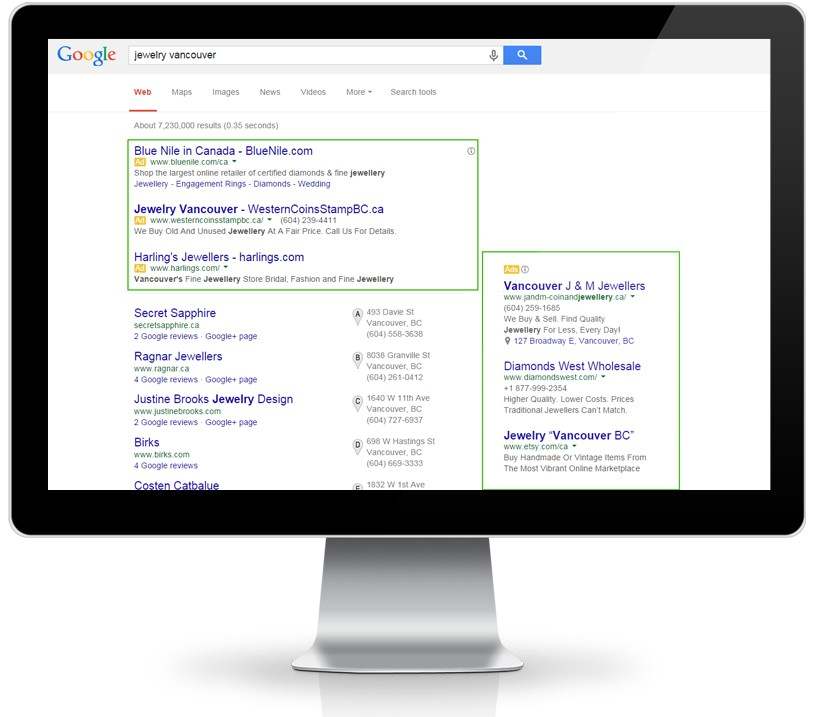 Top of page Google ads are paid search listings that bring immediate traffic to your website! 1st on the List pay per click management services will get your website listed in front of potential customers searching on Google (and Bing) as well as on social websites like Facebook. While marketers have used pay per click services for years to drive immediate traffic to websites, PPC is also used to test various SEO strategies such as keywords and conversion rates. Some businesses with healthy organic traffic levels and well-optimized websites even use a pay per click management company for branding purposes. Let us show you how you can minimize ad spend and maximize ROI with a pay per click campaign that complements your SEO marketing efforts.
Pay Per Click Management Services
1st on the List offers a full range of PPC management services to accommodate the needs of large businesses, small businesses and everything in between. Pay per click management offers many ways to help you supplement your SEO traffic or explore new traffic sources for your business. Our Pay Per Click Advertising opportunities include:
PPC Campaign Audits
Make sure you are getting the most out of your PPC campaign and exploring all your opportunities.
Google AdWords
Get instant top of page Google rankings, the world's most popular Search Engine.
Facebook PPC Advertising
Promote your brand to a targeted group of Facebooks users and reach new customers.
Bing PPC Advertising
Advertise to a search group that typically has the highest conversion rate.
Dynamic PPC Retargeting
Recapture visitors after they leave your website without buying and turn them into a customer.
What is Pay Per Click Management?
PPC management refers to the managing of any type of online advertising where you pay for each ad impression or ad click. While anyone can be a pay per click manager it takes time, experience, and skill to run PPC campaigns well. 1st on the List pay per click management services can include:
The overall goal of pay per click management, whether you do it in-house or hire a pay per click manager, is to minimize or reduce cost per click while maximizing your traffic, conversion rate, and return. Our Pay Per Click Manager will design a campaign that aligns with your goals such as to increase traffic to site, promote special offers, or increase leads. Not sure what your PPC goals are? We can help establish these plus proper metrics to measure before starting.
How do you know that you are bidding and paying for the right keywords to achieve the goals of your Pay Per Click campaign? The cornerstone of any strong PPC campaign is to do in-depth keyword research first, to find the right keywords to target. You need to know what keywords are most likely to result in higher clicks and conversions. Our PPC Managers use a number of different tools plus a good understanding of what your target customers will actually type into the search bar to conduct thorough keyword research.
Writing strong PPC ads to get the click can be a tough task.  Pay Per Click ads have a limited number of characters and must compete not only against other ads shown in results, but also against everything else on the page. Our Professional PPC ad copywriting services include writing specific ads for specific keywords and different buyer needs. PPC ad writing also includes crafting strong call to actions to elicit a click through.
Once a searcher clicks on your PPC ad the first page they see on your website needs to grab their attention and be relevant to what they are looking for. The goal of crafting effective PPC landing pages is to build attractive pages that convert … make a sale, collect a lead, or promote a product. By improving the message match between the keyword search query, your ad, and the landing page you send the searcher to, you can improve your Quality Score and Ad Rank, which will reduce the overall cost of your Ad Campaign.
Closely monitoring your Pay Per Click campaign through analytics ensures that you always know how much each new customer costs. PPC analytics also allows you to fine-tune keywords, ad copy, landing pages, and other customizable features. By reviewing the numbers, our Pay Per Click Managers can find ways to increase clicks and conversions while decreasing your PPC ad costs.
How Will Your Business Benefit?
Years of pay per click expertise

Immediate online visibility

Highly targeted traffic

Highly motivated leads

Faster & more measurable results

Greater Return On Investment (ROI)
The costs for 1st on the List Pay Per Click management services are typically small compared to the savings we are able to achieve. The top priority of our professional pay per click manager is to help grow your return on investment (ROI) and help you make financially sound decisions when it comes to running your PPC ad campaigns. Our PPC experts can design your pay per click management campaign from scratch or conduct a complete overhaul of your current PPC campaign to get even more value from each dollar spent and always keep your pay per click campaign functioning at its peak.

Request A Pay Per Click Proposal
1st on the List has been offering professional SEO and pay per click management services in Canada and the US for over 17 years! Let us manage your pay per click advertising, reduce your ad spend and increase your ROI.
Call us Toll Free at 1-888-262-6687 or