Trends in Digital Marketing & SEO – What to Expect This Year
New Trends In Digital Marketing & SEO
Undoubtedly, each year, new trends in digital marketing and SEO emerge. In this post, our SEO experts will discuss what to expect and what may be necessary to improve your SEO strategy.
As employees return to their desks after the holiday, businesses are ready to dive deep into plans for the year ahead. This is the time when businesses set new goals and update their marketing strategies.
If we can take anything away from last year, it's that online shopping continues to reign supreme. This has made SEO even more vital for the success of any e-commerce business. But does that mean service-based companies are off the hook?
Well, of course not! There are a lot of strategic crossovers regardless of whether you sell a physical product or not. By having a clear understanding of the shifting trends in digital marketing, your service-based business can be better prepared for success.
So, let's take a look at what do you need to consider when developing your digital marketing and SEO strategy?
UX Rules
A quality user experience (UX) is more than just the golden standard – it's the bare minimum.
Updates to Google's algorithm and machine learning have advanced to the point where users can find the answer they're looking for without ever leaving the search page.
This means that businesses will have a heightened need to earn those clicks and keep visitors on their websites. Truth is, you won't be able to keep anyone on your website with a poor user experience. In fact, you risk not getting visitors at all, considering that user experience is a ranking factor.
Here is what The Moz Search Scientist Team had to say on the importance of user experience in their Search Engine Journal's latest State Of SEO Report:
"Intent, UX, and on-page make sense to focus on as Google still holds a massive global share of search and will for the foreseeable future. Focusing on the customer experience is an overall win in any channel. Who wouldn't want a site that is faster, is more reliable, establishes expertise, displays authority, and invites trust, culminating in rewarding the business? A business's website remains the area of the web for which brands have full control of the UX. Our tip is to use your website to its fullest extent as a driver of exceptional customer service while making whatever use is best of additional platforms to point back to it."
Assess your website's user experience by looking at these factors: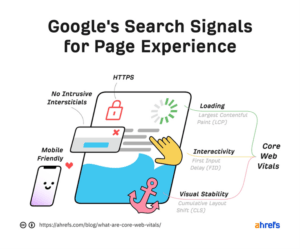 Shopping Goes Social
Social media is one of those trends in digital marketing that seems to grow year-over-year. It has long been a complementary tool to your SEO strategy, and it doesn't look like that's changing anytime soon. In fact, you should consider adopting more SEO strategies as part of your social media strategy, and here's why.
Social Search
Social media platforms have evolved to become search engines in their own right, especially when it comes to finding local businesses. Link your social media profiles on your website and Google Business Profile, and optimize your social accounts with relevant keywords to make yourself more easily discoverable. This strategy has proven vital for the retail sector as well as experience-based business-like, restaurants and in-person events. We predict that it will continue to play a part in organic discovery well beyond 2023.
Shoppable Social
Related to social search are shoppable social profiles, which have been adding more fuel to the rising dominance of e-commerce. Updates to some platforms allow users to shop directly within the app by introducing customizable storefronts and shoppable feeds. If you're selling products online, then it's worth investing in quality management and optimization of your social media profiles.
Hey, Google/Alexa/Siri
How many people own a smart speaker? The answer is everyone who owns a smartphone, and then double up with smart home setups like Google Nest, Amazon Alexa, and Apple Home.
Voice search has only gotten more sophisticated, and users are taking notice. Voice search is now a significant consideration for businesses when planning their SEO strategy. Consider how people talk, along with the slang and abbreviations they would use when asking a question to their smart speaker. Incorporate these keyword phrases into your target keyword strategy to increase your content's chances of showing up in a voice search.
Optimizing for voice search should go hand-in-hand with your local SEO strategy and snippet writing. People often use voice search for "near me" inquiries and fact-seeking "what is" questions. Consider local SEO to boost your chances of showing up in near-me results and create rich snippets – maybe your answer will be the one Alexa spouts back.
Zero Click Searches
Zero-click searches refer to a search that doesn't result in the user clicking through to any website. This happens when Google provides the answer to the question directly, without requiring a user to leave the search results page. Is this convenient? Absolutely? Is organic traffic taking a beating? You bet.
Zero-click searches are on the rise thanks to new SERP features like Google's Direct Answer and Knowledge Panel.
The key to combatting the crippling effects of zero-click on your traffic is to continue investing in SEO and provide high-quality content. There's no way around it. Sure, most users will follow the path of least resistance and be content to click away after they get their two-sentence answer. But there will always be people searching for depth, so be there to provide it for them.
Rise Of The Machines – New Trend in Digital Marketing
Is it the end of days? Definitely not. Is it changing how we approach SEO and digital marketing? Slowly but surely, yes.
A.I. For Content
The last few years have seen giant leaps in A.I. automation and machine learning. Some of these developments can be extremely useful if you lean into embracing them as tools – not replacements. An excellent example of this is A.I. content tools, like writing assistants. Can you get a robot to write a whole blog post? Yes, you can. Will that blog post be any good? That's debatable.
As content niches slowly become flooded with A.I. written content, it's the human touch that stands out from the crowd. While A.I. tools can certainly produce content that sounds good enough, they cannot produce anything original. This means that whatever it generates will be a piecemeal compilation of information, phrases, and idioms already out there. The result is pretty uninspiring.
That doesn't mean that this software can't provide value as a tool! Learning to strike a balance is key for saving time while maintaining originality and integrity in your content.
A.I. For Search
As discussed earlier, one of the biggest disruptors to search and organic traffic has been zero-click searches, and that has to do with Google's evolving algorithm. The learning algorithms of search engines are getting better and better at providing a user with the answers to their questions. The downside for marketers and SEO professionals is the impact on organic traffic.
Once again, the only way to combat this is by creating high-quality, original content that provides value to users. Continue to operate with this principle in mind, and don't forget to look at other metrics besides traffic when evaluating the success of your content.
New E.E.A.T. & Your Rankings
That's right. Google recently added "Experience" to their E-A-T acronym.
Yes, we know that as trends in digital marketing develop, the industry loves its acronyms. You don't have to learn them all (I mean, that's why we have Google), but if you decide to commit any to memory, E-E-A-T needs to be one of them.
E-E-A-T now stands for Experience, Expertise, Authoritativeness, and Trustworthiness – and these are absolutely vital to your Google ranking. You know how we keep going on about quality content? Well, E-E-A-T is how Google determines quality.
Here's how to write your content with E-E-A-T in mind:
Consider your audience and create content that they will find valuable.
Back up claims with statistics and facts.
Discuss your personal opinions or share stories to back your view (experience).
Link to reputable sites, such as ".edu" and ".gov" URLs.
Get backlinks from authoritative sites to prove that you fulfill the E.A.T. criteria.
Is the New Year Looking A Little Scary?
Our team of SEO experts here at 1st on the List are here to keep you and your website safe, up-to-date, and relevant for the new trends in digital marketing!
Contact or call us at 1-888-262-6687 if you would like to discuss your digital marketing goals.
Together we can conduct a technical SEO audit of your website and create a rockstar SEO strategy for the new year.
---