5 Ecommerce SEO Best Practices You Can't Ignore
Did you know that retail ecommerce sales reached CA$86.52 billion in 2021 – almost double 2019 ecommerce sales?
Growth is expected to increase by another 12% followed by the massive 75% increase in 2020 (eMarketer.com)
Whether they were ready or not, companies around the world were forced to transition to the ecommerce space during the peak of COVID-19 pandemic in order to continue with sales and meet customer demand for online purchase options.
The booming ecommerce industry has led to even higher competition and requirement to build a strong ecommerce SEO strategy to stand out, be seen, gain new customers, and make the sale.
So, to help you succeed in your online store, our team of Ecommerce SEO Consultants have compiled five of our best ecommerce SEO key practices you should not ignore as you get started with your business.
1. Do Your Keyword Research and Create an Ecommerce Keyword Strategy
Keywords have always been an essential component of SEO. Focusing on the right keywords helps you gain visibility and reach your target audience – one that is qualified and ready to convert into customers. The main idea here is finding keywords and keyword topics that are relevant to your products and brand that existing and new customers will search for.
The process is not quite so straightforward.
When selecting keywords, you first need to explore what people are actually searching for online. It may not be what you think!
One tip is to use Google Suggest and Amazon Suggest, which suggest queries as you type words into the search box.
With these tools, you can identify the exact words and phrases that customers will type into the search engine when shopping for products like yours.
Once you have chosen possible keywords and variations, you can run these through keyword research tools to get their search volume and competition:
Search Volume: Are these keywords popular and searched enough?

Competition: Are these keywords targeted by thousands or millions of other websites?
Generally, the goal is to find a good balance between the two metrics.
Naturally, you want to target the high volume searches, but you also want to avoid those with the saturated competition since it will be harder to rank high.
You also need to select keywords that your target audience is searching for and focus on the keywords that will lead to a conversion. For example, a person searching for "your specific product + reviews" is more ready to buy than a person searching for "general product".
Consider each keyword's position in the sales funnel.
After selecting your target keywords, you can then implement these on key sections of your ecommerce site:
Site architecture
Navigation
Category pages
Product pages
Product descriptions
Image alt text
URLs
Meta titles and descriptions
Social media posts
2. Write Interesting, Engaging and High-Quality Content That Ranks and Sells
A keyword strategy is only as good as the content on an ecommerce website.
An ecommerce website needs unique, engaging, trustworthy, and high quality content to support its keywords. The key is to provide value to shoppers to keep them interested and engaged.
At the end of 2021, Google announced that content marketing would be its most important ranking factor. This alone should be enough reason to plan out a robust strategy to develop content that:
Answers your audience's questions and
Solves their pain points/addresses their needs.
A good starting point for your strategy will be to identify relevant topics that customers would want to learn about. For example, if you build an online fashion site, you can create a fashion blog that talks about the latest trends and offers styling tips.
This way, you give valuable advice to users and build their trust as a fashion guru so that when it comes time to buy, they will have confidence in your products and want to buy from you.
Aside from this, you need not limit yourself to blog articles for your content. As an ecommerce brand, you can explore so many other types of engagement with your audience and build a loyal following. But be sure to always implement web content best practices on the content you create for engagement.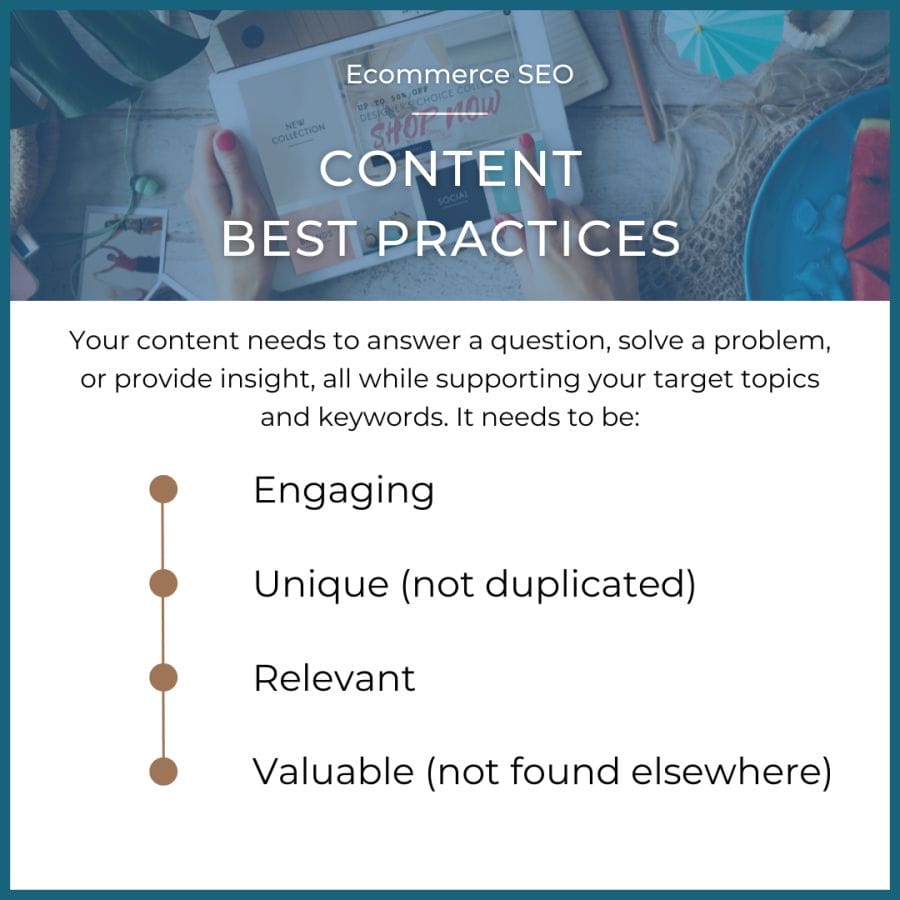 Other than blogs, here are other types of content you can create to improve your brand popularity. For example:
Infographics
Videos
Email newsletters
Social media posts
Still at a loss for Ecommerce Content Marketing? Check out our Guide To Launching Your ECommerce Content Marketing Strategy.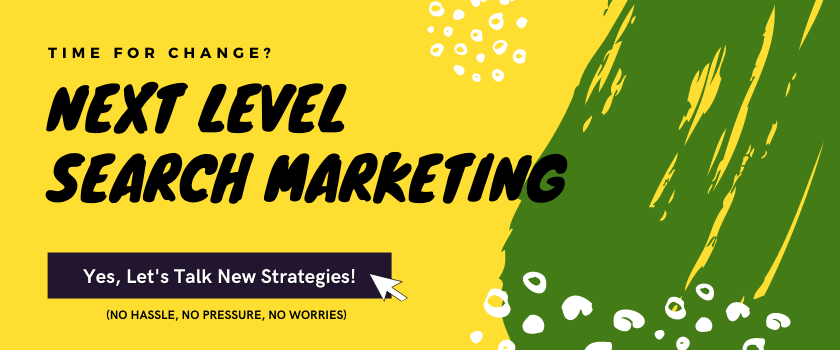 3. Optimize Your Ecommerce Website for Mobile and Voice Search
Mobile SEO and voice search optimization (VSO) are two of the biggest SEO trends that are not going anywhere soon.
Mobile SEO for Ecommerce Websites
With over five billion unique mobile users today, you need a mobile-optimized site to support users' needs and give them a seamless shopping experience.
Generally, this means your ecommerce site should have a responsive design that works well on smaller screen mobile devices and facilitate "on-the-go" usage.
Otherwise, you potentially miss out on the opportunity to attract mobile phone users who shop online.
Aside from a responsive design, here are other ways you can optimize your site for mobile devices:
Make your interface user-friendly
Create an intuitive checkout process
Avoid jamming too much content on one page
Maintain fast page loading times
Design your website to be visually appealing
Voice Search Optimization for Ecommerce Websites
Similarly, voice search is steadily growing as more people buy voice assistant devices to help them out.
Statistics show that around one-third of the US population uses these features, and 71% prefer making search queries by voice. Given these numbers, you need to optimize your site for voice searches.
One of the main ways to do this is by using long-tail keywords that mimic how people speak and ask questions in regular conversations. You can also include filler words to replicate natural language to ensure that your site appears in voice searches.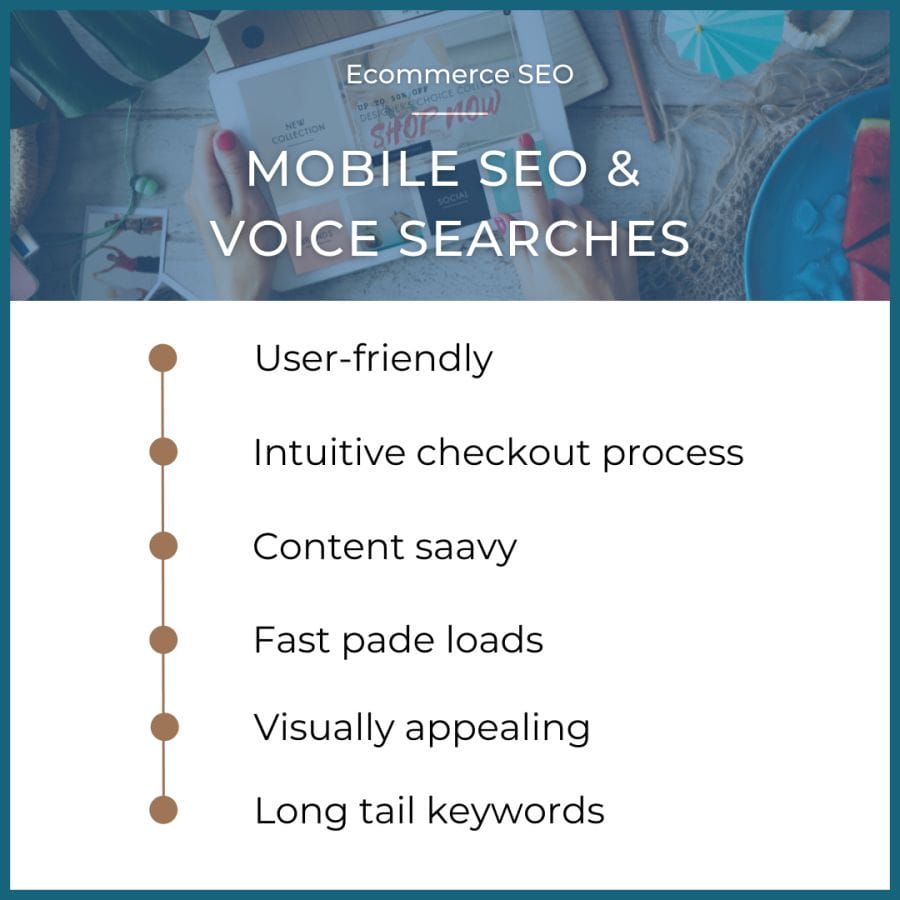 4. Grow Your Brand Popularity (and SEO Ecommerce Power) with Backlinks
Aside from building a strong internal linking system within your web pages, you should also find quality backlinks your website. Creating content is one way to build these backlinks, but you should also proactively look for other websites that you can affiliate with.
Here are some ways you can gain more backlinks to support your ecommerce SEO strategy:
Get Links from Manufacturers
As an ecommerce brand, one of the best places to look first will be your manufacturers, wholesalers, or suppliers. These companies tend to have established domains with good authority and ranks, so you can leverage these connections to display your link on their site.
Of course, not all partners will be open to this idea, but it never hurts to try—especially if you have a good working relationship. If this does not work out, you can also ask if they can create an online directory on their website to list where customers can buy their products.
Guest Posting
Another effective way to build backlinks for ecommerce sites would be through guest posting. Try to find relevant blogs that allow guest posts so that you can incorporate site links into your content and tap into the blog's audience and followers.
While doing this may require extra effort on your part, the SEO impact can be extremely high. So, if you do not have the time or workforce, consider hiring a digital marketing agency to help you with your content needs.
Product Reviews
Product reviews are another important component of SEO for ecommerce product pages. Aside from displaying these on your site, you can also reach out to bloggers and influencers and ask them to review your products.
It brings huge exposure to your brand and helps you connect with their large following.
Take some time researching your target audience to determine which blogs they read or which influencers they follow. Then, make sure to build a rapport with bloggers before jumping into the idea so that you can develop a good relationship down the line.
5. Implement Structured Data to Make Your Rankings Stand Out and Get Clicked
Structured data, also called schema markup, helps search engines display the most relevant pages for your site. Essentially, when they crawl your site, they analyze the content, layout, and navigation to determine where it should be displayed in search results.
As a result, search engines can get a more accurate view of what your site offers with structured data.
For ecommerce sites, some essential structured data to use would be:
Product name and description
Pricing
Availability
Reviews
Rating schema
These should all show up highly visible on your website page to avoid high bounce rates and prevent customers from getting disappointed when they click on your site.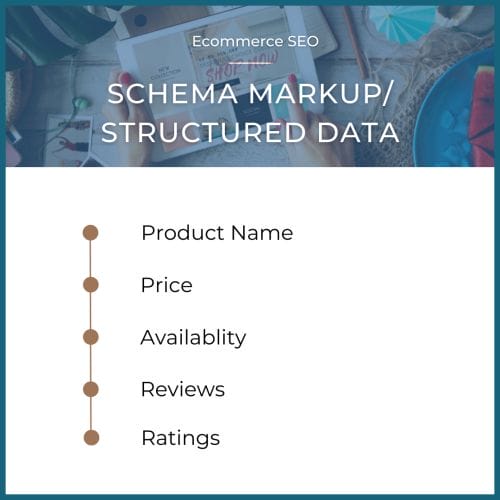 Other relevant structured data you can use would be the How-To, FAQ, and video schema. Generally, schema markup can play a huge role in how Google displays your search results.
In summary, by using schema markup you can:
Provide additional key information for the Search Engine to understand your ecommerce site
Create better, richer results
Increase your SERP click through rate (CTR) and effectively drive more traffic
Additional Ecommerce SEO Strategy Tips
Here are some additional Ecommerce SEO Tips to consider to build your brand and gain better online visibility:
Optimize page speed and page load time
Ensure site is secure with HTTPS/SSL certification
Hire an expert to complete an Ecommerce SEO Audit (if you are a DIY SEO)
Write unique product descriptions if you are currently using manufacturer provided descriptions (which are often duplicated across your competitor website)
Pay attention to broken links (such as old products) and make sure your 404 page directs customers to relevant pages if they do reach a dead page.
Always be on the lookout for old and duplicated content. Update, rewrite or combine content to provide the level of quality Search Engines are looking for.
Pay attention to the clickability of your Meta Title and Descriptions (how your website appears in Search Results).
Activate breadcrumbs on your ecommerce store.
Compress your images before uploading to the website to ensure faster load times.
Remember that SEO is a continuous process, so you will need to monitor your results constantly and take corrective actions when necessary.
The Best SEO for Ecommerce Websites
Given the huge shift in online buying and retail sales due to the pandemic, now is the time to focus on your ecommerce website and its SEO success if you haven't already.
The best approach starts with using one of the best ecommerce platforms for SEO, followed by a strong commitment to a solid ecommerce SEO strategy that includes the above best practices, and many more.
If you have an underperforming ecommerce website or about to launch your first ecommerce website our team of ecommerce SEO Experts are ready to lend a hand! We use an extensive SEO Checklist for Ecommerce when performing our audits and work to make sure Google and your new customers are finding everything on your website.
Contact us at 1-888-262-6687 for a complimentary Ecommerce SEO Audit review and input on SEO activities that will provide the biggest bang for your buck.
---