5 Ways Bing Webmaster Tools Can Help Your SEO
Only recently have I started to regularly log into Bing Webmaster Tools and explore all of the tools it has to offer to website owners and SEO's.
If you have never logged into Bing Webmaster Tools or are only relying on Google's Webmaster console then you could be missing out on some great  information to help your SEO efforts go even further!
In today's post I will touch on five tools offered by Bing that I find extremely useful.
1.   Bing Webmaster Tools Dashboard
The first thing that you will notice when you sign into you Webmaster Tools is the dashboard. For those that prefer a quick and easy way to see how your website is doing, the dashboard is for you. Let's admit it – we all have times where all we have time for is a quick overview.
The Dashboard's Site Activity shows your overall activity in an easy to digest format. Within seconds you will understand:
Number of clicks from search
Number of times site appeared in Search
Number of pages crawled
Number of crawl errors
Number of pages indexed
The best part is that it shows these figures as a percentage change from the previous period which are color coded in red and green. Be sure to specify the period you want to compare.
Watch for any big changes in either direction and then determine why these changes could have occurred. Did clicks from search and appeared in search decrease at the same time because you lost traction on some of your big keyword phrases? Did you make a change to your server configuration that is attracting Bing to crawl more of your pages?
Tracking these metrics over time can help you understand what SEO efforts are improving your website and what efforts (or lack thereof) are hurting your website.
2.   Bing SEO Analyzer Tool for Optimizing Page Content
Feeling overwhelmed of where to start in cleaning up some of your page content? Start by making a list of all of your website pages in order of importance.
Starting at the top of your list, enter each URL into the SEO Analyzer tool found under Diagnostics & Tools. Using this tool to generate suggestions is much faster than manually sorting through your source code and trying to find the errors on your own.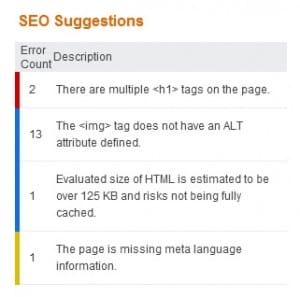 This tool is still in Beta testing so hopefully we will be able to use it long term.
3.   Markup Validator
This tool is also still in Beta but can be handy as you implement markup and schema into your source code. Because it takes time for structured markup to properly appear in the SERPs this tool is a fast way to make sure you implemented the code correctly, in real time. Simply enter the URL that you are working on to make sure Bing can properly all the markup on the page.
For 1st on the List's home page, Bing recognizes our Microformat and Open Graph markup data:
Like Google, Bing says that they may use this markup structure to display rich snippets for the URL. Seeing your markup display properly here doesn't necessarily guarantee you will eventually see it in the SERPs.
4.   Keyword Research on Bing Webmaster Tools
You may already subscribe to paid keyword research tool such as Wordtracker, use Google's resources or other free research tools available across the web. This beta-stage Keyword Research tool offered by Bing is one more way to explore keyword potential.
Simply enter one keyword phrase per line and get an immediate list of data showing you how many times the keyword  phrases were displayed in Bing's organic search results. You can control the country/region, language and date range to get the most out of the keyword tool
The best part about this tool is the suggestions that it gives you in addition to your own keywords. It keeps you from overlooking other highly search phrases that you could capitalize on during your SEO efforts. Remember, Bing and Google search habits can be different. You don't want to overlook ways you can better optimize your site for how Bing searchers may find you.
5. Monitor Changes in Page Traffic
This tool is especially designed for visual learners and doers! There are a number of features to highlight.
Near the top right you can specify the time period that you want to compare. Perhaps you made a change 2 weeks ago and would like to see if the change had an effect on traffic. With this tool comparing page traffic has never been easier.
The first thing you will see is a list of pages from your website. Again, Bing has conveniently color coded the data so you can see which pages have lost traction and which pages have gained traction.
For each page you can see how many visitors clicked on your SERP result (note that these are combined traffic values from Bing and Yahoo). Bing also tells you how many times your page appeared in Search Results to give you a click-through rate.
TIP #1: Look at the heading and description that appears in the SERPs for the pages with the highest click-through rates. Is there a common theme that makes these listings more attractive that you apply to other pages with lower click through rates?
TIP #2: Use the average search appearance position to see which pages are moving up in search results and which are dropping.
Bing also gives webmasters wonderful insight into what keywords are generating traffic for individual pages;  just click the blue (View) button on the chart.
The number of ways to use Bing for your SEO are endless so it's best that you get setup and start exploring.
What about you? Do you have Bing set up for your website and do you log in regularly to view the data? What is your favorite or most helpful tool? We'd love to hear from you!
---