A Useful Guide to White Hat Link Building for SEO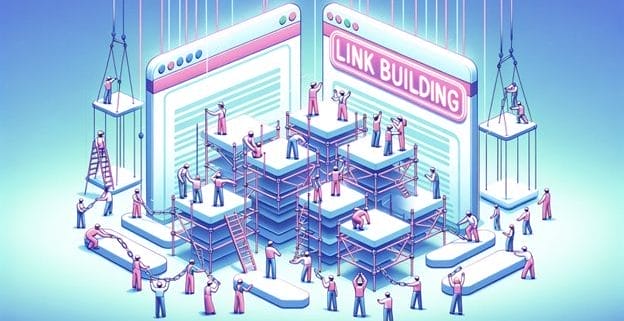 From local businesses to nationwide brands, white hat link building for SEO has become essential to their online and offline success. Gone are the days when websites were just seen as digital advertisements. Today, they often are the first thing a customer sees about your brand.
Today's modern websites help shape customer perceptions, drive revenue, and build brand loyalty. According to Forbes, there are now over 1.3 billion websites on the World Wide Web, so how can you help yours stand out?
The impact of white hat link building for SEO cannot be understated. When done correctly, building links can boost your website's position in search engine rankings, increasing its online visibility and credibility.
In this guide to link building for SEO, you will learn the fundamentals of external and internal link building and how a winning link building strategy can be greatly beneficial to your online presence.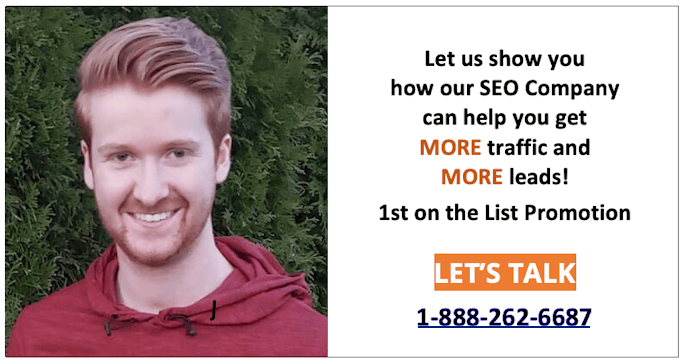 In this Guide:
What is White Hat Link Building?
In terms of SEO, white hat simply means using "legal" online marketing practices that follow the "terms of service" guidelines set out by search engines like Google.
White hat link building for SEO is a strategic effort to acquire natural links or 'backlinks' from other websites that point back to your website. These natural links serve as pathways, connecting different web pages and creating a more intertwined, navigable Internet.
Having many high-quality natural backlinks can help your website show up higher in search results because search engines see these links as endorsements, (thumbs-up) for your content.
  "Think of link building as word-of-mouth advertising in the digital world. A link from another website to yours acts as a recommendation or an endorsement, highlighting the importance of       creating valuable and relevant content for your audience."
Keiran Griffiths, President & Managing Director at 1st on the List
The Evolution of Natural Link Building
In the early days of the Internet, search engines like Google simply indexed and cataloged websites, making websites easily searchable. As the number of websites grew, it became necessary to rank websites based on their content quality and relevancy.
Over time, businesses recognized the potential of building links for SEO and employed tactics ranging from creating authentic content to less ethical link building methods like link farms.
Inevitably, search engines improved their algorithms, introducing updates like Google Penguin and Google Hummingbird. They also started penalizing deceptive linking practices and prioritizing organic, high-quality links.
Why White Hat Link Building Matters
Essentially, links are the bridges between web pages.
Search Engine Discovery: Links help search engines find new web pages.
Page Significance: They indicate a page's importance and relevance based on the quality of its backlinks.
Referral Traffic: Links can be a significant source of visitors from other websites.
When interpreting links to provide an overview of the page's worth, search engines consider factors such as:
Authority
Relevance
Content Discovery
Website Structure
User Engagement
Types of Website Backlinks
There are different types of website backlinks that help shape an effective link-building strategy.
Editorial Backlinks
These are the links that result from other websites finding your content valuable and deciding to link to you.
Guest Posting Backlinks
Links that you get when you write content for another website.
Business Profile Backlinks
These include links from your business profiles on directories or industry-specific platforms.
Webinar and Event Backlinks
These are links from websites that share your webinars, workshops, or events.
Forum and Blog Comment Backlinks
These are links resulting from leaving comments on forums or blogs.
Internal Backlinks
Links that connect one page on your website to another page within the same website help to define your internal linking structure. We'll cover more on this topic later in this article.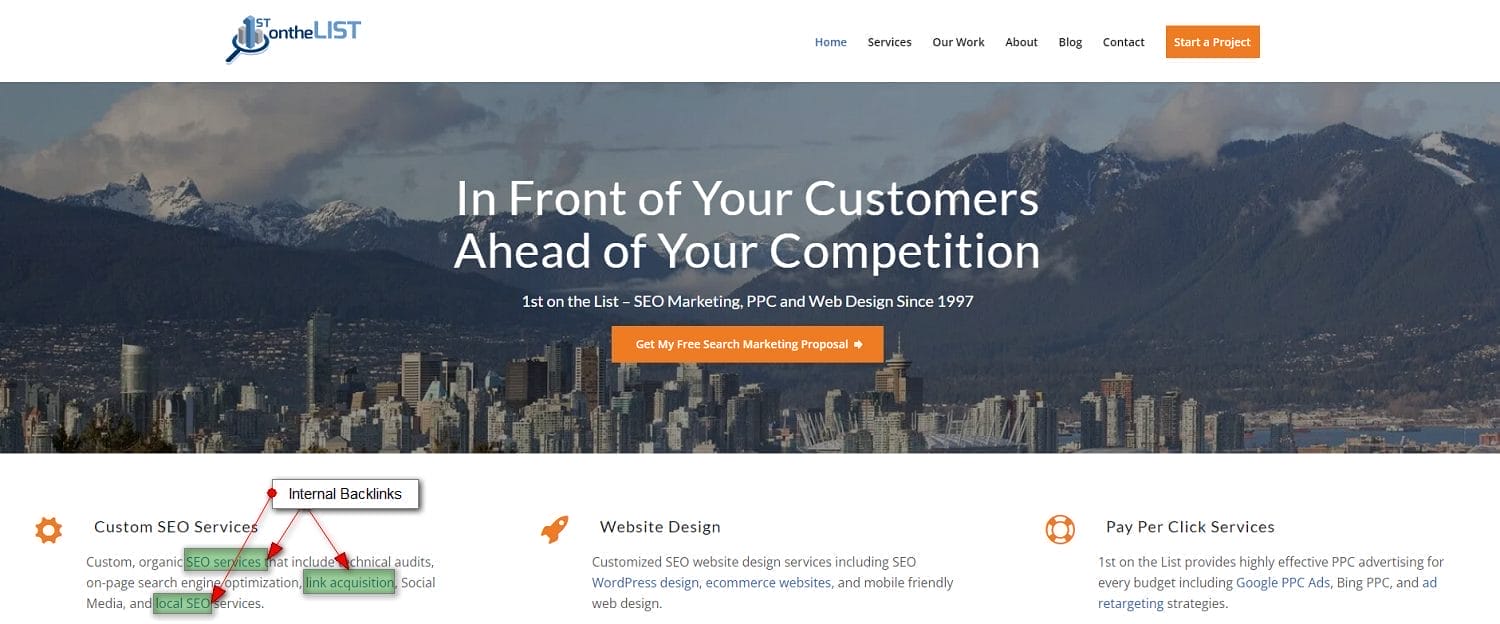 Sponsored or Paid Backlinks
You get sponsored backlinks by paying another site to link back to you. Paid backlinks should always be marked as "sponsored" to avoid search engine penalties.
Acquired Backlinks
Links that are given without any direct action on your part, simply because your content or service is valuable.
Link Reclamation – Getting Back Your Lost Links
Link reclamation is the process of finding and restoring lost or broken backlinks to your website.
Reclaiming links can:
Preserve referral traffic and prevent potential lost visitors.
Maintain SEO value in search engine rankings.
Protect brand reputation.
Maximize the value of the content.
Sometimes more efficient to restore existing links than to seek new opportunities.
Guide to Link Reclamation
Find Removed Links
Use tools like Ahrefs, SEMrush, or Moz to find removed links. Reach out to the website and ask if they can use your link again.
Find Business Mentions Without Links
Use Google Alerts to monitor mentions of your business. If a page mentioned you but didn't link to you, contact the page owner and ask if they would link back to your website.
Fix Your Broken Links
Use tools like Broken Link Checker or Ahrefs to find broken links. Redirect the broken or bad link to a relevant page on your site or ask the other website to fix the link.
Bring Back Lost Content
Utilize Wayback Machine to find old content in the Internet archives. If the content is still relevant, update it and put the updated content back on your site. Do make sure any old backlinks still go to it.
A Simple Guide to Cleaning Up Backlinks
A link audit is like a health check for your website's backlinks. It helps find bad links so you can remove them or fix them.
Create a list of your backlinks and put them all in a spreadsheet.
Check your links and take note of any that seem off or are low-quality.

You will want to look for:

Relevant sites: Is the link from a site related to your topic?
Good sites: Does the site seem trustworthy, or does it look spammy?
Natural anchor texts: Avoid too many identical or keyword-heavy text links.
Visible links: Hidden links can be suspicious.

Make a list of questionable, bad links.

Warning signs:

Links from low-quality sites.
Sites with many links but little content.
Unrelated or spammy sites.
Odd-looking anchor texts.

Email owners of suspicious sites and ask them to remove your link. Keep track of your emails and any replies.
Save info about the links you've checked the emails you've sent, and the links you've disavowed.
Always be on the lookout for new links and keep your records up to date.
Guide to Building Links
Popular SEO platform Ahrefs categorizes link building into four main methods:
Add
Ask
Buy (not recommended)
Earn

Image from Ahrefs: Link Building for SEO.
1. Adding Links
This is where you manually place links on external websites.
While easy to do, these links often hold low value and might be considered spammy by Google.
They might not offer strong SEO value, but they can drive direct traffic or brand visibility.
Excessive use of this approach, such as listing on too many directories, is not recommended.
Examples include business directory submissions, creating a social media profile, commenting on a blog, and posting in public forums.
2. Asking for Links
Asking for a backlink involves contacting website owners and providing compelling reasons for them to link to your web page.
Techniques include guest blogging, testimonials, link exchanges, broken link building, and more.
Offering incentives for links like money or services (not recommended) can risk entering Google's "gray area" regarding link schemes.
3. Avoid Buying Links
This is not recommended due to potential penalties by Google.
4. Earning Natural Links
The best kind of backlinks are those given to your content naturally because they deem your content valuable or unique.
Earning links requires promoting your content so more people see it and potentially link to it.
What Makes a Good Link in White Hat Link Building for SEO?
Authority
Relevance
Natural Anchor Text
Follow vs no-follow
Placement
Destination
Quality
Good links are a combination of authority, relevance, natural anchor text, and strategic placement.
1. Authority
Website authority is an indicator of its credibility. Established sites like the BBC or Harvard University have high authority due to factors like age, unique content, and quality backlinks.
A link from such a site is a strong endorsement, greatly benefiting your site's SEO. Essentially, a link from a high-authority site is like a word-of-mouth recommendation from a trusted leader, offering more SEO value than one from a lesser-known source.
2. Relevance
Links from websites closely related in topic or industry to yours are the most valuable. For example, a dog grooming site's link is more relevant to a pet care website than to a car mechanics site.
Such relevant links signal to search engines a thematic kinship, boosting your site's ranking potential for related topics. Essentially, the more topic-consistent your links are, the better they resonate with search engine criteria and user needs.
3. Natural Anchor Text
"Anchor Text" is the clickable portion of a hyperlink, guiding users from one page to another. It provides context for both search engines and users.
While anchor text should be relevant to the content it is talking about, over-optimizing with repetitive, keyword-heavy anchors can appear manipulative by search engines and may be flagged.
Anchor text needs to be natural and contextually accurate.
Quick Tips for Better Anchor Texts
Use Your Business Name: Like "Bright Smile Dental Clinic" or variations ("Bright Smile Dental Services").
Use Related Terms: Instead of always saying "dental cleaning," sometimes use "teeth cleaning" or "oral hygiene sessions."
Add Common Phrases (sparingly): Use generic anchor texts like "click here" or "learn more" occasionally.
Don't Cram Keywords: Avoid packing multiple keywords into one anchor text, such as "best dental cleaning teeth whitening clinic."
Keep it Relevant: Make sure your anchor text matches the content it links to.
4. Follow vs. No-follow Links
"Follow" links, or "dofollow", improve a site's ranking by passing authority from one page to another, while "no-follow" links can still drive traffic and increase visibility, highlighting the need for a varied link building approach.
Follow Links:
Count towards search engine ranking.
Examples:

Guest posts with links back to the author's site.
Content links that point to related articles or pages.
Product review links directing to purchase points.
Business directory links pointing to the company's site.
No-follow Links:
Signal to search engines not to consider them for ranking.
Used when the trustworthiness of a link can't be confirmed or there's no intention to pass authority.
Examples:

User comments on blogs to deter spam.
Social media posts or profiles, which usually default to "nofollow".
Links in sponsored content or advertisements.
5. Placement
Link placement on a webpage, whether in the main content, header, footer, or comments, influences its SEO effectiveness. Search engines view links within valuable content as more trustworthy.
For example, a link placed at an article's start is often seen as more relevant than a link in the comments. Links integrated into the main content, being more contextually apt and user-engaging, hold higher value compared to those in sidebars or footers.
6. Destination
A link's value is also influenced by its destination. A destination is a specific page or resource to which a link directs. These destinations give users specific information or functionality when they click on a link.
Examples of destinations include:
Homepage
Blog Post
Product Page
Contact Page
About Page
Gallery or Portfolio Page
FAQ Page
Download or Resource Page
Testimonials or Reviews Page
Events or Calendar Page
Links surrounded by relevant, quality content are more valuable. For instance, a link from a detailed, well-written article might be seen as more valuable than a link from a brief piece. Linking to a variety of quality content on your site can increase visibility for multiple pages in search results.
7. Quantity vs. Quality Links
While having a high number of links on your website can have short-term benefits, focusing only on the quantity of links can harm it. White hat link building from reputable sources offers more SEO value, attracts organic traffic, and boosts credibility.
Prioritize link quality over having a high quantity. A single, quality link from a respected source can provide more value than dozens of low-quality links. Focus on cultivating genuine, relevant links that align with your content and audience. Look for authoritative links that will naturally integrate into your content.
What Is Internal Link Building?
Internal link building is the act of interlinking pages within your website to develop a good internal linking structure. This helps users navigate, facilitates search engine indexing, and underscores your content's hierarchy.
Any web page that is stand-alone and doesn't have any links pointing to it from anywhere else on the website, will be considered "orphaned' and unimportant by the search engines. They may not even index the page if it is orphaned.
Internal links can be found in various locations within a website, including:
| | |
| --- | --- |
| Main Navigation Menu | Body Content |
| Footer Links | Sidebar Links |
| Call-to-Action Buttons | Related Posts & Articles |
| Dropdown Menus | Image Links |
 The Importance of Building a Strong Internal Link Structure
While many website owners focus on building external backlinks, internal link building is equally as important. Create a strong internal linking structure to:
Improve User Navigation and Experience: Internal links guide users to related content, improving the browsing experience.
Distribute Authority: Links spread the ranking power of authoritative pages throughout your site. This means that if one page on your website has high authority, linking from it can help boost the authority of other pages it links to.
Structure the Website Hierarchy: Internal links help define your site's hierarchy, helping search engines understand which pages are the most important and how they relate to each other.
Increase Content Discoverability: Internal links help search engines effectively crawl and index all website pages.
Boost Page Relevancy: Linking related pages to each other signals to search engines the thematic connection between them. For instance, linking a page about "LED lighting installation" to a page about "energy-saving electrical solutions" reinforces the relevance of both pages to the subject of efficient electrical services.
Reduce Bounce Rate: By directing users to related content, they're likely to stay on your site longer.
Highlight Older Content: As you publish new content, older content can become less accessible. Internal linking reintroduces and gives visibility to both new readers and search engines.
Boost Conversions: Strategically placed internal links can guide users towards conversion-focused pages. For instance, a blog post about the advantages of copper piping can link to a page detailing the installation services or suppliers for copper plumbing systems.
This Semrush article is a wonderful guide on internal link building.
Expert Quote on the Importance of White Hat Link Building
  "Link building is essential for SEO. By getting good backlinks, it's like your website is getting a seal of approval from well-known sites. Plus, these links can bring more people to your site. It's     not just about search rankings, it's about making connections in your industry and getting your business noticed. If you want to grow online, link acquisition strategies can be helpful to rank     on Google."
Jonathan Kelly, Natural Link Acquisition Specialist at 1st on the List
What Is a Link Profile?
A backlink profile is a collection of all incoming links to your website. It's like a report card showing who's linking to your site. It's a snapshot of how popular and trusted your site is in the eyes of other websites.
Why Are Link Profiles Important?
Link profiles are important because they give search engines like Google a sense of your website's authority. When multiple reputable websites link to your site, it shows search engines that your content is valuable and trustworthy.
A strong link profile can help improve your site's search engine rankings, drive more organic traffic, and enhance your online reputation.
5 Link Building Strategies to Improve Your Link Profile
Here are five fundamental strategies when practicing link building:
1. Create Quality Content
Content works on your website 24/7 for you.  It's known that quality, unique, and relevant content naturally attracts backlinks. Create linkable (aka shareable) assets that others will want to link to.
Identify gaps or needs in your industry and create content that addresses those areas. Use visuals, infographics, and short-form video content for added appeal.
Example: Your autobody shop creates a clear and thorough infographic on car maintenance. An automotive brand website finds it valuable and embeds it with a link back to your site as the source.
2. Guest Blogging
Writing articles for other blogs in your industry can increase your brand visibility to more audiences and secure valuable backlinks.
Research reputable website blogs in your industry that you like and suggest a guest post. Pitch how your content can add value to their readers.
Example: You write an article about craft beer for another website in the craft beer brewing industry. In return, they allow you to include a link back to your brewery's website within the content or in your author bio.
3. Use Social Media
Share your website content on social media platforms to get more eyes on it.
Regularly post your blog posts, products, services, etc. on your social media channels, engage with your audience and build a community, and join relevant groups or discussions like on Facebook to share your insights.
You can also ​​partner with industry influencers for shoutouts or takeovers. They can share your content or mention your page, showing your website to a bigger audience.
Example: Include your website link in your Instagram bio to drive traffic. Call attention to this link any time you post a relevant post on social media.
4. Build Relationships
Networking isn't just for offline. Look to build genuine relationships online with bloggers, industry leaders, and any other relevant websites. Join with brands and create collaborative content, such as a joint webinar or study.
Attend industry webinars, participate in forums, leave insightful comments on website articles, and engage in industry-specific online communities.
Example: A travel booking site like Expedia could collaborate with an airline like Delta to discuss travel trends, tips, and exclusive deals. All participants would promote the content and link to one another.
5. Use Competitor Analysis
Analyze your competitors' backlinks to potentially identify link building opportunities. By understanding where your competitors are getting their backlinks, you can find opportunities to get similar links for your site.
Explore our guide on 'SEO Competitor Analysis Tools' to learn more on how to use these tools successfully.
Example: A fitness blog had previously linked to a competitor's now-deleted workout guide. You could suggest your comprehensive workout guide as a replacement.
Guide to Local Link Building
Local link building focuses on getting backlinks from websites and platforms in your business's geographical area to boost local search rankings and drive more customers from your community to your business.
Local link building strategies can include:
Local Directories: Get your business listed on local directories.
Example: Websites like Yelp, Yellow Pages, and local Chamber of Commerce sites.
Blogs and News Websites: Collaborate with local bloggers or news sites to feature your business.
Example: A local blogger reviews your restaurant, or a news site mentions your store's grand opening.
Local Partnerships: Collaborate with local businesses or organizations for mutual benefit.
Example: Sponsoring a local sports team and getting a link on their website or co-hosting an event with another local business.
Community Events: Organize or participate in community events and get backlinks from event listings.
Example: Hosting a free workshop at your business location and getting it listed on local event calendars.
Review Websites: Encourage happy customers to leave reviews on review platforms.
Example: Google My Business, TripAdvisor, or local review sites relevant to your business.
Forums and Community Boards: Engage in local online communities, answer questions, and provide value.
Example: Participate in discussions on local subreddits or city-specific Facebook groups.
The Future of White Hat Link Building for SEO
As search engines become smarter and user habits shift, you should adapt your link-building methods. It's important to consistently stay updated with the latest trends and algorithm updates.
Three trends shaping the future of white hat link building for SEO are Relevance, Branding, and User Engagement.
Relevance Matters More
Links from sites closely related to your topic can be more impactful than those from big but unrelated sites.
Brand Mentions Count
Even if a site doesn't link to you, just mentioning your brand can benefit your SEO due to advanced search engine capabilities.
User Engagement Indicates Quality
If people engage more with content that links to you, it signals to search engines that the link is valuable.
Avoid the Risks of Black Hat Link Building
Black-hat link building refers to tactics used to gain backlinks that violate search engine guidelines. While these methods might have short-term gains in rankings, they come with the risk of search engine penalties.
Examples of black-hat link building:
Link Farm websites.
Posting spam-like comments on blogs just to get a link.
Placing hidden links that only search engines can see but users can't.
Paying for links rather than naturally earning them.
Using private networks of websites to build links to a single site.
It's always best to avoid black-hat link building tactics and instead focus on ethical, white hat link building for SEO strategies to ensure long-term success and to avoid search engine penalties.
Free Tools for Building Good Quality Backlinks
These free SEO tools can get you started in successful white hat link building.
Semrush Free Link Checker
Semrush Free Link Checker provides details about a website's SEO health and backlink profile. It is for those who want to monitor their own website's link profile.
Google Alerts
With Google Alerts, you can sign up for real-time alerts on search terms of your choosing. Google Alerts can be used to monitor business mentions, industry trends, and potential backlink opportunities.
Ahrefs' Backlink Checker
Ahrefs' Backlink Checker is an online tool that provides detailed insights into the top 100 backlinks to any website or URL.
Disavow Tool
While this isn't directly a tool for building backlinks, Google's Disavow Tool is useful for removing harmful links pointing to your site that could be hurting your rankings.
Check My Links
Check My Links is a Chrome extension that scans web pages for broken links. It can be handy when working on a broken link building strategy.
Benefits of Building Ongoing Relationships in Link Building
You should try to prioritize building ongoing relationships in white hat link building for SEO as it offers several advantages:
Boosts Website Credibility: Regular endorsements from trusted sources enhance your website's reputation with search engines.
Steady Referral Traffic: Trustworthy sites that link to you often can consistently drive engaged visitors to your site.
Natural Link Profile: Continuous collaborations can result in diverse link types, which can make your link profile appear more natural.
Consistent Link Value: Maintaining relationships means a regular flow of quality backlinks, rather than just a singular boost.
Higher Engagement: Established connections often lead to more active and involved audiences.
Collaboration Opportunities: Long-term relationships often lead to other collaborative opportunities beyond just building links. This can include guest posting, joint research projects, webinars, or even business partnerships.
Risk Reduction: Continuous natural linking from trusted partners reduces the chances of search engine penalties.
Organic Link Opportunities: Ongoing relationships can lead to partners naturally linking to your content in the future, providing genuine and diverse backlinks without direct outreach.
Misconceptions About Link Building for SEO
Below are common misconceptions about link building for SEO that can harm your search engine reputation.
"More links are better": It's not about having tons of links but having high-quality ones.
"Buying links is okay": Buying links can hurt your website's ranking.
"All links are the same": Some links help more than others.
"Link building is old news": Link acquisitions are still a key part of SEO strategies today.
"Only external links matter": Internal links within your site are also important.
"Always use exact keywords for links": Too many exact keywords can look spammy.
"Guest posting is just for SEO": It's also about sharing knowledge and reaching new audiences.
"Only links decide rankings": Factors like good content and user experience play vital roles as well.
"One bad link can mean big trouble": Search engines usually focus on patterns of bad behaviour, not just one-off mistakes.
"Do it once and forget it": Building links is an ongoing effort and requires regular updates.
Ready to Begin White Hat Link Building for SEO?
Understanding the fundamentals of white hat link building for SEO is necessary for your website's good online standing.
Not only does adding links to your web pages serve as an effective SEO strategy, but it also strengthens your website's credibility, increases visibility, and fosters organic growth.
As technology continues to advance and user behaviour changes, so will link building practices. Adapting to shifts like voice search, AI-driven SEO content, and augmented reality (AR) will be ideal for your brand to remain at the forefront of your industry.
Whether you're new to white hat link building or looking to refine your strategy, 1st on the List is here to guide you. From link building to custom SEO services and content writing, our suite of SEO digital marketing services drives meaningful results.
Get in touch to learn more about white hat link building for SEO. Call 1-888-262-6687.
Link Building FAQs
What is link acquisition?
Link acquisition is essentially all about getting other websites to link to yours. It can improve search engine rankings, drive referral traffic, and increase domain authority.
How can businesses benefit from local link building?
Local link building helps businesses boost their visibility in local search results, driving more customers from their community. Strategies include getting listed on local directories, collaborating with local bloggers, and participating in community events.
How does 1st on the List ensure the quality of backlinks for their clients?
1st on the List focuses on manual outreach, content creation, and strategic development to ensure that all backlinks are naturally earned and are of high quality.
How many links do I need to rank on the first page of Google?
There's no set number. Ranking depends on various factors including the quality of your content, the relevance and authority of your backlinks, user experience, and the competitiveness of your keywords.
How can I check my backlinks?
Several SEO tools, like Ahrefs, SEMrush, and Google Search Console, allow you to check insights into the number, quality, and source of your backlinks.
How do internal links differ from backlinks?
Internal links link pages within your site, helping users navigate and helping search engines find all your web pages. Backlinks are links from other sites pointing to your website, thereby helping your site's reputation.
Are all backlinks equally beneficial?
No, not all backlinks are equal. Backlinks from reputable, high-authority websites in your niche are more valuable than those from low-quality or unrelated sites.
How long does it take to see results from link building?
The impact of white hat link building for SEO on search rankings can vary. Typically, it might take several weeks to a few months to observe noticeable improvements, depending on the links' quality and the niche industry's competitiveness.
How do I know if a backlink is of high quality?
A quality backlink usually comes from a reputable, authoritative website relevant to your industry. Factors to consider include the linking site's domain authority, the relevance of its content to yours, and the context in which your link is placed.
Summary
White hat linking for SEO is essential to your website's online and offline success. It not only helps improve the user experience but also helps the search engines determine the value and relevance of your website to a searcher's request.
Improving your website's internal linking structure is as important as acquiring high-quality backlinks from other websites. We recommend only engaging in white hat link building for SEO to improve your website's link profile. Avoid buying backlinks if you want to avoid getting penalized by search engines.
Do take advantage of the free tools by Semrush, Google, Ahrefs, and others that are designed to help you build good quality backlinks.
Please call us toll-free at 1-888-262-6687 to learn more or if you still have questions about white hat link building for SEO.
You can also reach us by email.
---