7 Quick Tips for Smarter SEO Using Google Analytics
Marketers expect a 40% increase in the number of data sources they use between 2021 and 2022, according to a recent study by Salesforce.
Are you feeling overwhelmed with the amount of data at your fingertips and how to intelligently read, interpret and apply the data to future website and marketing decisions?
If yes, the following seven tips on how to use Google Analytics for SEO are intended for you – it's a quick and easy guide for effectively improving SEO with Google Analytics data.
Google Analytics has always been one of the primary and most widely used data sources for SEO information on website performance and visitor behavior. The platform is user friendly and intuitive. However, without clear goals or the right approach to interpreting event tracking, bounce rate, direct traffic, unique visitors, traffic sources and a lot of other website data, you can easily get lost in a sea of numbers, charts and data confusion.
These SEO Google Analytics reports will help you to test and get a better grasp on how your website is performing. The goal is to improve performance by using Google Analytics in conjunction with your SEO Services.
1. Landing Pages Report – Identify and Focus On Your Most Popular Pages
When it comes time to evaluate or update your pages for SEO best practices and keyword optimization, do you know where to start?
Take a look at the most viewed pages on your website (likely your homepage and main category pages) by opening the Landing Pages Report.
You can find this under Behaviour > Site Content > Landing Pages.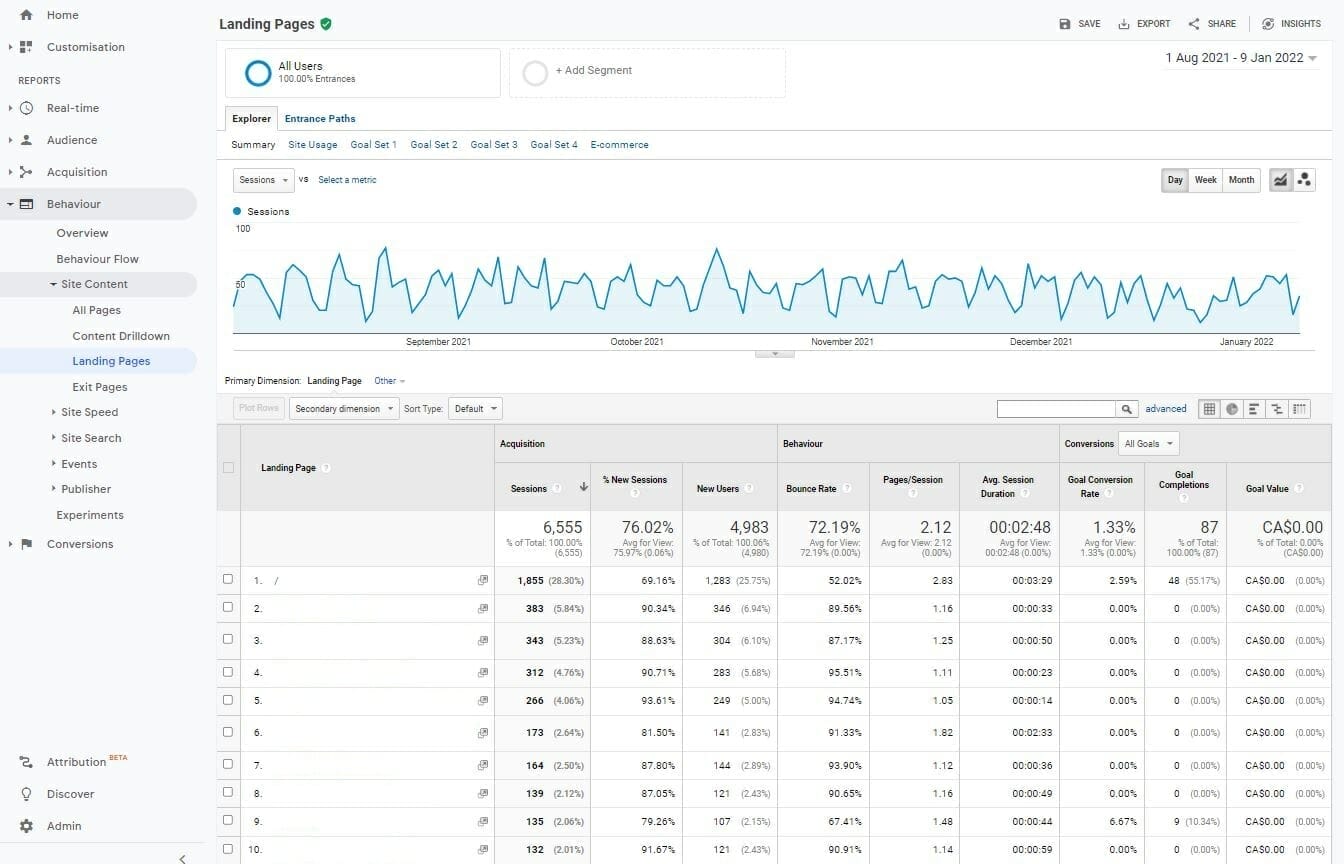 Ask yourself these questions as your review the data in the Google Landing Page report:
Are the pages that you deem most important near the top of the report in terms of visitors?
If important pages are missing, is this because they are poorly optimized and not ranking well in the SERPs or not clearly included in your main navigation?
Are your top landing pages getting a decent conversion rate and goal completions or do you need to focus on improving conversions on high traffice pages?
What landing pages have a high bounce rate and why is this? Is the page slow to load, lacks key information, or not congruent to what the visitor expects to find on the page?
What landing pages have a low bounce rate and how could you transfer the success of this page onto your higher bounce rate pages?
What landing pages have a below average session duration and what can you do to keep these page visitors on the website longer?
This report can also be helpful in proving that your SEO efforts are working if the pages you have optimized are now getting the most traffic and pages you have yet to optimize are not getting as much traffic.
2. Content Drilldown Report – Understand the Value of Each Section of Your Website
If you are deciding where to invest website resources or evaluating the impact of each area of your website, then the Content Drilldown Report is very helpful.
From here you can see the total page views which is essentially how many pairs of eyes actually see this part of your website.
You can find this under Behaviour > Site Content > Content Drilldown.
Are visitors actually visiting and interacting with your Blog, Case Study, or About section?
Are there sections getting more page views that you expected that need your attention to update and improve?
In the example provided it is clear that the blog is viewed over twice as much as any other section on the website which gives proof to the value of ongoing SEO Content marketing. The About page is viewed more than any of the service sections of the website. Finally, the Case Studies and Portfolio are important to visitors on the website.
These numbers can provide powerful evidence to take to higher levels when presenting an upcoming marketing plan, proposal, or budget request.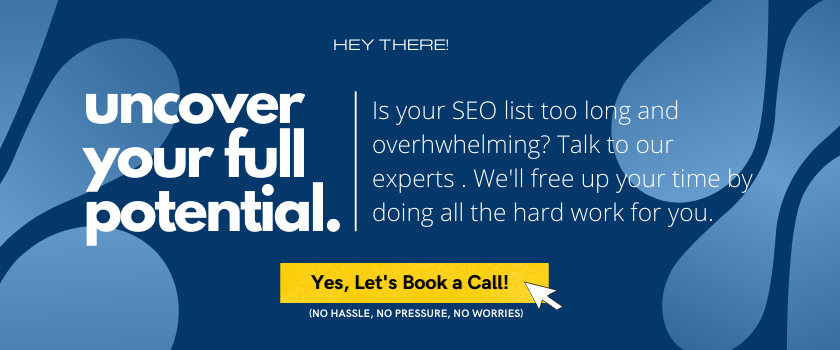 3. Site Content Blog Pages Report – Write More Successful Blog Posts
If you have a blogging and content strategy in place you must run Site Content reports regularly to see which blog posts are most popular and have the most engagement in terms of average time on page and bounce rate.
You can find this under Behaviour > Site Content > All Pages and use the search bar to filter results to only show Blog pages.
Some blog posts are just more popular than others. By drilling down the most viewed pages on your blog you can see the posts attracting the most attention. Can you see any common themes in terms of topic, post title or other attribute? How can this information improve your blog strategy?
If old blog posts are still generating high page views it's time to review the article and make sure the content is still accurate and current, the page has relevant links, and has at least one or two enticing Call-To-Actions to convert the visitor into a customer.
4. Search Console Queries Report – Understand Search Visibility and Keyword Groups
Can you believe that in years past there was actually a Google Analytics SEO Keywords report?
That's right, Google Analytics actually provided an accurate report that connected keywords to visitors, behaviour, and conversions. A big part of SEO was monitoring the rankings of "money keywords" that brought a lot of high value traffic (ie. visitors that converted).
Unfortunately this data is no longer available but you can still access a Search Query report that tells you how many Clicks and Impressions different search queries deliver.
You can find this under Acquisition > Search Console > Queries.
Branded Keywords – do searchers know your brand name and are they using it to search? If not, do you need to focus on some Brand SEO?
Keyword Query Themes – use the search bar to enter high level keywords and filter related queries. For example, on our website you might filter the keyword "SEO" to find all the queries that contain "SEO".
High Click Through Rate Queries – are there certain queries that have a higher than average CTR? Is the high CTR rate because of a visible (top 3) average position, or because the query is extremely specific to your website, or because your SERP snippet is very enticing?
Total Queries – take a very high level look at the total number of queries, as shown at the bottom of the report where you can adjust the number of results shown per page. One goal of SEO is to increase the overall visibility of your website, which can be measured in the total number of queries it is recognized and shown for. Track total queries from month to month, and year over year.
5. Mobile Overview Report – Google Analytics Can Help You Understand Mobile Visitors and Improve Their Experience
In years past we used Google Analytics to prove to our clients it was "time to go mobile" as the percentage of visitors viewing their website from a mobile device grew from 15 to 30 to 50 percent or more. In this sense, we used Google Analytics to help justify investing in a mobile friendly website version.
In 2022 it's a given that websites are mobile friendly. According to TechJury.net:
Between 50 and 55% of page views and traffic was generated by a mobile device.
Over 80% of internet users use a mobile device to search the web and as many as 83% of mobile users expect a flawless experience when visiting your website with any mobile device.
It's not just B2C and social media interaction on mobile devices. In 2021, as many as 50% of B2B inquiries were made on a mobile device.
In addition to the majority of your visitors using a mobile device to view your website with the expectation of a flawless experience, Google expects your website to mobile friendly and uses mobile friendliness as part of its Page Experience Update in 2021.
Check out the Google Mobile Overview report to know the breakdown of Mobile vs Desktop vs Tablet visitors:
You can find this under Audience > Mobile > Overview.
Ask yourself:
Is there a significant difference between bounce rate, pages per session, or average session duration?
Is there a significant difference in conversions between mobile and desktop visitors?
If you notice mobile is underperforming you need to take a critical look at your website and how it is optimized for smaller screens. Try to make your website as easy and enjoyable to browse from a mobile device as possible. Not sure where to start? Check out our Mobile SEO Strategy Starter's Guide.
6. Google Site Speed Overview – Check Your Website Page Load Times
Site speed is a critical ranking and performance factor for any website. You can do as much traditional SEO work on a slow website and you still won't get the results you are looking for.
In fact, site speed is listed on nearly every "SEO Trends in 2022" article and we named it as the #1 most important priority for SEO in 2022 in our Critical SEO New Year's Resolutions list.
There are a number of site speed reports and tests you can run, including GT Metrix, Pingdom Tools, and WebPageTest. These will show you real time results for your website speed. If you want to look at historical site speed or how it may have improved or changed over time, check out the Site Speed Overview report in Google Analytics.
You can find this under Behaviour > Site Speed > Overview.
You can drill down on various factors, including Browser, Country and Page.
Head into the Page Timings report to view average page load time by page and see which pages are above average and need specific attention. You will likely need to talk to your Developer or Website Designer to help make these changes, or reach out to us for help with Page Speed Optimization.
7. Acquisition Report – Compare Value of Marketing Initiatives
This is one of the most basic Google Analytics reports to run and yet highly valuable when understanding different marketing initiatives and the general return of each. These numbers are easily digestible and great to present to C-level executives and upper management.
You can find this under Acquisition > All Traffic > Channels.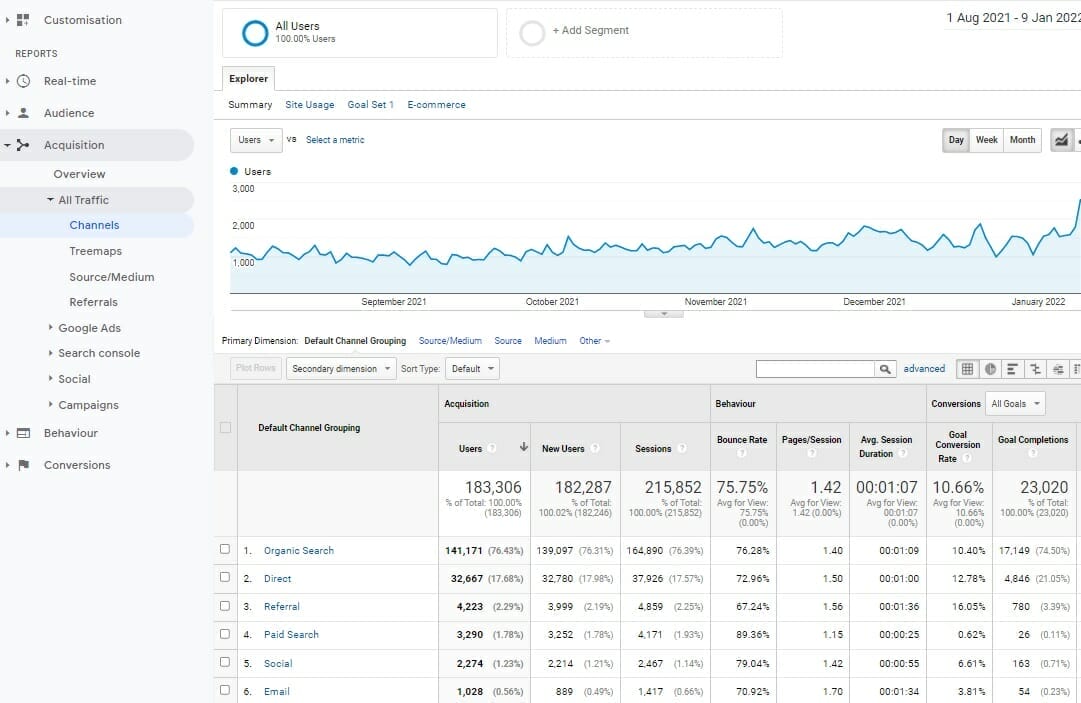 What channel brings in the most visitors?
What channel spends the most time on the website?
What channel has the highest conversion rate?
When you answer these questions and compare the spend of each category you will get a clearer view of what is really driving your website traffic. For example, you may notice that your Paid Search budget is three times as much as your SEO budget, and yet Organic Search brings in more than 75% of total traffic.
Professional Google Analytics Experts
At 1st on the List we offer comprehensive Google Analytics and Reports which help turn data into strategic action. Our Analytics Experts and Campaign Managers can help run all of the above reports, plus apply actionable insights to obtain the SEO results you deserve. Contact our team online or call us at 1-888-262-6687. We'd be happy to talk numbers with you and perhaps provide a Google Analytics Audit to help direct your efforts.
---