Have you been thinking about SEO vs social media marketing and which one matters more to your business?
You don't need us to tell you that internet searches are a major source of customers. Whether you operate a small brick and mortar location, or an international e-commerce company, showing up in relevant search results should be high up (if not TOP) in your list of marketing priorities.
Search Engine Optimization, or SEO, is the practice of optimizing your website to rank highly in search results. There are many factors that go into a successful SEO strategy, and while social media marketing may not fall into SEO per se it should not be overlooked entirely either.
If you're a little confused about the difference between SEO vs social media and which is more important for you, then we're here to make it easy. We'll be discussing the differences between these two digital marketing strategies, how they work together, and how they can help build your brand and your business.
SEO vs Social Media
As we've already mentioned, SEO is the practice of optimizing domains and pages to rank higher in Google search results. Social media marketing is the practice of posting, optimizing, and managing content on social media platforms such as Facebook, Instagram, Twitter, and TikTok (to name just a few).
If you're already investing heavily in SEO marketing, you might ask yourself "what's the point in bothering with social media?" Search is a huge source of customers, and users are demonstrating that social media platforms are becoming increasingly more important as discovery tools. This behaviour has captured industry attention and bolstered the importance of social media as a part of a sound digital marketing strategy (HubSpot).
The key thing to remember about SEO vs social media is that they are not opposing forces, but complimentary tools that can be used together to amplify your inbound marketing strategy.
How Social Media Helps SEO
Think of social media and SEO as a dynamic duo in your digital marketing arsenal. Here are a few ways that your social media strategy can aide your SEO efforts.
Drives Traffic
Traffic is the name of the digital marketing game, and social media can be very handy for driving traffic to your website… if you are posting high quality content. Posts that engage users and provide useful information have a higher likelihood of being shared, which puts your content in front of more people and can lead to more traffic for your website.
Speeds Up Indexing
Social media posts can be crawled by Google bots and indexed, adding them to the bank of information that might turn up in search results. Your post can rank for certain keywords that drive users to your post and eventually your website. Webpages that receive a lot of traffic also seem to be crawled and indexed faster.
Builds Authority
Pages and domains that generate a lot of traffic are also considered more valuable and thus rank higher for authority. The more high-quality content a website generates, the more this effect is seen. Building authority is important for ranking above other websites in search results.
Increases Brand Awareness
Social media is great for building a community and brand awareness. The social nature of the platform makes it easy to interact with followers, both with the content you post and your attentiveness to comments and shares. Strong brand awareness has been shown to correlate with more website traffic and higher conversion rates.
Intrigued? Learn more about SEO vs social media and all the ways they can work together in our article Does Social Media Impact SEO?
Social Media SEO Best Practices
Are you just starting out on social media, or looking to improve your social media presence? Here are a few best practices to follow, both on your website and social media profiles.
Social Sharing Buttons
Make it easy for users to share your content with social media sharing buttons on every blog post, infographic, and video. Having your content shared allows it to reach new people who may not have otherwise seen it or visited your website. In addition to helping drive traffic to your site, Google has begun using social sharing data in determining search ranking.
Incorporating Keywords
This is not to say that you should be stuffing every social post with keywords, but it's worth paying attention to the language you use in captions. Since social posts can be crawled by Google's spiders, utilizing keywords when relevant and appropriate can help increase post visibility and potential traffic back to your site.
Links In Social Profiles
While linking within a social post doesn't do much to help your website ranking, the website link within your social media profile does. Be sure the biography section of every social media profile contains your most important business information, such as the name, locations, and website.
Links In Video And Presentation Content
Linking to a blog post within the description box of a video or presentation can help when others reference your video's information. This can help with inbound links if someone writes a blog that references your presentation and includes the full article link.
Focus On Reach And Engagement
The most important criteria for all social and web content should be value and quality. And when it comes to SEO vs social media, providing useful information for users on both platforms is the best way to increase your reach. From there you want to pay attention to metrics that inform how many unique views your post is getting, and how many shares and discussion it's generating. A highly engaging post that prompts users to share it with others has a higher likelihood of leading to quality traffic.
Build A Community
There's no better place to build a community than on social media. Know your audience, provide them with value, and interact with them online in a way that demonstrates your brand is human. Building a cult following doesn't happen overnight, but if you put in the work you'll find the reward to be tenfold in quality traffic and conversion.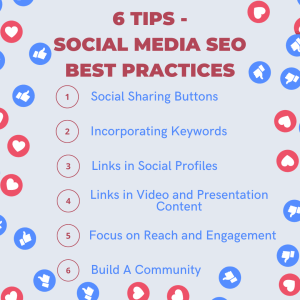 Social Media & Local SEO
If you have a small business you might have given some thought to local SEO vs social media but did you know that social media can be a very important component of your Local SEO strategy? If your business has brick and mortar locations, Local SEO is vital to building your online presence so that your website ranks highly in location specific searches.
Social media comes into play by allowing your business to engage with your local community. By posting, sharing, and location tagging content, you can grow brand awareness in your immediate business area. Interact positively with other local businesses, participate in community events, and always tag your location and business address.
Social media is also a great platform for active reputation management and customer service. You can build trust and professionalism when interacting with your followers online and responding to questions and concerns for all to see.
These ongoing efforts work to build brand awareness, drive traffic to your website, and demonstrate to Google that you are relevant and should rank highly in local search results.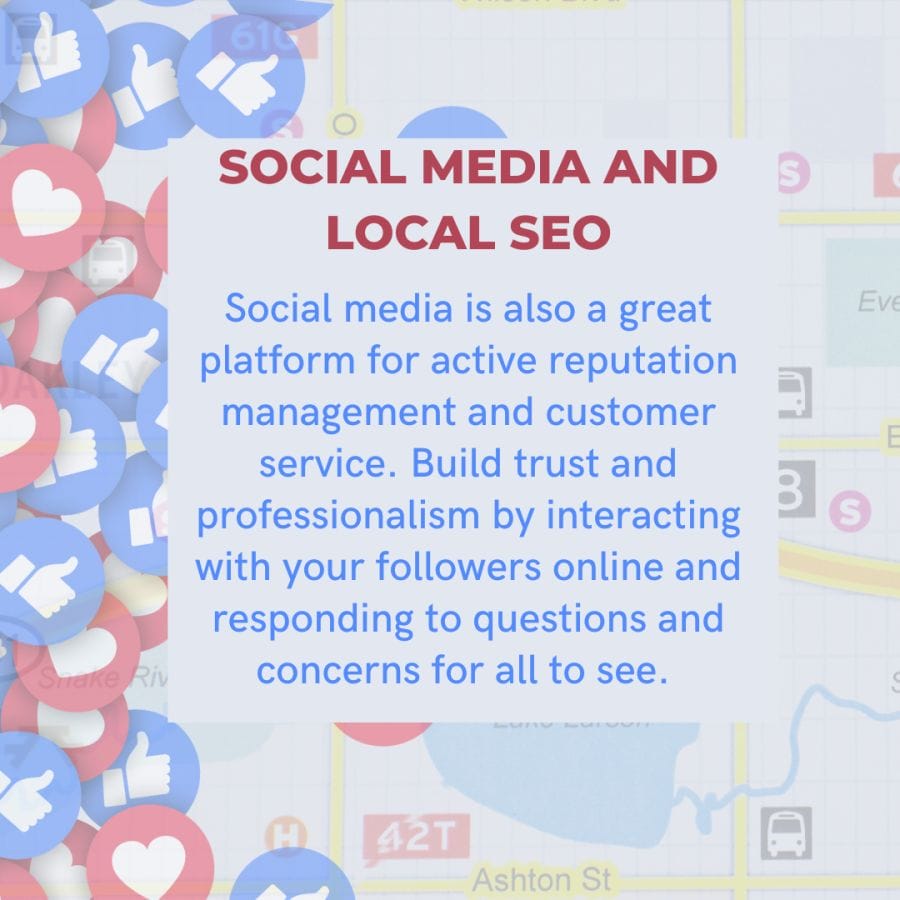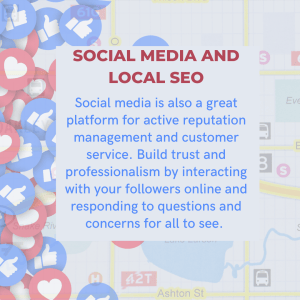 Social Media vs SEO – Can One Replace the Other?
We've gone into a lot of detail about SEO vs social media marketing and the many ways social media can benefit your business… but like PPC vs SEO, social media shouldn't replace SEO.
Social media is a great way to drive additional traffic to your website and share your content far and wide. Participating in relevant challenges or social media trends can also help with getting more visitors as certain viral social media trends have been reflected in trending Google searches (Moz). However, well executed SEO is a proven driver of quality traffic and high-ranking, better converting webpages.
When done correctly, there is no social media vs SEO. They can actually work in tandem to bolster your digital presence and put your business in front of customers. Investing in both is a solid step towards building an iron-clad digital marketing strategy.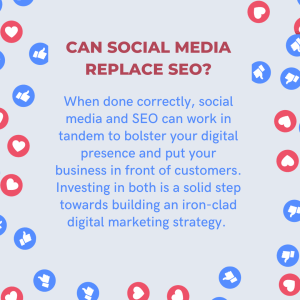 Looking To Level-Up Your SEO and Social Media Strategy?
Still have questions about SEO vs social media? Our team of experts here at 1st on the List are happy to help!
Contact us at 1-888-262-6687 or email us at [email protected] so we can chat about your needs and help you reach the top of your digital marketing game.
---