What is SEO Friendly Web Design & Why Is It Important?

Today more than ever, SEO friendly web design is essential to online success. Is your website SEO friendly? Do you know what that entails?
SEO. SEF. SEM. SEA. SMH… (Yes, you're right, that last one does stand for 'shaking my head'.) So many acronyms. So dang confusing. So very important. Particularly in terms of your website and online presence, especially in a time when online everything has never been more crucial to success and longevity in any field. More than ever, it's time to make friends with all those unfriendly acronyms and make sure your website is SEO friendly.
Luckily, your friendly 1st on the List crew, who also happen to be on excellent terms with all things SEO, are here to talk you through what an SEO friendly web design looks like, how to make sure your site is SEO friendly, where to make necessary changes, and why it should be at the very top of your to-do list.
What Is SEO Friendly Web Design?
Making your site SEO friendly is the art unto itself. It is creating a website that are easily found and "understood" by search engines, and thus easily delivered to anyone searching the Internet for you and your offerings.
For this to happen, SEO web design involves putting a number of technical assets, as well as smart content, into place to ensure that your site is fully accessible and indexable by search engines such as Google, Yahoo, Bing, etc. In other words, SEO friendly web design means designing your website in such a way that Google et al. can:
(a) find you in the first place – easily,
(b) crawl each page on the website – easily,
(c) interpret the content on each page – easily,
(d) index it in their database.
It also means doing the SEO work to ensure that all the content on your site is user friendly, relevant, offers a good user experience, is worthy of Google's time and ranking. This is absolutely necessary in order to make sure you rank you well enough in SERPs to have made all that initial work worthwhile.
But wait, there's more. For your site to be SEO friendly, it must first be SEF… aka. Search Engine Friendly. Bare with us. There's a difference.
The Difference Between SEF and SEO
➪ SEF = Search Engine Friendly
➪ SEO = Search Engine Optimization
➪ SEF web design is done once.
➪ SEO is ongoing.
➪ SEF web design is the practice of creating a website that is easily viewable by search engines.
➪ SEO is the practice of updating that website, constantly, to ensure that it is relevant, user friendly, easily viewable by searchers, thus making it attractive to search engines who will then deem it worthy of serving up to said searchers in their rankings.
➪ SEF web design makes your website technically 'findable' – easily accessed and understood by search engines.
➪ SEO makes your website worthy of being found, working with Search Engine algorithms to increase your site's rank relative to its peers within a search engine's organic search results.
➪ SEF web design is the skeleton – without it SEO cannot exist. But…
➪ SEO is the meat, the curves, the beating heart that brings your site to life within the SERPs.
From the above descriptions, you can see that if your website isn't SEF, you won't be able to make it SEO friendly. Here follows a few tips on how to ensure the former, in order to facilitate the latter.
Search Engine Friendly (SEF) Web Design Factors
As the skeleton to SEO's meat, obviously SEF needs to be done in the development stage, at the very beginning of your website design process in order to make it SEO ready. With this in mind, to build your site on a strong SEF foundation, development should factor in:
Solid, easily navigable and indexed site architecture,
Visitor usability or user experience, and
A basic understanding of how search engines search for/index websites.
To this end, factors to consider for SEO friendly web design and ensure it is SEF include things like:
Domain
Is your domain name SEO friendly?
Is it relevant to your industry?
Does it reflect your services?
Does it reflect the most frequently searched terms by your target market in respect to your types of offerings?
While your domain name should be unique, steer clear of being too quirky or clever. Let it be an obvious reflection of both your services, and the terms your audience are looking for in relation to those services.
Page Layout
As omnipotent and increasingly user-experience savvy as they are, search engines aren't people and they don't view websites the way people do. Not yet anyway. Instead, search engines interpret a web page's content by analyzing the site code, and must use that information to deliver your site to relevant searchers. It's therefore imperative that your site is free of…
Coding Errors
In much the same way that proofreaders check copy for spelling and grammar errors, website code must be checked for coding errors. (Okay, to be fair, it's a bit more high-tech but some people speak code better than their native language, so there's that at least.) As part of your SEO friendly web design, make sure your web developer is checking that your website code is free of errors that can confuse search engines and prevent your site from being indexed and ranked properly.
Navigation
Some of the best relationships fall prey to the scourge of poor navigation skills. Just think about the last time you tried to give your partner/best friend/mom/brother directions while driving… How did that work out for you? Any takers?
Albeit slightly less emotionally charged, search engines trying to navigate their way around a poorly designed (or 'sign-posted') site structure, are going to get frustrated. And while this won't lead to road-side screaming and fighting, it will lead to search engine failure to access your site at all in order to analyze and rank it. It doesn't matter how great your content is, if it isn't easily found and accessed – courtesy of simple navigation and clearly sign-posted (i.e., named) links on each of the main pages – it's not going to get analyzed by search engines, which means it's not going to be served up to users and your potential target market.
An SEF website contains proper, clear, simple navigation elements and obvious internal linking (page links) directing search engines to all your pages – no searching in the dark required.
Bonus tip: Sitemaps should be part of your SEO friendly web design. Have one. A sitemap is an excellent tool in our SEF/SEO toolbox, allowing search engines to easily identify all of your website's content.
Tips for 2020 SEO Friendly Web Design
With your SEF web structure in place, you can now move on to the continuous work of keeping your site SEO friendly. And yes, it does involve continuous work. Anything worthwhile does. (Yes, we know that sounds like something your mom would say. And no, we haven't been speaking to her.)
Here are some simple ongoing checks and balances you can implement into your SEO and site practices to ensure your relationship with users, search engines, and your site itself continues to be a friendly one:
Up your UX game
You've built your site structure on SEF principles of easy navigation, now make the content match!
The ultimate goal of getting visitors to your site is to get them to stay there, look around, and ultimately buy what you're selling. In other words, you want to convert your visitors into paying customers. To get them to that point, you need to make sure your site is user-friendly, that the UX (user experience) is a good one. You can do this by:
Making use of excellent internal linking, leading them with carrots to the next page, and stage in their customer journey on your site.
Making your site visually pleasing, enticing them to linger longer. Videos and images are good – as long as they are relevant to the site experience and useful to the site user. (Caveat: make sure any video/photography is optimized to load quickly – see 'Feel the Need for Speed' below.)
Avoid flashy, distracting pop-ups and overdoing it on ads. Too much flash, see users dash.
Making sure everything on your site is relevant and useful – see 'Create Killer Content' below.
Get fresh
Don't fall into the trap of thinking that having a website is enough in and of itself. You need to keep that content fresh. Current. Not only will out-of-date, out-of-touch content frustrate your users, it will alert search engines and result in a drop of rankings. Goodbye cruel world. Hello cyber abyss… the 21st century version of the black hole.
The internet is constantly evolving. Search engines and their algorithms are constantly evolving. Humanity is constantly evolving. Your site needs to be constantly evolving. Adapting to current times. Create an SEO friendly web design supported by great content, stories, services and products that match the current climate and trends within your specific industry and beyond.
Don't panic: this doesn't mean a daily overhaul of content, or even adding new content every day. It does mean, however, doing weekly and monthly checks of content and updating where and when necessary, and adding new pieces of info where and when necessary, adding new, exciting, relevant content whenever possible. (Note: the addition of a blog to your is a fairly easy way to add fresh content to your site on a constant basis.)
Feel the Need for Speed
If there is one truth universally acknowledged in this day and age, it's that Internet users do not like waiting for websites. If your site takes longer than around 3 or 4 seconds to load you may as well say goodbye to, well, everyone.
As ThinkWithGoogle reports: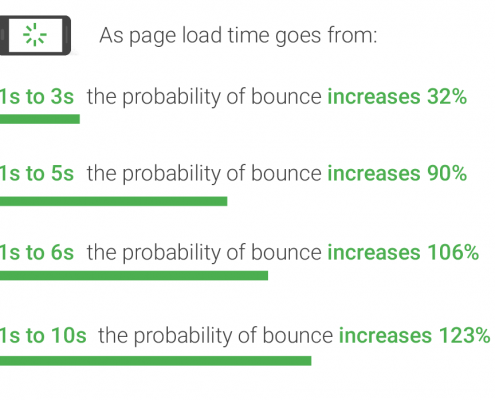 A slow site can cost you in so many ways, let us count the ways: site users will drop you like a hot potato; search engines will drop you from rankings like a hot potato; which means you won't then even have any site users come to your site to drop you like a hot potato.
What we're trying to say is that your website should load quickly. If it isn't, the culprit could be one of a few things, including (but not limited to):
Too many graphics or too-large graphic files (in other words your images and videos haven't been optimized/sized for web)
Too many plug-ins
Outdated CMS
Poor server performance
You can test your site speed here, and if it doesn't live up to expectations, get it to a speed-doctor pronto.
Optimize for Mobile (and See the Magic Happen)
Just in case you hadn't heard, mobile optimization is kind of a big deal. If there was a magic pill you could take to make Google love you automatically, making your site mobile friendly would be it.
According to Quoracreative:
80% of users used a mobile device to search the internet in 2019
40% of online transactions are done using a mobile device
Moreover, mobile will be responsible for $2.32 trillion in E-Commerce sales by 2021. Which equates to about 67.2 percent of all online sales (Statista). While 57% of users say they won't recommend a business that proffers a clunky mobile website (socPub).
In other words, users want information right here, right now, right at their fingertips (quite literally) 24/7. They are searching for you on their mobile phones. They are buying from you on their mobile phones. And if your site isn't mobile-friendly they are leaving you on their mobile phones.
SEO friendly web design includes optimizing your website for mobile users. It is a top priority – not only for SEO purposes, but for simple survival purposes. Mobile is ringing. Answer the call.
Create Killer Content
Create content for your site based on the kinds of things you'd like to read and/or see about your own services and/or products. Make your content interesting, useful, compelling, engaging, relevant, helpful, useful… (did we mention useful?)
Content covers everything from each page of written content on your site; to blog posts; to videos; podcasts; infographics; images; information snippets; FAQs, and other easy to digest content forms. It also covers your social media presence. Note, herein lies a top, lesser-spoken-about tip to creating an SEO friendly website: social media can give a huge boost to, no, not your ego, your site's SEO friendliness!
Done right, an SEO friendly web design can not only guide your social media audience to your website, but it can guide your site visitors to your social media platforms. Embed the various plug-ins available for all the various social media platforms on your site to create on-site graphics of your social media presence (for eg., your Instagram feed can appear in a graph-like format at the bottom of your home page). This not only creates multiple, but linked, content streams for your brand/business, but provides social proof of your existence and your legitimacy as a trustworthy, client-friendly, transparent business. You can further amplify this social proof, social media content strategy, and ultimately SEO friendliness, by showcasing testimonials and reviews from your customers on your site and platforms.
Finally, once your content is in place, don't forget to optimize it for search engines using things like:
Keywords (that are relevant to your site and likely to match search terms used by your potential customers)
Page titles
Meta descriptions
Header tags – H1, H2, H3 etc.
Images that are named and have image alt text assigned etc.
Why Do I Need SEO Friendly Website Design?
By now you may be thinking that an SEO friendly website design feels like more work than it's worth. Trust us. It's not. The reason why SEO friendly web design is important – now, more than ever – is quite simple really:
➪ SEO friendly website helps you rank in search engines.
➪ If you don't rank with search engines, you won't be visible to any potential customers who might be searching for something that you offer.
➪ If you aren't visible, you won't get any traffic to your site.
➪ If you don't get traffic to your site, you won't get any business/make any sales.
➪ If you don't get any business, you don't make money.
The end.
Of course, you have heard us say before that you should always put your users first when it comes to anything SEO related. But if you think about it, search engines are technically the 'first' user of your site. As Google itself puts it: "You should build a website to benefit your users, and any optimization should be geared toward making the user experience better. One of those users is a search engine, which helps other users discover your content. Search Engine Optimization is about helping search engines understand and present content" (Google).
Seems like a no-brainer to us. And if it feels like too-brainy for you, never fear. Help is always at hand from those of us who eat, sleep and breathe SEO.
Get Help Designing an SEO Friendly Website that Google Will Love
Is your site struggling to get the search engine love it needs and deserves? 1st on the List can help you design – or re-design – an SEO friendly website: call 1-888-262-6687 or email us at [email protected].
---