SEO for Tourism Businesses: Why It Is Important Now More Than Ever


If you own or manage a tourism business, you understand how difficult the past year and a half has been as people were forced to stay at home. You also know that things are starting to look up as travel restrictions are slowly being lifted.
How do you ensure that you don't miss out on the industry's looming recovery? By using the same strategy before the pandemic hit: implementing an effective search engine optimization campaign or SEO.
SEO for tourism businesses offers a wide range of benefits, but before we get to them, let us first take a look at how the industry was affected by the pandemic.
The Long Road to Recovery
Tourism is one of the biggest economic sectors in the world, accounting for 7% of global trade in 2019. It even contributes up to 20% of the Gross Domestic Product or GDP for some countries.
Unsurprisingly, tourism is one of the industries hardest hit by the COVID-19 pandemic. Not only because stopping all forms of leisure travel played a central part in the fight against the virus, but also because of how big the industry was pre-pandemic. It fell by $910 billion to $1.2 trillion during the first year of the health crisis, reducing the global GDP by 1.5% to 2.8%.
Fortunately, the shroud that covered the world when the virus hit is now lifting. The process is a bit slow, but it is steady. As people learn to navigate the risks of the virus and as governments all over the world continue to administer vaccines, the tourism industry is getting ready for a big comeback.
How Does SEO Fit in the Tourism Industry?
The role of search engines in the decision-making process of leisure travellers was highlighted in a report published by Google. The report discusses how people depend heavily on search engines, along with map sites and apps, when making their travel plans. One out of every two travellers uses location-specific search terms while gathering information, which is one of the main focuses of local SEO for tourism businesses.
This trend is steadily increasing as search engines continue to gain the trust of their users by providing accurate and relevant information. Branded sites and apps remain popular, but travellers are shifting more and more to search engines for a wide range of travel-related activities, from research to purchase to post-travel. It is true for both desktop and smartphone users.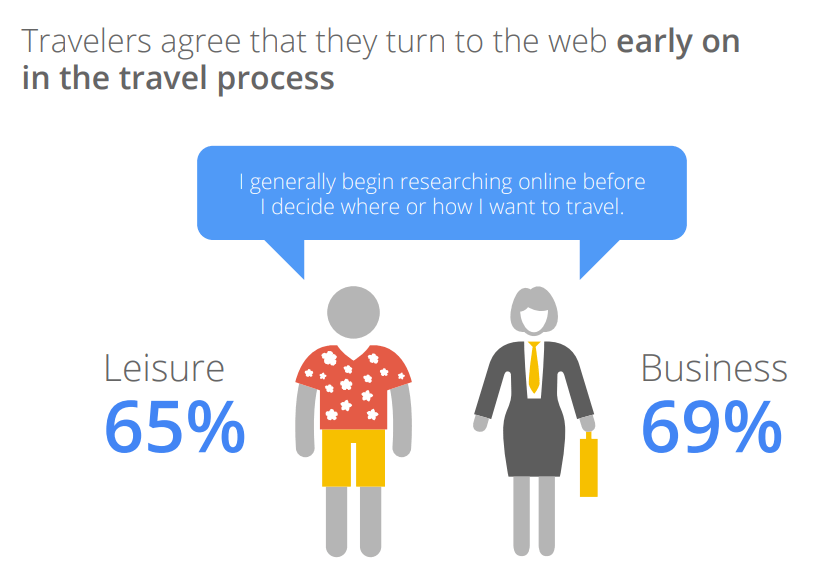 Benefits of SEO for Tourism
SEO is an inbound marketing strategy designed to generate organic traffic to the pages of your website. It is a long process, especially when compared to outbound marketing strategies like paid ads. However, once your SEO efforts start to kick in, you will enjoy the following benefits for years to come.
Generate qualified leads
First and foremost, SEO makes your website more visible to search engines. It means that if a user searches for information related to your content, your pages will be included in the top results for that search term.
Why is this important? There are hundreds or even thousands of other similar content vying for the attention of the user. If you do not make it to the first few search engine results pages or SERPs, the user would not be able to see your content.
Most people do not have the patience to comb through several pages of search results. The further down you are in the search ranking, the lower your credibility becomes. Even if they somehow see your content in the search results, they are more likely to trust the higher ranking pages.
Your best chance of getting your brand in front of your target audience and generating qualified leads is by securing one of the top spots in the SERP. It is especially true as visiting a search engine is the first step that today's consumers take before making a decision.
More Cost-Effective than other strategies
It takes time before you see the SEO results that you want. You also need a lot of resources to launch an effective campaign. What is more, you need a reliable SEO specialist to create and develop your strategy.
Nevertheless, SEO is arguably the most cost-effective marketing strategy available today. All you have to do is set it up, monitor it, and make minor adjustments depending on how your pages are performing.
There is no need to make significant investments once it is up and running. It will continue to do the work for you, bringing visitors and potential clients to your website 24 hours a day and seven days a week.
In contrast, other options such as pay-per-click or PPC advertising are not as long-lasting. While it is true that PPC is effective, it stops working the moment you stop paying for the ads.
For best results, you could invest in PPC advertising while you are waiting for your SEO campaign to take off.
Business growth is virtually guaranteed
If you do it right, SEO can guarantee the growth of your business. Given the fact that the first instinct of today's consumers is to gather information online before making any decisions, being visible to search engines is the quickest and surest way to put your brand in front of as many potential travellers as possible.
Aside from being able to reach a broader audience, SEO connects you to people who are more likely to decide in your favour once they see what you can offer. Most searchers that use the terms you are competing in are pre-disposed to buy or hire. They land on your pages looking for the type of product or services that you have. All you have to do is give them a little nudge by providing relevant content that can answer their questions or help solve their problem in any way.
Create brand awareness
In the tourism industry, success depends heavily on your ability to build your brand. It is extremely important as people make decisions based on what they know or what they think they know about your products and services. In this day and age, your online presence will determine how much and what type of information will reach your target audience. It is where SEO comes in.
By implementing an effective SEO strategy, you will be able to identify the pain points of your target audience, putting you in the best position to provide the solutions. As you continue to offer value to all visitors, more and more people will recognize your brand as a thought leader in the tourism industry.
Every time they want to know something about travel, people will look to the pages on your website for answers. And when the time comes that they are ready to make a purchase, your products and services will be the first in line.
Builds credibility
Trust is a key factor in the decision-making process of a buying customer. People are more willing to part with their hard-earned money if they believe that they will get a proportionate level of value in return. Your business credibility will determine how much your target audience will trust you to deliver. It is one of the many reasons why you should invest in SEO for tourism businesses.
Part of your SEO journey is to determine the user intent of your target audience. With this information, you will be able to identify what travelers really want and need, which gives you a big advantage when it comes to meeting their expectations. The more people you satisfy, the higher your credibility will be among potential customers.
Encourages customer loyalty
Today's consumers have a high level of expectation, especially as technology continues to find ways to make things easier and more convenient for them. They are harder to please, but once they find a brand that they can trust, they are more likely to turn to that brand for future transactions.
SEO is essential in increasing your credibility and gaining the trust of your target audience. As your credibility increases, you will encourage more customers to be loyal to your brand. Every time they need to take a vacation or visit a place, you will be their first option.
Another way to build your relationship with your current customers is by launching a rewarding loyalty program. You can create a mailing list to offer discounts and special promos. You can also use this method to promote new content that you think your customers will appreciate. As you continue to offer value, more and more people will show interest in your brand.
Create a competitive advantage
Technologies continue to evolve and new trends emerge daily, and consumer behaviour changes along with each significant development. To stay relevant to your target audience, you need to successfully navigate a very fluid business landscape. Implementing an effective SEO strategy can help you do this.
A big part of the SEO process is to look out for upcoming trends which manifest as search algorithm changes. Updates like these give search engines a way to remain in touch with users and their changing needs. If you see these impending changes before others do, you will be able to remain ahead of the curve and ahead of the competition.
In addition, SEO increases organic traffic to your website. As more users visit your pages, you will be able to generate more accurate information using various analytic tools. Again, this will help you identify upcoming trends sooner so you can make the appropriate business decisions faster.
SEO remains the most potent tool in growing a business, including those operating in the tourism industry. It could take some time before you feel the impact, but once you do, you will enjoy its benefits for years to come.
Learn How SEO Can Grow Your Online Visibility
The key is to implement an effective strategy that draws organic traffic, generates high-quality leads, and converts the leads into sales. Your best chance in achieving all these is by working closely with a reputable SEO expert. Call our experts today: 1-888-262-6687
---