Over the last couple years we have seen a dramatic increase in Internet use on mobile devices. In the following mobile infographic we look at:
What is a mobile site?
Benefits of having a mobile site
How a mobile site differs from your website
Statistics on the phenomenal growth of mobile search
Types of mobile devices in use
An example of a great mobile website
This infographic will support your decision to make a mobile site a vital part of your online presence.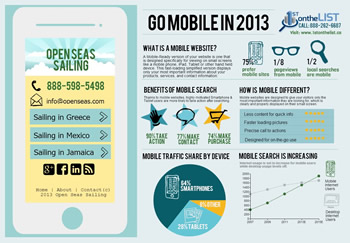 Use This Free Infographic on Your Site!
You may use this mobile infographic on your blog or website for free. Simply copy the code below, and paste it into your website. We ask that you respectfully attribute the mobile infographic to 1st on the List by using the link text already added to the embed code.
<!–This is where the code begins–>
<div style="width: 420px">
<a href="/images/UnderstandingMobileWebsiteInfographic2013.jpg" />
<img src="/images/UnderstandingMobileWebsiteInfographic2013sm.jpg"
alt="Free Mobile Website Infographic by 1st on the List" /></a><br/> Infographic compliments of 1st on the List, a Vancouver based <a href="/">
Search Engine Optimization Company</a>. To view the original post, see the original
<a href="/infographics/understanding-mobile-websites/">
mobile infographic</a>.</div>
<!–This is where the code ends–>