Mobile fanatics make up 40% of the US smartphone population. You may even be a mobile fanatic. Mobile fanatics are people who do at least
10 searches per week
on at least two devices from multiple locations. Maybe you are watching TV with your tablet and decide to look up who the guest cameo is on the current episode of your favorite sitcom. Or maybe you are leaving your Doctor's office and need to find the nearest pharmacy near you. What about checking if the nearest electronics store has the latest and greatest video game for your son in stock? It's easy to meet the 10 search per week criteria. And if you are doing it chances are your potential customers are too!
Desktop and Mobile Statistics and Usage
A new study by
Late last week RKG released the latest mobile traffic trends in their
quarterly digital marketing report
 which show website traffic stats for Organic search visits in the last quarter of 2013.
Mobile Website Traffic Statistics by Search Engine
The numbers don't lie: Smartphones and Tablets now accounts for 32% of all Google organic search visits in the last quarter of 2013.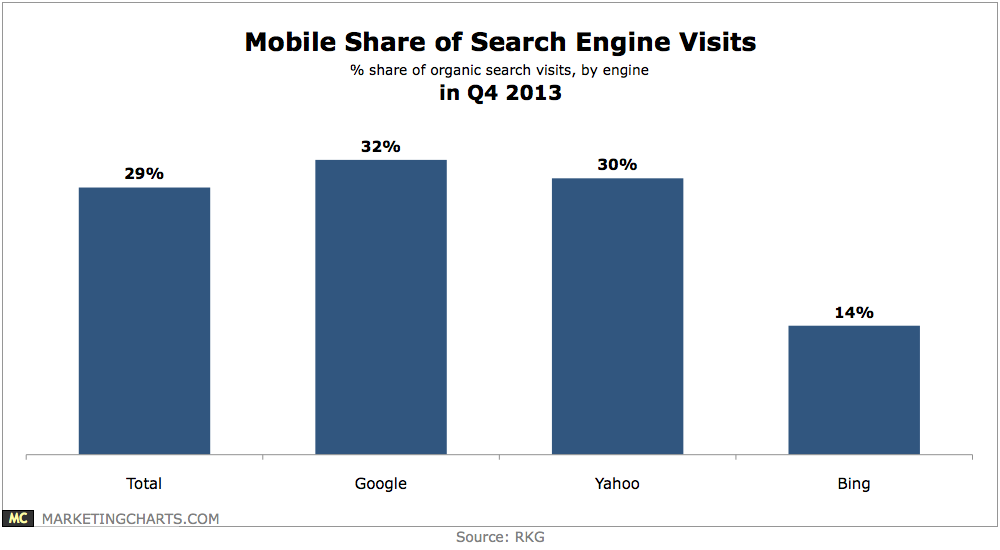 This morning a recent study by
Gallup Economy
on how our tech tastes have changed caught my attention. Conducted in early December 2013 the study results show that internet-connected devices are growing in popularity. This means that your business website is being accessed by almost anyone, anywhere and on all types of device and that you must be prepared with a website that is compatible with the demands and restrictions unique to each device. Here are the results of how more than 1,000 American adults responded when asked if they personally own specific types of devices.
Have you noticed your mobile website traffic increase in the last year? Mobile website usage statistics suggest that by 2014 mobile internet users will overtake desktop internet users. If you haven't already it's time to start considering your mobile website. Here are four ways to check your mobile website usability and monitor how well your mobile site design attracts mobile visitors.
1. Visit the site from a mobile device.
Pick up your iPhone or Android and actually visit your website. Test the mobile website's navigation with your fingers. From the homepage can you easily find the contact page, store hours and add an item to the shopping cart? After moving between pages for thirty seconds or evaluate how easy or frustrating it is to navigate your website. Some