It has been almost one month since Google replaced its "Local 7 Pack" results with its new "Local 3 Pack" results. This means that searchers only see three businesses listed in the local map results.  We briefly explain the Local 3 update in our
August 2015 SEO Updates
post but think this topic is serious enough to warrant this dedicated blog post. Here is everything we think you should know about the Local 3 Pack Google update, click through rates, and how to adjust your
Local SEO
strategy.
Here's what making news in the SEO community in the last couple of weeks.
Moz is getting ready to publish its latest set of Search Engine Ranking Factors and gave author Eric Enge early access to some of the data. Here is what he has found:
More and more Top 10 Results are Mobile Friendly:
75% of Top 10 Results for commercial searches are mobile friendly.
64% of Top 10 Results for informational searches are mobile friendly.
Using HTTPS is a very new and minor ranking factor:
As the mercury on the thermometer keeps rising and the sun sets late into the evening more than 25% of small business changes their hours during summer months. Are you one of them? If so you have probably already updated these hours on your front door and on your website, but did you remember to update your hours on Google Plus? Simply log into Google My Business and adjust your hours and set a reminder for yourself to change them back when Fall comes around. This is important because over half of consumers search to look up business hours. This friendly reminder is brought to you in part by
Search Engine Land
Bing has recently announced that they will now encrypt search traffic by default starting sometime this summer. This comes from a commitment to help keep data safe and secure, and following the industry's general move to use TLS protocols. Bing users have had the option to encrypt searches for the last year and a half but now do not have to worry about taking this extra step to protect their privacy. All Bing searches will be encrypted. This has several impacts on webmasters and marketers:
Your traffic from Bing will increasingly come from https://www.bing.com vs https://www.bing.com
Bing will not pass on the users' query terms to webmasters and marketers.
You will have limited access to query term data through
The newest Google Maps App update for Android now warns users when a business they are navigating to is either closed or will be closed by the time they arrive. A message pops up that reads, "Your destination may be closed by the time you arrive." This is just one more reason why you need to make sure that your Google Local Business information is correct and Google is showing the correct hours for your business. After all you don't want Google warning a potential customer that you are closed when in fact you are open for another three or four hours. But how does Google know your hours? Google can use a number of sources from around the web to try to locate your hours, such as your website or other profiles like YellowPages. The othe
In the last couple of months Open Site Explorer released a new Spam Score Metric as a way to evaluate your backlink profile and measure penalization risk for unnatural backlinks. The original purpose of the tool is to check spammy backlinks to your website, evaluate potential links, conduct link cleanup and help with disavowing files in Google Webmaster Tools. However we think you should also look at the
Open Site Explorer Spam Score
metrics to review your own website for spam factors that you may or may not realize are even affecting your website. How does your website compare to what Moz, Open Site Explorer and Google would consider a "spam" site?
Google recently confirmed that it indeed changed its algorithm earlier this month. Many website owners and SEO's started noticing changes in rankings in early May although Google kept saying there were no updates. Some were even calling it the "
Phantom Update
" because everyone noticed something was happening but Google wouldn't acknowledge it. Finally Google confirmed with
by
Google is making some big changes lately including rebranding Google Webmaster Tools to
Google Search Console
 this morning.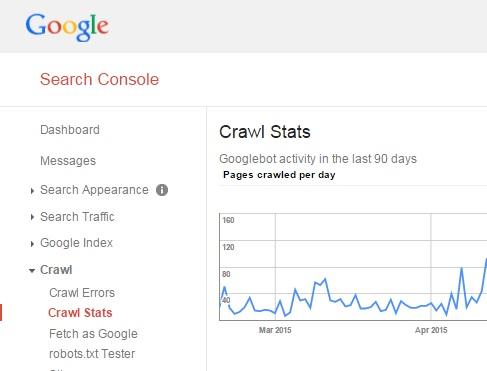 For the last ten years Webmasters, website owners, SEOs, programmers, designers and others have been using this system to help troubleshoot their website. Google says that the new name better reflects everyone who uses the tool and cares about Search.
Do you care about Search?
Do you have Google Search Console set up for your website?
The latest numbers by
comScore
are out and Bing search percent has officially hit the 20% market share in the US:
| Entity | Share % (March 2015) |
| --- | --- |
| Google Sites | 64.4% |
| Microsoft Sites (Bing) | 20.1% |
| Yahoo Sites | 12.7% |
| Ask Network | 1.8% |
| AOL., Inc. | 1.1% |