Last Updated on
As recent study by Vision Critical  found that Pinterest is for creativity and satisfying a range of creative urges while Facebook is for communicating and connecting with others.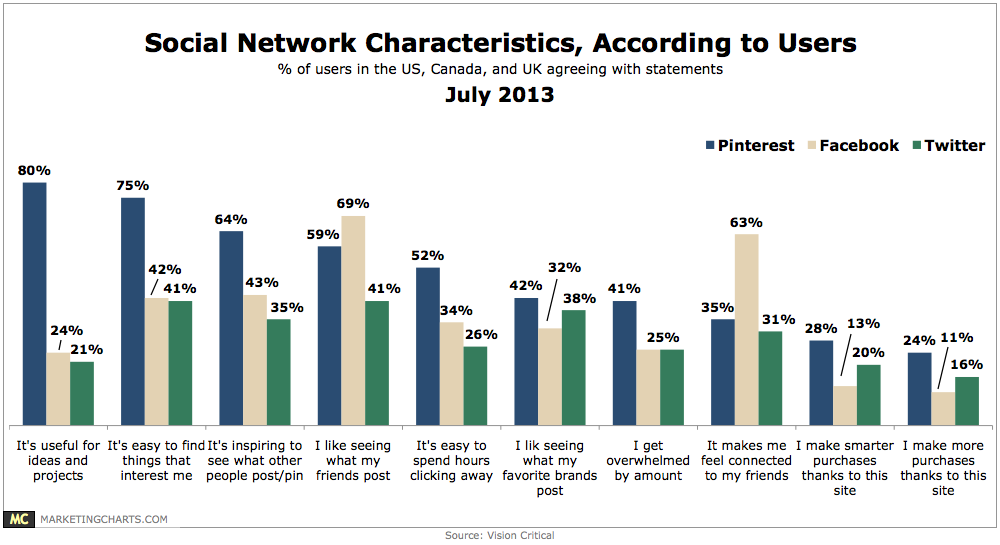 Pinterest for Business Marketing is about Sharing Creative Ideas
80% agreed Pinterest is useful for ideas and projects.
75% agreed it is easy to find things that interest them on Pinterest.
64% agree it is inspiring to see what others pin.
So how should you use Pinterest for your business? Given the above statements post creative ideas, innovative ways to use your products and share great ideas others are pinning.
Facebook for Business Marketing is about Meaningful Connection
69% say they like to see what their friends post
63% agree that Facebook makes them feel connected to friends.
The fact that only 11% of people said they made a purchase because of Facebook should tell you to stop pushing your products, sales and promotions and start connecting with your followers. 32% of people say they like to see what their favorite brands post. Be a brand that adds relevant posts to interest your target market. And don't post too often as 25% say they get overwhelmed by amount.
How to Use Twitter for Your Business
This survey does not give a lot of clear insight into how to use Twitter for your business as most responses are pretty neutral – neither positive or negative. The highest response rate was that 38% say they like to see what their favorite brands are posting. Continue sharing new stories, last minute promotions and anything else your target market will find valuable. After all, 16% of people say they make purchases thanks to Twitter (higher than Facebook) and 20% say they make smarter purchase decisions.
Do you agree with the statements used in the survey for each of the Social Networks in question? Does your social marketing strategy account for user behavior and feelings towards Facebook, Twitter and Pinterest?
---