Local Search Engine Optimization
Whether you run a large organization or a small business, if your customers are location specific you can benefit from local search engine optimization.
1st on the List is a Vancouver search engine optimization company. For over 15 years we've been helping online business owners with local SEO marketing in Vancouver, as well as Calgary, Edmonton, and Toronto plus in many cities throughout Canada and the US.
Let us help you capitalize on where your business will succeed best…your "local market" since most online searchers use localized keyword phrases when they conduct a search.
Even if you don't have a large budget for full Search Engine Optimization Services, local SEO can help you attract good qualified traffic affordably, by helping local people to find you online.
Call 1-888-262-6687
or Request
Local SEO Proposal
60% of Local Searches Lead to a Sale!
Google statistics speak volumes when it comes to how people search for local business listings:
97% of North Americans search online first
1 out of 5 Google Searches are local
1 out of 3 Mobile Searches are local
Nearly 60% of local searches on Google lead to a sale
Optimizing for Local Communities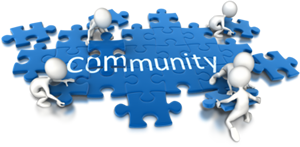 If your business is in Calgary Alberta for instance, and you want to reach online customers in and around that area, then Calgary search engine optimization would include optimizing your website for neighbouring communities like Airdrie, Cochrane and Okotoks.
Edmonton SEO efforts would include optimizing communities like Sherwood Park and St Albert. Vancouver local SEO efforts would optimize for places like Richmond, Surrey, Coquitlam, Burnaby and the Fraser Valley. And, Toronto local SEO would include places like Mississauga, North York, Brampton and Markham.
Local search engine optimization lets you reach the people who are specifically looking for a local business like you.
How Local Search Marketing Works
Using the same principles as regular SEO, local search engine optimization goes one step further to optimize for location specific keyword phrases.
Local SEO keyword phrases are descriptive – for example "Mexican restaurants Calgary". The keyword phrase describes:
What the user is searching for – Mexican Restaurants
Where they want it located – Calgary (the location modifier)
The search engines can tell from the searchers' IP address where the searcher is located and then deliver "location specific" results (even if the city or neighborhood is not part of the search phrase).
Google and other search engines prefer to deliver local search results because they want to improve the user experience and deliver the most relevant results possible based on the searcher's location.
Local Search, Maps and Google +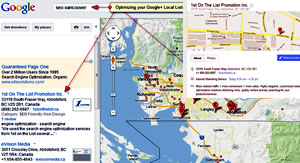 Conduct a local search on Google and in most cases "maps" are included in the search results. Do you want your website to be found there to?
A Google+ Local Listing (formerly known as Google Places) is a great way is a great way to support your local search optimization strategy.
Google+ Local is essentially an "online local business listing", very similar to yellow pages except it is online and registered with Google.
With a Google+ Local Listing you are helping your local customers to easily find you online through local search while promoting your business within your local community at the same time.
Whenever someone within your local area makes a relevant local search, the search engines can tell by their IP address that they are regional (located near you) and will display your listing (and local map) near the top.
Ask us about our
Google + Local
Benefits of Local Search Engine Optimization
For an online business servicing a limited geographic area, local search engine optimization works and the benefits can be far reaching.
By using local SEO to target your regional market for location specific keywords you can attract long term customers that want to shop local. Here are just a few of the benefits:
Location specific keywords are more relevant to your business
There's generally less competition for the keywords you are targeting
Local keyword optimization is often more affordable
You can attract more highly qualified, highly targeted website traffic
You can earn a higher return on investment (ROI)
Ask Us About Local Search Engine Optimization
In addition to local SEO services listed above, 1st on the List also offers Corporate Internet Marketing services including Website Call Tracking and Text Message Marketing.
Talk to our local SEO experts here at 1st on the List, a leading Vancouver Search Engine Optimization Company, to learn more about local search optimization strategies.
Find out how local SEO also gives you the potential to grow; as your resources allow we can help transition your local SEO strategy into a successful national or global search engine optimization campaign.
For more information about how local search engine optimization can work for your regional business, please contact our local SEO experts: